Meet five local moms who are following their dreams and showing their kids what entrepreneurship, hard work and balance looks like
Photos by Jamie Alexander
All moms work, whether they're getting paid by an employer or not. Being a mom takes effort—physical, mental and emotional—so whether or not a mom has a paid position, she can pat herself on the back at the end of the day for a job well done.
In honor of Mother's Day, we wanted to feature five local moms – Lauren Morrison, Holliwood Mackenzie, Chelsea Boling, Brittani Haney, and Ericka Roberts –  that have learned to find a balance between motherhood and running their own business. While their individual products or services may vary, they all share two common traits – representing small business in Owensboro and the desire to demonstrate to their children the value of hardwork.
Lauren Morrison
TrueNorth Treatment Center
When Lauren Morrison and her husband, Travis, both social workers, took a leap of faith to establish TrueNorth Treatment Center in Owensboro, they never knew how much it would grow. 
"We were both previously working at the prison in Eddyville, KY, facilitating groups for individuals in segregation, but the travel was wearing on us both," Lauren said. "I finally said, `There is such a need for substance use treatment in our home community, why are we not doing this?'" 
That put the wheels in motion and the couple is now approaching the three-year anniversary since they opened their doors to the community. 
"It started with only three of us and has now grown to a staff of 25," Lauren said. 
Lauren's favorite part of her role is watching clients improve their lives, an aspect of the job that is most rewarding for her.
"We have assisted many people in regaining custody of their children, obtaining employment, furthering their education, securing safe housing, maintaining sobriety, and establishing a positive support system. Just as I have thoroughly enjoyed watching our clients succeed, it has also been my pleasure watching each of our staff grow," she said. 
As Executive Director of the facility, Lauren has found the importance of balancing work and family life. 
"It's not always easy, that's for sure. It takes teamwork and one of us picks up the slack where the other may be lacking. We definitely try to give each other the grace that is needed for this type of work," Lauren said of her and her husband, Travis.
As the facility has grown to accommodate more clients, the Morrisons have enjoyed the opportunity to teach their children the value of their mission. 
"We absolutely love this organization, but family will always come first. We work diligently to teach our children the importance of helping others while also practicing their own self care," Lauren said. 
Her desire to show empathy to others, fuels her passion for both her role as a social worker and as a parent.
"Regardless of their differences, it's important to treat others with dignity and respect. I am a mother first, and a helper second," Lauren said. "As a social worker, I am very passionate about improving the lives of others. As a mother, I want to model for my children that if they put forth the effort, they can achieve their own goals and passions."
Holliwood Mackenzie
Njoy Indoor Play and Party
When Holliwood Mackenzie opened NJoy Indoor Play and Party, her goal was to provide the community with a unique, fun environment for families to spend time with their children. 
"I have grandkids and it's hard finding them safe places to play. That's where I came up with the idea," Holliwood said.
In June 2021, Njoy officially opened their doors for the first time. Since then, customers have enjoyed finding a new place to bring their little ones. 
"Everyone that comes in says they have never heard of me. I hope to spread the word so more people can give us a try," Holliwood said. 
While most play equipment is geared toward the little ones, Njoy has activities for a variety of ages.
"We have a section where teens can play too," Holliwood said. "I try to add stuff and move things around so they feel like they are coming into a different place each time."
In addition to the gated toddler area with slides and building blocks, the indoor play facility offers a basketball goal, video games, a trampoline, bounce house and mini roller-coaster, giving children a variety of play options. 
Holliwood offers many options for customers from open play times and birthday parties to special character events and private play times upon request.
"Our birthday parties are unique because we close the building down completely and it's a private opening for just that party," Holliwood said. "We want each child to feel important on their big day." 
Special character events are an opportunity for Holliwood to do what she loves by creating unique opportunities for children. She has welcomed Cocomelon, Blippi, Elsa and several special events such as an Easter egg hunt and trunk or treat. 
"I love having parties and being able to decorate for them," Holliwood said.
Holliwood is open to ideas from the community, who offer her feedback on desired hours, and ideas for future events.
As far as balancing home life and her growing business, Holliwood has found the two go hand in hand. 
"I try most of the time to take them to work with me," Holliwood said. "I'm off on Sundays and Mondays and like to have family days."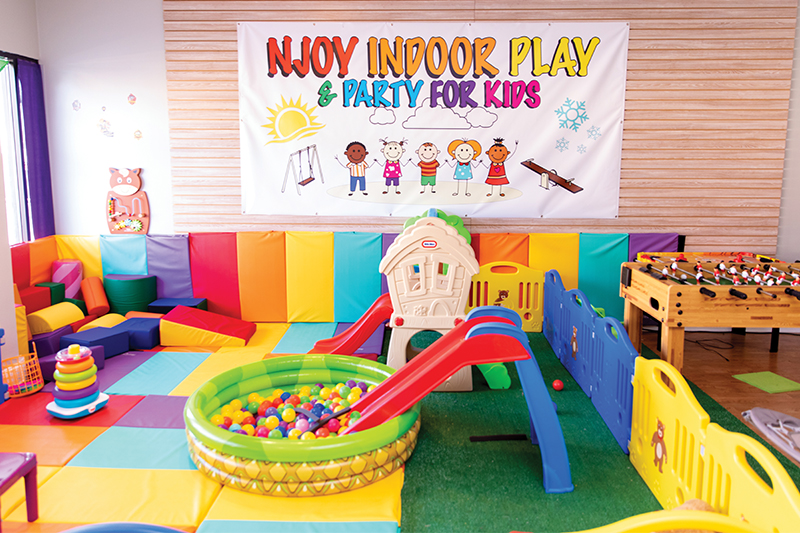 With three children, and six grandchildren, Holliwood understands the importance of family time, making her facility the perfect place to be with her grandchildren.
"When it's time to go, they cry and they don't want to leave," Holliwood said. "My family likes to come and hang out with me."
As far as future plans, Holliwood hopes to move to a bigger building so she can continue to grow her business and the older children can feel welcome also. 
"Even though Owensboro is pretty big, there are not a lot of activities for the children," she said. 
Her favorite part of her job is meeting different families, many of which have become regulars.
"I have met all kinds of different people and try to meet their individual needs. I have a lounging area for parents and a handicap accessible restroom. We get calls requesting certain hours and try to meet that need, too. Owensboro needed something like this." 
Ericka Roberts

 

and Brittani Haney
Grindstone Trading Co.
Growing up, Ericka Roberts and Brittani Haney often visited thrift stores and flea markets to search for unique finds. Fast forward to today, and that desire to create a wardrobe based on vintage pieces led them to open a business, Grindstone Trading Co.
"When we were teenagers and got our license, we would go to the Consumer's Mall on a Friday night," Brittani said. "We have always thought about this and talked about it when we were younger. We wanted to start our own curated vintage store with styles and things from other decades under one roof." 
At the center of the business venture is the desire to create a brand that empowers people to be bold and powerful no matter what size or shape they are. Described as a mixture of different styles and decades, their online store offers customers one-of-a-kind pieces they will not be able to find anywhere else. 
"When you find something unique for a certain decade, you know no one else will have it. We have been all over — garage sales, thrift stores, flea markets — picking pieces wisely to create a unique and different bold look. We may start taking specialty orders in the future. If you don't want to do it yourself, why don't you have us do it?" Ericka said. 
The store includes handmade clothing and vintage pieces that have been dip-dyed, tie-dyed, fringed, or cropped. Due to the rare nature of each of their finds, their clothing items will come from a very limited stock. 
When it comes to balancing work life and mom life, Ericka has discovered the perfect tool to set goals and accomplish them. 
"I do my best at making small goals for myself — things I know I can accomplish that day. I have learned to not be too hard on myself if it doesn't get accomplished that day," she said.
As a small business owner,  the duo has found most of the time their goals aren't an emergency. 
"Brittani and I are both moms so we get it. My daughter is 9 months old and her daughter is 2 years old. We tell each other 'I need some support today,' and we help each other out," Ericka said.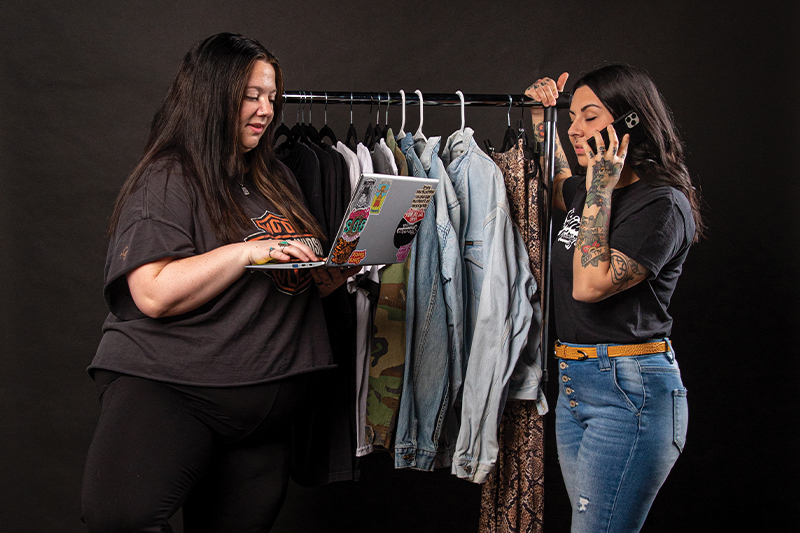 Since opening, Grindstone has embraced community support. The growth and opportunities are exciting for them, but they most enjoy the flexibility to include their daughters in their journey. 
"Brittani and I are really connected by spending quality time with our daughters while doing what we love.This is not a regular 9:00-5:00 job — we want to pave a new path for our daughters. We are creating a space where we can spend more time together," Ericka said. 
Sharing the love for both thifting and involving their young children has been an empowering experience for the young entrepreneurs. 
"It's going so great. We did a pop up recently downtown with other small business owners that are females. Being a small business, people want to rally around you in the community," Ericka said. 
As far as future plans, the pair hopes to have the opportunity to open a brick and mortar store one day.
"We mainly operate out of Brittani's basement," Ericka said. "We have a play area down there for them. They entertain each other and we do the best we can."
Pursuing their passion to run Grindstone as a side business, they have found that everyone is really understanding of the work-momlife balance. 
"It's so special that we get to do something that we not only love but that we are in charge of making our own schedule. It's a hot mess and it's a huge blessing everytime we get together and bring our girls," Ericka said.

Chelsea Boling
Hello Pop
Chelsea Boling understands the power of seizing every opportunity. When her son was just a year old, Boling decided to turn his love for fruit and vegetable ice pops into a family business. 
"I made his food purées as ice pops and he loved them. I have videos of him munching down on them. That's when I realized we didn't have anything like it in Owensboro," Chelsea said. 
This led to establishing Hello Pop, offering customers popsicles made out of fresh fruit with several different flavor options. After opening in July 2020, there has already been significant growth and expansion for this family-run business. 
"We started selling them at the Galaxy Restaurant. We did mostly deliveries and events for a while," Chelsea said.
While some might have hesitated to establish a business venture in the middle of a pandemic, for Chelsea, it was the perfect timing. 
"I never would have started the business model if not for COVID because people were home more. Normally people would be out and about, but in the summer of 2020, people were at home," she said.
Using a portable freezer on an event cart, Hello Pop began setting up at local events, including several schools.
As they continued to grow, they quickly realized they needed a commercial kitchen. The response was so great, it only made sense to expand. 
"We recently bought a second kitchen and expanded to offering popcorn, something we could sell year round," Chelsea said. "This sold heavily in the winter, at Christmas and Valentines Day."
The popcorn is available in more than 10 flavors, with the option for clubs and organizations to sell the product as a fundraiser. So far, this added portion of the business is thriving. 
As far as future plans, Hello Pop plans to add a food truck so they can set up in multiple locations at once. They will add lemon shake ups to the menu as well as continuing to sell the popsicles and popcorn.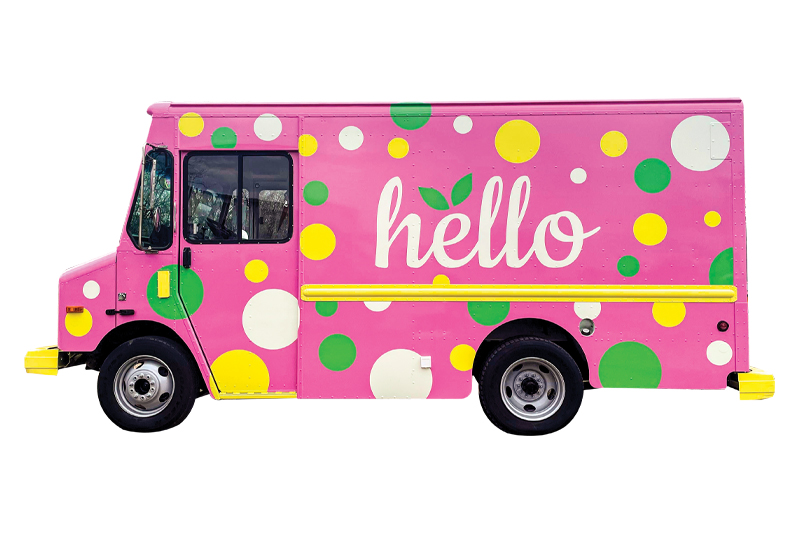 "We changed our operating model. Last year, we had four people who helped with events and took the cart out. With the second kitchen, we have the opportunity to hire more. There will be an event coordinator that goes to events and helps with the food production side as well." 
Her children, Easton (3) and Dani (9 months), get to go to some of the events, with Easton being the perfect taste tester since he really likes the products offered by Hello Pop. 
"The saying, 'It takes a village,' is a true statement," Chelsea said. "My husband's parents are very involved. We could not do it without them. The kids have a strong relationship with their grandparents. It's a three way win- they love having them around and we have the opportunity to run our business."