Photo by Jamie Alexander
The last time we caught up with Tristin Crusenberry in Owensboro Parent magazine, he was a student at Country Heights Elementary School. Today, he is a 2021 graduate of Apollo High School, gearing up to play baseball in the fall for Olney Central College in Olney, Illinois. 
While baseball is his passion, part of his mission is sharing with others that he does not have a disability, he simply has a hearing loss. At just 15 months old, Tristin lost his hearing due to Meningitis.
"I do not like the word disability. I'm just like everybody else, I just lost hearing. That has not stopped me at all. I have so many people doubting me and my favorite thing to do in the world is prove them wrong," Tristin said.
Thanks to parents who are willing to go to bat for him, his success is still unfolding. 
"He was just 18 months old when he was fitted with his first cochlear implant," his mom, Christy Crusenberry, said. "We wanted to make sure he had the best of what was out there while he was still growing."
Tristin thrived in elementary school, receiving training to use an interpreter early on. After forming a great relationship with his interpreter, Tristin viewed her almost as a mother figure. 
As Tristin transitioned to College View Middle School, he had another great support system, including a new interpreter. 
"This time his interpreter was a girl straight out of college. During the transition to a new school, he cried a little bit. She would say, 'Dude, you've got to quit crying or they're going to make fun of you.' He went from having a momma to having a big sis looking out for him," Christy said.
After making the baseball team at the end of seventh grade, Tristin was on his way to seeing his baseball dreams come to fruition. 
"High school is a time that Tristin experienced growing pains with more kids and more competition. His goal was to go to Apollo and play baseball for Coach Mantooth," Christy said. 
Making the team meant a move for the family, who says their house was only on the market for two days before it sold. 
"We had been so involved with him in school up to that point, it just fell into place," Christy said.
"We are very grateful for him to get to play under Coach Mantooth for a few years before he retired. He saw potential in Tristin and worked with him."
Tristin played baseball for Apollo all the way through his high school career, some of his best high school memories. 
"The reason I played baseball ever since I was a young kid, was because I had a hard time being deaf and baseball helped me. Through the sport, I learned who I was and became myself. Now I feel more comfortable," Tristin said.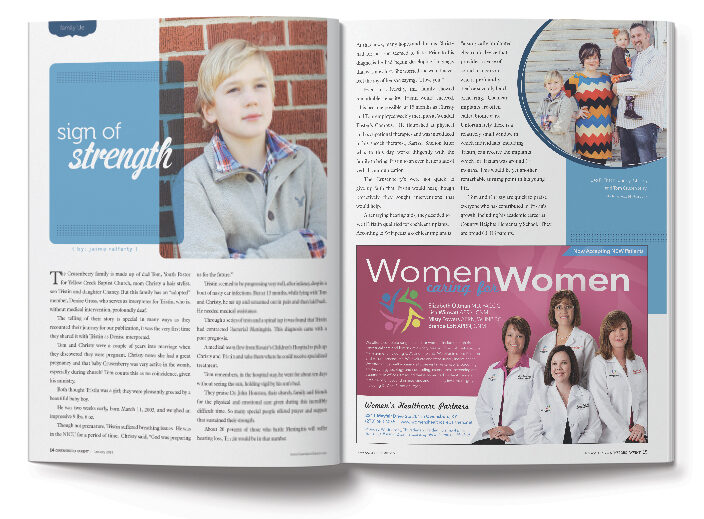 His senior year, he made the decision to play with the younger guys on the team, an experience he says he will not forget. 
"I play with a lot of great people. Playing baseball helped me to be a better person. I enjoyed last summer, one of the most fun summers I've ever had. I love working with the younger guys on the team and I love to help them. I also want to teach them lessons, not just baseball, but life," Tristin said. 
While Tristin says his biggest dream is to play professional baseball, he says he plans to take it one season at a time.
"Last summer, I got offered a scholarship to play baseball at a junior college, after two years I can try to transfer for a bigger school. I plan to try out year after year for professional baseball or transfer to another college," Tristin said. 
The Crusenberry family feels blessed that Tristin has been able to have the best technology available, upgrading cochlear implants every few years.
"We've never had to finance the upgrades. We had a close family friend purchase it. They told us 'We have been following him, we are invested. We want to make sure he has the best of what's out there.' Huge upgrades equal huge improvements for him," Christy said.
Most recently, his upgrade includes the ability to use his phone to track his settings. With Apple compatibility, the device can connect to an app, a laptop and even make it easier for him to hear on the phone.
As for the advice the family would give others facing the unknowns of a medical condition like Tristin, it's to keep advocating for your child, no matter what. 
"Ride the wave one day at a time and don't ever be afraid to ask questions. You have to push. The world is not going to stop for him because of what he deals with. I don't know how people do it without hope. There's not one time I look back and see the Lord not at work in his life," Christy said. 
His sister, Chaney, 11, added that she has a very good brother and she enjoys helping him when he can't see someone to read their lips. 
"He takes me in the drive thru and has me help him order sometimes, it's like a brother-sister bond thing when we need it. I help him when he can't hear somebody and I help explain it," Chaney said. 
While Tristin's family is proud of his heart and the way he is so kind to others, they are also proud of the way he takes everything he's dealt with and uses it to show empathy to others. 
"I see him in the dugout encouraging his teammates and cheering them on. I feel like God put him here as a bridge builder to bridge the gap between getting the word out and educating people," Christy said.