How one single mom is living her dream and teaching her daughters.
When Sheila Crowe took over Pinky's SnowCones & Snacks in 2015, she was one step closer to achieving her dream of owning her own restaurant one day. Crowe, a single mom, was looking for a way to supplement her income and give back to her community at the same time.
With Crowe working part-time at the Neblett Center, she had to figure out a way to balance her new business with her work and family life. Since she enjoyed interacting with customers, she says the demands of learning the business were worth it.
"We basically had to give up our summer to make it work," she said. "We run from April to the end of September. It's really fast-paced believe it or not."
In addition to snow cones, Pinky's offers other food items such as all-beef hotdogs, nachos, and walking tacos. Crowe's daughters, Aliehs, age 13, and SheLia, age 9 help run the business.
"My kids help take orders, they are my co-workers and can do just about everything," she said. "They can run the snow cone machine and make the nachos. They take orders and collect cash, which helps them with their math too."
One aspect of the business that Crowe most enjoys is her involvement within the community. When local elementary schools hire her for school wide events, Crowe enjoys serving hundreds of students in one day.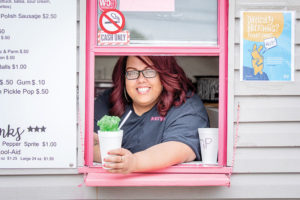 Pinky's has given her the opportunity to offer giveaways, host fundraising events, and teach her own kids about hard work. Crowe says her children enjoy their mom owning the business, too.
"My favorite part about Pinky's is the nachos," SheLia said. "I love that my mom owns it so I can get all the nachos that I want."
In 2019, the property where Pinky's was parked was sold, leaving Crowe no choice but to relocate. She would have to move her business, but was unsure where she would go.
"They were basically telling me, you need to find another parking lot to go to," Crowe said. "I didn't want to just relocate to some random place."
Although she was aware that she could easily move to a new spot in a different part of the city, Crowe was adamant about staying near her original location.
"This is the neighborhood where I wanted to be. I grew up in this neighborhood on Elm Street. My dad worked a lot to support us in a single- parent household. It made sense for me to want my business to stay here," Crowe said.
Once she purchased a new location just down the road, she had quite a bit of work to do. After completing renovations on the parking lot, adding landscaping, and new signage, in addition to renovating the floors and paint, Crowe was ready to re-open in July 2019. According to her, it became an unexpected future benefit to be pushed to move before she was ready.
"It's so crazy because I had this goal the whole time of running my own business and not having to get up and work a full-time job. I wasn't ready to make that move last year but I was forced to make that move," Crowe said. "This brought me closer to my goal."
Aside from Pinky's, the entrepreneur has another side job through baking. Thanks to the Kentucky Home Bakers law that passed in 2018, Crowe says she has been making cupcakes, popcorn balls, and strawberries to come up with extra income by working out of her home.
She calls this venture part of a bigger picture, to be done working for people and open her own restaurant full time. The ultimate goal is for her to be her own boss while providing for her family.
"This is only the beginning for us here in Owensboro in the food industry. It's 'us' because it is me and my kids. I want to get something built on that property and I am going to own it," Crowe said. "I was looking to invest in my community down there and this has all been a blessing in disguise."