Photo by Quinton Robinson
Owensboro Native Latanya Carter is no stranger to the fashion world. Her earliest memories appreciating a great piece of clothing date back to elementary school when she was often voted best dressed in her class. 
One of her first jobs included working at Cato Fashions before leaving for the University of Louisville, where she majored in communications. 
Years later and now based in Atlanta, her creative passion would lead her to start her own business, Jaxson Jace Clothing (JAX), named after her son Jaxson, who is now 4 years old.
According to her website, their vision is to design and embrace current trends in the fashion world for children.
"Fashion has always been a passion of mine," Latanya said. "I did styling for a while in Atlanta—it just wasn't it. To wake up everyday, it didn't motivate me as much as this clothing line. I found my niche with this line."
In October 2020, when Latanya launched the children's clothing line, the world was in the middle of responding to the pandemic. What might have initially seemed like an inopportune time to start a business, was actually a very successful first year with JAX. 
With more people shopping online, offering customers an online clothing store was well received. 
"I couldn't really do photo shoots because no one was traveling; it was really hard," Latanya said. "We had to get creative so we got little apps on my phone to take pictures of the clothes."
Though Carter may have faced a few obstacles along the way, she loves setting a good example for her son. 
"I'm a full-time mother and a single mom. I want to leave a legacy for him," she said.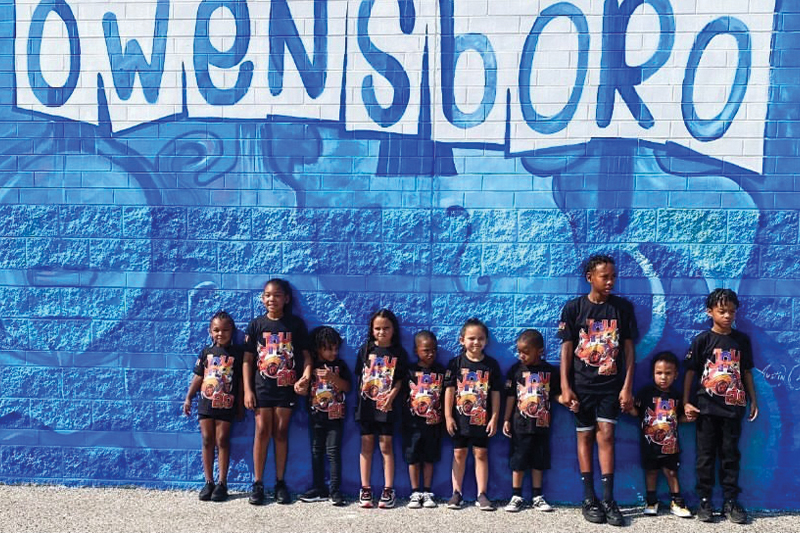 One of Latanya's favorite parts of the business is meeting the different parents and appreciating how supportive they have been.
"I have heard stories of how I inspired other single mothers. I don't have an investor. I do the shipping— I do everything for my business and that's what's fulfilling for me," Latanya said.
In addition to selling her unique pieces online, Latanya hosts pop up shops in Lexington and Atlanta, and now offers select pieces in a store in Deluth, GA. Her online presence includes a website, Instagram and Facebook page. 
"Atlanta has more opportunities and I'm able to network with others and get in rooms with other people to get our product out there," Latanya said. 
The clothing line offers unisex clothing in both toddler and youth for sizes 2T-Youth XL. Through the use of baby influencers on Instagram, Carter has a unique group of children who can model the pieces for social media platforms. 
"I have all my family in Owensboro so I travel back and forth to Atlanta. I have a mentor in Lexington that has his own clothing line and we learn from each other. He travels to Lexington and Atlanta as well," Carter said. 
In October, when Latanya celebrated the one year anniversary of Jaxson Jace Clothing, she came home to Owensboro for a unique photo shoot in honor of the children who helped her as she got started.
"We took the different kids I knew in the neighborhood and in the family. We started from the ground up. I usually take my own pictures but for the one year photo, I hired a professional photographer," Latanya said. 
As far as future plans, Latanya would love to continue to expand.
"I want a kid's store," she said. "That's what I'm working towards right now. Not the typical store—one with playthings, where parents can shop, kids can enjoy themselves, not just pieces you can purchase anywhere."
In response to the community support, both locally from family and friends in Owensboro, to customers who come from all over, Latanya took to social media to thank her supporters. 
"It's crazy to think how scared I was to try something new —starting a business," Latanya wrote. "One year ago, I decided to take a leap of faith, amid a global pandemic. I am forever thankful for your support and believing in me. It means everything to me."
For more information and to see Latanya's clothing line, visit www.jaxsonjace.com.