Photos by Jamie Alexander
Jolie Foster is not your average teenager. Besides playing varsity soccer and balancing the demands of her school work, she already has years of practice helping with her family's business, Foster Family Racing, run by her parents Eric and Brooklyn Foster. Working with horses of all ability levels, the family farm in Utica provides boarding and training to thoroughbreds as they prepare for the race track.
"I feel like I am out here doing a lot for my age," Jolie said. "I love working more with my hands, because I am a very visual learner. It might be something I would like to continue to do one day—help others as I work and get my hands dirty."
At just 14 years old, she has gained experience in barrel racing, caring for the horses and assisting with their exercise. Jolie got an early start learning her horses and competing, a tradition that has been in her family for decades.
"Whenever we moved here, I would sit on my dad's first horse. She was very old and I would walk around following my dad, feeding them in the wintertime. I would go down to the barn and stay there until dark," she said.
When she was just 4 years old, she rode a horse for the first time, navigating her first barrel race by the age of 8. The love for racing and the excitement that goes with it came naturally for Jolie, whose dad, Eric Foster, got an early start as well.
"He used to barrel race as a young boy, traveling on airplanes to his horse shows, having someone waiting there to pick him up. He's done it almost 30 years and still loves it," Jolie said. 
According to Jolie, there are key differences between the barrel racing she participated in as a young child and the horse racing she enjoys watching at Ellis Park today. Barrel racing, she explains, uses three barrels or poles in a pattern, with the rider trying not to knock them over as they work to get the fastest time. Horse racing, which starts with a row of horses waiting to sprint out of the gate, is a dash for the finish line against tough competition. 
"I really like both; in horse racing you get adrenaline being right next to somebody. When you are training them, your heart will pound, being able to experience being on a horse when it's going so fast," she said. "With a bigger horse comes different head mechanics because thoroughbreds don't move their heads the same way. It's a whole different game."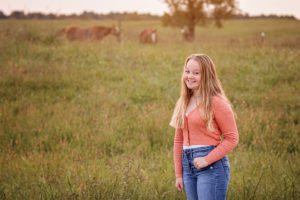 Jolie's future goals include continuing to help her parents in the business and finding outlets to spread her creativity to the world. She recently started her own art business on Instagram, drawing horses and painting them. 
"My mom calls me a little entrepreneur. I love to be able to express myself," Jolie said. "One of our owners led me to paint a picture of their horse. I love what it looks like but I also love that it's not exactly like the picture and has its own spin to it." 
As far as training goes, Jolie says she would love to continue to grow and learn. She has only been trained to ride her horse to a certain extent so far because of the accidents and risks involved.
"There's a big difference between a quarter horse like in barrel racing and a thoroughbred, which is all big and upbeat. With all the energy from a horse that size, you really need even more skill," she said. "I want to get there eventually and I think I will."
Whether it's exercising their horses in the wintertime by jogging around the barn or cleaning them regularly, Jolie takes her responsibilities very seriously. Some of the horses become very special to her, almost like family.
"One of our friends had a pony horse for sale and we got him. I used some of my own money that I had saved up for many years to buy him. His name is Dunnit For Dad. He's 18 years old and he loves me. He will do whatever I ask him to," Jolie said. 
From her first time on a horse to saving up her money to help buy a horse of her own, Jolie says she does it because she loves it.  
"I do a lot of work, but I am really an extra set of hands always ready to help," she said. "I have two main horses that I hand walk every day. It takes about 30 minutes to walk each one. I love being able to interact with the animals."