Who run the world? These Moms.
Photo by Jamie Plain
Local runners Jennifer Falloway and Vicky Payne completed their sixth world marathon in April, a feat that only 11,000 people across the globe have accomplished. 
Abbott World Marathon Majors, a championship-style competition for marathon runners, honors those who complete all six major marathons—Boston, New York, Chicago, Berlin, Tokyo, and London. When Jennifer and Vicky completed the London marathon at the end of April, they earned this prestigious medal and were inducted into AWMM's Hall of Fame.
To qualify for the Abbott World Marathon Majors, runners must achieve qualifying times in the events within a specified time frame, running a marathon faster than 2:32:00 for men and 3:19:00 for women.
What started as a quest to qualify for the Boston Marathon four years ago, sent the friends on a journey of disappointments, delays and cancellations, that ultimately led them to this accomplishment. 
"I ran a marathon years ago and got the urge to do another one. I'd done four or five when I reached out to Jennifer and said she should do one with me," Vicky said. 
Their first attempts to qualify for the Boston Marathon were so close they knew they could not give up. In fact, they had qualifying times twice before getting into the race. 
The two moms did not qualify once when officials determined the cutoff time to be less than their anticipated Boston Qualifying time (BQ). 
"They take the fastest runners first and I missed the cut off. That year, you had to be four and a half minutes faster (than the BQ) and I was three and a half minutes faster. We didn't make the cut and I was devastated," Vicky said.
Then in 2020, despite qualifying again and knocking several minutes off their marathon time, Covid hit. 
"It was the 124th race that year. It's the first time in the history of the race that the Boston Marathon was canceled. We were so disappointed," Vicky said.
When given the option to run the race virtually, the two moms ran the marathon by running 26.2 miles around Owensboro in the midst of the shutdown. 
"We started trying to qualify in 2018, but didn't officially run Boston until 2021," Vicky said. "It took that many years to get in because of Covid. That's when I heard about the Abbott World Marathon Majors. I remember thinking I was in great shape, I might as well do it."
The runners have held many titles over the course of their training careers—from lunch time runners to virtual race finishers to accomplished athletes to Six Star Medal recipients. But the title they are most proud of is "mom."
Both Jennifer and Vicky, who had young children when their training began, realized that early morning runs were one of their only options to get in their miles.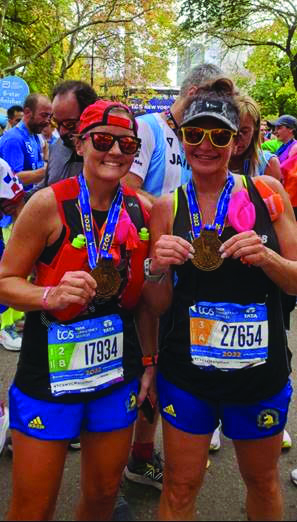 Jennifer says her children definitely recognize the sacrifice that was required to accomplish her six world marathon goal. Taylor, 11 and Zach, 9, have seen their mom put in hours of strenuous training to get to the point she is today. 
"They see what it takes," Jennifer said. "The dedication, how early we get up and run. I am back home before they get up to get ready for school. Even on vacation, I start early and get my run in before they are up for the day."
With her husband working a swing shift, Jennifer often had to stay the night at her parent's house to be able to pull off the early morning runs with her two kids still in bed. 
"We ran as early as 2:30 in the morning," she said. "Sometimes I had to get in a 20 miler before work. Depending on the weather, that's been on a treadmill before too, which is awful." 
Both of her children are involved in sports and have tried running for their school running clubs. Zach, who plays travel baseball, and Taylor, who plays softball, both accompany their mom on shorter runs near their home. 
Vicky, whose son, Levi, was 8 when she started training for Boston, said he has also tried running, but wasn't too crazy about it. 
"I introduced him to cross country with the East Daviess County Elementary races. He ran and he did phenomenal, but it was 100 degrees outside that day. He looked at me and said he never wanted to do that again," Vicky said.
Even if Levi wasn't meant to be a runner, Vicky says he has learned important life lessons through her accomplishments. 
"From my first marathon, I was able to knock an hour off my time. When I tried to qualify for Boston, I missed it several times by just a couple minutes," Vicky said. "I'd come home and my son knew I didn't make it. The year I finally made it, all my family went there to support me."
When Vicky finally received the bib for the Boston Marathon, she knew the hard work paid off, and was brought to tears.
"I could remember Levi telling me each time, 'Mom you'll get it, you'll get it,'" Vicky said. "I taught him not to give up—keep trying, and you'll get there. He learned that by watching me do it and he was a part of it all."
Vicky says her son is one of her biggest supporters, adding that it was worth it, juggling the tight schedules and the early mornings. 
"When I trained the hardest, he was still young," she said. "I had gone back to school to get my masters and I was preparing for the marathon—2020 was hectic. I was running, training, and unsure if we'd get in. There were sleepless nights. But I was showing him hard work, dedication, and persistence pays off."
When the runners reflect back on this experience, they have reached a consensus that it was definitely worth it. 
"When I think back on all of it, I am pretty proud," Jennifer said. "In London, there were 45,000 runners, and the spectators were amazing. We wore all-out USA. Everyone saw us and knew where we were from. It was my favorite race."
As far as what fuels her passion, the mom of two says she is always up for a challenge.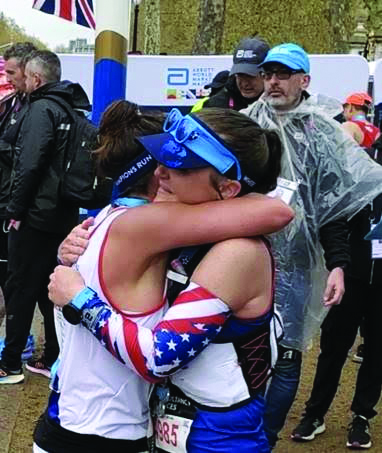 "I feel like in any race we ran, we had to face adversity," Jennifer said. "When we ran Houston, we had heat warnings out. When we ran Idaho, it was on fire. There was always some kind of disaster. With Boston we had a world pandemic. And one race, there was even an earthquake."
Always being up for a challenge, teaches their kids to do the same. Vicky added that the benefits of running have helped to make her a better parent.
"As a mom, it's my sanity check—my time," Vicky said of running. "If I have a hard day at work, if I need a minute, I run. Sometimes on my lunch break, sometimes before I get home. Taking the time to run makes me a better person for everyone."