Photos by Jamie Alexander
During the summer of 2019, Matthew and Amy Martin traveled quite a bit for their jobs. Even with the couple both working remotely, their out of state travel often occurred apart. Little did they know, just a year later, their adventures would take place together, with their family of three taking off across the country in their new home away from home. 
"It's rare we can all travel together — there is the home to maintain, obligations or the traveling occurs during our son, Maccoy's school schedule. It started to feel like we were away from each other more frequently, and we were getting to see and do so much, but not with each other," Amy said.  
What started as brainstorming how they could travel more as a family, led to the realization that their jobs already give them the perfect opportunity to visit these places as a family. Right away, the couple decided they wanted to sell their home to have more flexibility.
"Our jobs take us to different states every year such as California, Colorado, Massachusetts, Georgia, Florida, just to name a few. As our son, Maccoy, is approaching 9 years of age, we were also seeking an opportunity for him to travel more with us," Amy said. "Our home was beautiful and a blessing, but we felt it was also too big for three people."
After exploring the idea of staying at various Airbnb locations for a year or full-time RVing, the family decided to seek the advice of co-workers who were living a similar lifestyle. One co-worker traveled and lived full-time in an RV with his family for three years and another was living in an Airbnb for six months in Costa Rica. 
The couple realized that working remotely presents a lot of possibilities if they were open to a new lifestyle and adventure, which they were. After running numbers, thinking of how they wanted to travel, and watching unlimited videos on YouTube, they decided to become full-time RVers.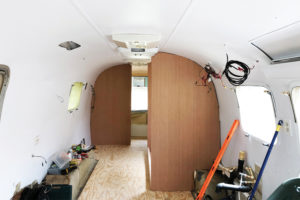 "Did we have an RV? No. Did we have a truck to pull the RV? Nope! Had we ever camped in an RV? Nope! Homeschooled? Nope! But we knew we both had the spirit of adventure and our son would be the perfect age for it, so we jumped in with both feet," Amy said. 
After putting their home up for sale in February, they bought a used Airstream travel trailer just two weeks before COVID-19 hit. They describe this as a year of dreaming and planning. After selling their house in early June and selling their small car, they bought a truck and gave away a lot of their home goods. 
"We purchased our 1977 Airstream Excella 500 from a lovely Owensboro native couple. They sold us 100% on the Airstream and traveling. They'd been traveling most of their life and had the best stories to share with us! It was their time to pass on the Airstream to a new generation. We were so lucky we were able to connect with them," Amy said.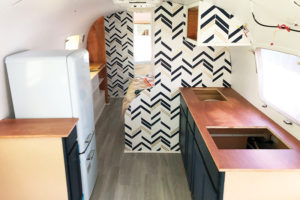 While doing renovations to their Airstream to prepare for full-time traveling, the family is staying in an Airbnb for the next six weeks. Though the Airstream had been kept in great shape by the former owners, the Martins wanted to put their own stamp on it. The couple has been working around the clock to renovate it. Renovations include a complete gut job of the inside shell to create a custom layout that is functional for the family of three — an all-new inside to match their new lifestyle. 
Remodeling has been a challenge and taken a lot of time, but the Martins have found the process fun and a great learning experience. While living in the Airstream full-time, they will be traveling all over the United States, experiencing national parks, museums and exploring new cities. The couple is looking forward to homeschooling their son and incorporating experiences from their travels into his homeschool curriculum.
As far as Maccoy is concerned, he is excited to try to find some neat flea markets or vintage shops, a favorite of his any time they are on vacation, or a weekend trip. He loves finding vintage toys and games, an opportunity he will likely have more often on the road. 
"Our son is excited about the adventure and he's loved seeing the Airstream come together as we are working on it! We went from a 3,000 square foot home to a 250 square foot travel trailer and a really nice truck. It's been the most freeing experience," Amy said.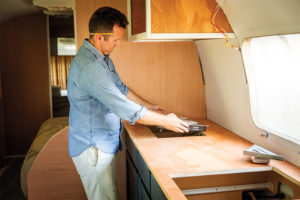 According to the Martins, the biggest advantage of this new adventure will be their time together as a family. Between all the demands of owning a home, balancing work schedules, and attending extracurricular activities, for a while it felt as if the family was constantly running on all cylinders just to keep up with life. 
"We know that full-time RVing will present its share of challenges, but we feel the experience will be worth it! We are very much looking forward to having more time to take in nature, explore new cities, and have more time to hike, kayak, walk on the beach, or just chill out in the Airstream and read books," Amy said. 
When they aren't traveling, the Martin family will be back in Owensboro, a place they refer to as their home base. With most of their family and friends here or nearby, they plan to return some throughout the year. 
"When we told our family and friends what we were planning to do, some were apprehensive about the idea, but the majority of people including our families have been supportive and jealous! Many people said they wish they could do what we are doing. We've had a lot of interesting conversations with people and many want to travel and do more," Amy said. 
The Martin family believes this new adventure has taught them to not be afraid to think outside the box and try something new. They have realized that life does not always have to be what society dictates. Their goal is to be an inspiration to others, to think outside the box and experience life in a different way. If one has the ability and the means to make a change, life is too short to not live that dream.