Sisters Jocelynn and Lillian Magan have made a name for themselves with their jewelry business, Mary & Milvie.
Meet Jocelynn Magan. At just 17 years old, she's accomplished quite a lot. Jocelynn, a junior at Ohio County High School, has a part time job, is a varsity golfer for the Lady Eagles and runs her own business alongside her sister. 
Lillian Magan keeps an equally impressive schedule. At just 12 years old, she is a member of the cheerleading squad and volleyball team at Ohio County Middle School. The duo has been creating their own jewelry and running their own business for four years.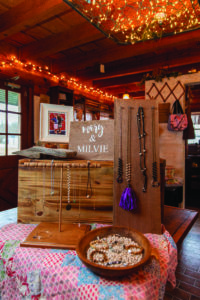 "We were looking for the perfect boutique and got super frustrated. We can remember our mom asking us what we were going to do about it," Jocelynn said. 
Although it may have been a rhetorical question at the time, the thought led to the sisters creating Mary and Milvie, a fashion-focused small business selling a variety of handmade jewelry and recently offering a few unique flannel tops as well. 
"Mary and Milvie is a family name," Jocelynn said. "We chose to use these names to represent our business." 
Although the girls do offer their unique pieces online, they also sell their jewelry in four different boutiques in the area including Country Home on the way to Owensboro, Fleners MSC (Main Street Collections) in Morgantown, and both Shepherd's Market and Persimmon in Beaver Dam. Their future plans include expanding their line of products in other local boutiques in the area. 
Mary and Milvie offers customers the ability to shop online via Instagram and Facebook, with the option to have items shipped. Recently the sisters reached more than 1,000 followers on Facebook. Their online presence has led to serving customers out of state. Orders have come in from as far as Pennsylvania.
The duo has also set up pop-up shops to sell their products at local festivals such as the Hartford Street festival. This allows them to reach customers in multiple ways via social media, word of mouth and in physical locations as well. 
"As far as growing, we want to keep going. We want to expand and have an official website. We are in the process of making one," Jocelynn said. "We would like to keep expanding and go to more cities like out of Kentucky."
The young entrepreneurs have learned to split the work fairly. Jocelynn makes half the jewelry ands she is also in charge of deliveries since she now has her driver's license. Lillian, who makes most of the social media posts, creates the other half of the jewelry. Their mom, Jessica Magan, says she couldn't be more proud of her daughters. 
"I love their motivation, their self discipline. They work together as an effective sister entrepreneurial team," Jessica said.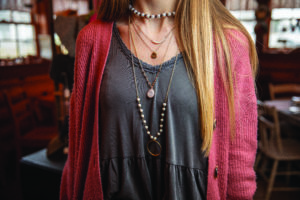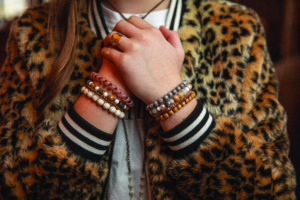 Mary and Milvie offers handmade bracelets, spoon rings, chokers, long necklaces and custom keychains. The adult line, Mary and Milvie, carries their business name, while the kids line Little Lovies, was also selected based on a family name. 
Custom pieces can be created for athletic events such as bracelets for moms to wear during football season or baseball team orders with the athlete's numbers on each piece. Charms can be added to bracelets or necklaces for special events too, such as a high school or college graduation.
"I made a necklace for a friend with a megaphone because she is a cheerleader," Jocelynn said. 
While individual orders and returning customers are great for sustaining their business over the long haul, the sisters have also enjoyed filling larger group orders. Their biggest order to date was two hundred pieces created for a local church for the "Women of Worth" conference. The keychains included a scripture and a cross. 
Their entrepreneurship has also led to them having opportunities in school.  A few years ago, the sisters put their jewelry in a competition to support their school as part of a National Beta Club convention. While they didn't win, they described it as an honor just to be asked to compete. 
Each year Mary and Milvie has experienced greater success than the year before. For each of their four years in business, a new boutique has agreed to pick up their product line to sell. The sisters say they are excited to be making their own money, as each girl already has future plans in mind. 
"I have a savings account and I want to save money for a good car. I plan to go to WKU just like my parents did," Lillian said.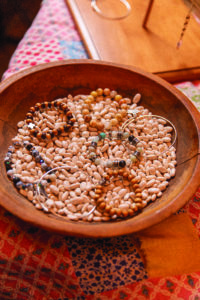 Now that Jocelynn can drive, she jokes that her Mary and Milvie paycheck is her Taco Bell money. She also says it's helpful to have the extra income to pay for gas and have a little  spending money. Aside from the extra income, she says she is doing something that she enjoys. 
Reflecting on their early start in business, the sisters realize that their gift for fashion and creating was always there. As a little girl, Jocelynn remembers loving jewelry. She found a picture of herself as a grade school student with bracelets all the way up her arm and necklaces stacked around her neck. Lillian loved to craft. So much, that she said her parents gave her an entire room in the house dedicated just for her creations. 
"My favorite part of our business is the networking and always meeting new people. It's awesome how people are able to support local in a small town. I would like to give a shout out to all the boutiques who gave us a chance. We were just little girls with big dreams," Lillian said.