A local mom opens up about her son's
 

Cystic Fibrosis in the era of COVID

Photos by Jamie Alexander

When Morgan and Sean Hayden had their son, Paxton, 10 years ago, they experienced the joy and emotions that many first time parents go through. After a non-eventful pregnancy and delivery, the unexpected news that came just five days after Paxton's birth was devastating. 

"I was in college and about to go take a final," Morgan said. "I got a call from the doctor's office asking me to take Paxton to St. Mary's the next day for a sweat test because his sodium chloride (levels) came back as too high in his newborn screening. When I asked what was wrong, they didn't want to tell me at first and when I asked again, they told me he may have Cystic Fibrosis."

Morgan had never heard of Cystic Fibrosis, a genetic disease that causes persistent lung infections and limits the ability to breathe over time. 

"My mother-in-law, who was there watching Paxton so I could go take my finals, went and Googled it, and I lost it. I did not take my finals that day. One teacher still passed me but the others failed me," Morgan recalls. 

At Paxton's sweat test the next day, the results were inconclusive. A blood draw at three weeks of age confirmed that he did, in fact, have Cystic Fibrosis. 

"We were thrown into this; we knew nothing. He was born at 8 pounds, 8 ounces, a good weight and a good size. There were no warning signs. My father-in-law kept saying he looked fine. It was hard to detect by looking at him. Some babies with this disease have to have surgery immediately after they are born," Hayen said. 

Soon, Paxton would begin traveling to Louisville regularly to see a host of specialists including a social worker, respiratory therapist, nurse pharmacist, and dietician. Their new normal became a whirlwind of preventative treatments to keep Paxton as healthy as possible. 

"All these people have to come in and check weight, check his breathing function; he blows as hard as he can into the breathing function test and it measures the upper airway and lower airway. Antibiotics and steroids are very common as well — every other month to fight off other infections," Hayden said.

In 2018, Morgan says Paxton experienced his worst year, with three hospitalizations in just six months. One particular episode shook the young family, when Paxton could not get his breath at night even with all the hospital interventions in place. 

"He was coughing and between breaths asking me to help him. The doctor told me they were doing everything they could do and still he was having trouble breathing. There were a lot of unknowns with Paxton and it was tough," Morgan said.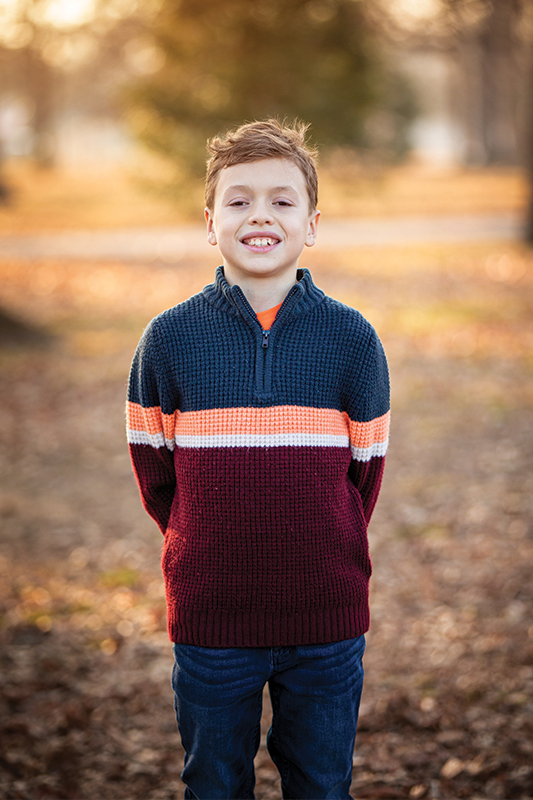 A New Hope
By 2019, a pharmaceutical drug called Trikafta came out, drastically changing the lives of many Cystic Fibrosis patients. After starting Trikafta, Paxton's lung function skyrocketed, and hospitalizations decreased. 
"On this drug, they feel like they can finally breathe and are living," Morgan said. "I had to fight for Paxton to be able to take it, as technically it was approved for ages 12 and up. I fought with the insurance company and won. His lung function went from in the 70's the time he had pneumonia to 142 percent on Trikafta."
Even with all the treatments and unknowns, Morgan considers Paxton to be very blessed.
"Some kids are way sicker than Paxton," she said. "Medicine has changed everything — it helps 90 percent of the population. There is still 10 percent that cannot take it because their gene mutation won't allow it. He has the most common mutation, which we are thankful for."
The COVID Effect
When COVID-19 hit in March 2020, many friends and family members may have expected the Hayden family to completely hide out until the pandemic was over. With all the precautions already in place, the family did not have a significant lifestyle change. 
"This is what's funny—we have been living like there was the Coronavirus since the beginning. We have to be germaphobes; everyone gets it—we are already so cautious of germs. If you were sick, have been around someone that was sick, do not come over. For three years I kept him in a bubble essentially," Hayden said.  
After joining a Cystic Fibrosis Moms page on Facebook, Hayden says she began to look at that bubble a bit differently, ultimately realizing after listening to advice from other moms that there is a difference between quality and quantity of life. 
"We want our kids to live forever. But we don't want to shade them so much they can't experience life. I was petrified at first. A cold has put him in the hospital before. When Coronavirus hit, I was scared, so people were shocked when I wanted to send my kids back to school," Morgan said. 
Paxton and his younger sister Liv, 6, attend Burns Elementary School, something Hayden is thankful for since it is so close to her house. She says being right down the road if Paxton needs her is a huge comfort for her. 
"I wanted to be close to him in case I needed to rush to him and evaluate him or give him a breathing treatment," Morgan said. "This is the cleanest the school has ever been — teaching students to wash their hands and not get up in other's faces." 
One of the treatments Paxton receives is called the High Frequency Chest Wall Oscillation (The Vest), an inflatable vest attached to a machine that violently pushes air in and out to loosen mucus stuck on his lungs. Too much mucus leads to infections and ages the lungs. 
"Many need lung transplants later in life," Morgan said. "They are depleted. The less hospitalization and less antibiotics the better. When he does therapy, he uses the vest twice a day for 25 minutes. If he is sick, it's four times a day."
Turning the BIG 10
On Nov. 27, Paxton turned 10 years old, a milestone that was huge for Morgan. What she hopes to encourage other families to do is to always advocate for their child and never give up, even when that means fighting insurance companies or being a voice for their treatment. 
"I have now dabbled in nursing, respiratory therapy, insurance adjusting. I had to learn all these things, but it's all worth it," she said. 
Sharing Paxton's story on social media is just one way for the Hayden family to reach others and show them they are not alone in their journey. 
"We don't want Paxton to be ashamed of it when friends come over." Morgan said. "They play video games and he has a treatment and then goes back to playing. The day he tells me to shut up about it, is the day I will. I don't ever want him to feel like he needs to hide."
A Mom's Persistence
During the first few weeks of his life, Hayden says the family racked up thousands of dollars in medical debt. Hayden will never take for granted how far they have come, from the days when they didn't know how they would pay for Paxton's expensive medicine to finally getting approved for a Home and Community Based Waiver (HCB), a program that helps cover his treatments and visits.
"Cystic Fibrosis care is extremely expensive," Morgan said. "I remember going to pick up Paxton's medicine and the lady whispered to me that it would be $2,700 dollars; she told me we had to pay until we reached our deductible. We had to charge it on our credit card. The first three years that's what we did."
Although it took nearly two years to get Paxton into the program, Hayden said her persistence was worth it. In fact, she nearly gave up right before their approval.
"They denied me for so long because he wasn't sick enough. He will age out of it eventually the more he is able to do independently. Just when I was ready to give up, they let me in; I was the first Cystic Fibrosis patient to get approved for HCB," Morgan said. "Now, I like to help others get in the program to get help with their medical bills."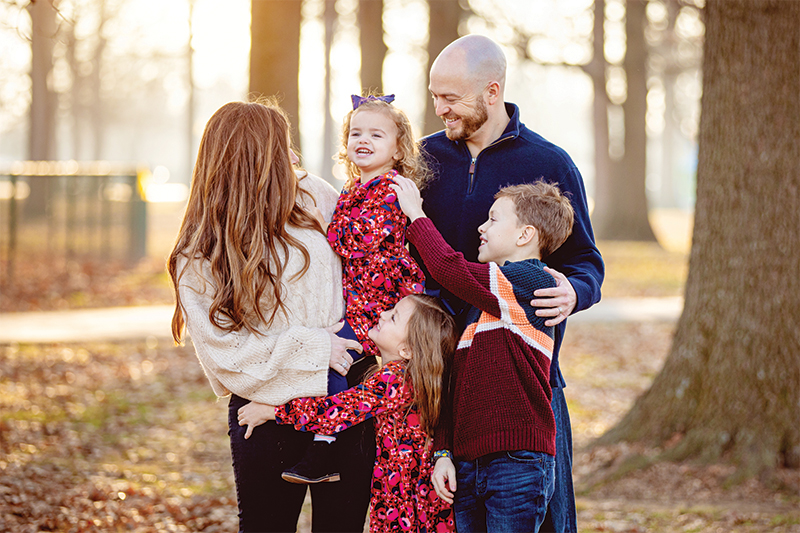 The Hayden 5
All of the Haydens, including their children, Paxton (10), Liv (6) and Emery (3) have found the power of togetherness. Morgan says that dealing with these obstacles can either bring people together or pull them apart.
"We fell into each other and leaned into each other," she said. "Paxton couldn't ask for a better dad and I could not ask for a better husband. A lot of husbands when it comes to seeing something like this, they shut down and can't do it. Sean jumped right in and helped me get through it."
While Morgan admits that having a child with Cystic Fibrosis can be difficult, she understands that every family faces their own challenges. 
"Every family has their thing and this just happens to be our thing," she said.