Photos by Jamie Alexander
Isabella (6), Jolene (12), and Cole (13) Raymer understand the value of hard work. Although they are just kids, their hand in the family business—Glowing Jacks Pumpkin Patch—has helped earn them multiple vacations including a trip to the Bahamas last year. Their parents BJ and Heather Raymer could not be more proud of the contributions their children make to the business. This success did not come overnight, however. What started as an unsuccessful attempt to plant pumpkins, led to a business that grows more than 4,000 pumpkins per season. 
"Six years ago we planted some pumpkin plants and it pretty much failed, overgrew, and we lost them," BJ Raymer said. "The next year when we attempted to plant, I got the kids more involved. By the third year, my wife and I decided to put a whole lot more effort into it." 
Each year, the family masters a new aspect of growing and harvesting, something they refer to as a total group effort. From borrowing their first tractor to learning about how to prepare the land, the Raymer's asked friends and family to join their process as they continued to grow.
"After that first failed attempt, we rented an acre, did some research from the years prior, and invested into it. All five of us were out there. We all worked the field, hoed together, got the weeds out, and worked the ground together," BJ said. 
Although Isabella won't stay out as long as her older two siblings, it's still enough to be part of the process. Once it's time to sell, the 6-year-old entrepreneur sets up a Coke stand, transforming part of the yard into her own little business for the weekend. 
"She's all in it when we pick and when we wash; she stays right there with it. She's been out there with us since she was a toddler," Heather Raymer said. "This is the third year selling and having a bigger stand on the side of the road.  We hand wash every single pumpkin. Our kids love greeting people who come up the driveway."
According to BJ, some days it's not easy work with 100-degree weather on a sunny day. Often, he will see the kids perk up and keep going anyway. That's what pushes the family to keep moving; they are sweating and they are working together as the children urge that there are only a couple more rows. 
"It's a life lesson for them. You can go to college and do that route and you'll never have to be in a pumpkin patch again. It's given them something to work for and to earn money to buy things, which teaches them ownership and responsibility," BJ said. 
While some tell them to raise their prices, the Raymer family has chosen a different route and work to keep the cost to the customer low. Although people have offered to buy wholesale from the family, they try to keep their business local and the interactions more personal and meaningful, especially since their children enjoy the process of selling each one.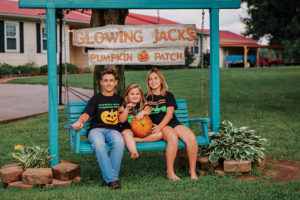 "We do this all as a family, it's just us," BJ said. "Our prices are cheap, which is why we sell out so quickly. People can't spend a bunch of money on things that will rot, especially during COVID. Our prices are so affordable that someone that comes with $10 or $20 will leave with a lot of pumpkins."
Glowing Jack Pumpkin Patch has expanded to include two patches and now offers 18 varieties of pumpkins. Many of the unique strands of pumpkins are not offered anywhere else locally. Some family favorites include white and red pumpkins with veins like eyeballs, a yellow pumpkin with orange and green stripes, baby pumpkins, the Knucklehead with warts all over them, and even a 168-pound pumpkin that the family donated to their children's fall festival last school year. 
"What fuels my passion, at least for me, is watching the kids, the work ethic they have," Heather said. "I love the passion they show for it at the end when we are selling. We decorate it up we make scarecrows and little pumpkin men and they love it."
The fruit of their labor is a well-deserved vacation that the children get to pick out every year. Profits from the pumpkin patch go towards this vacation fund. So far, the siblings have chosen to go on a cruise to the Bahamas, a cruise to Mexico, and have and have decided on a trip to Yellowstone this year. 
"They pick out the destination each time. We go to quite a few locations every year, meaning they get to see different places. This year as motivation, we compensate them working in the fields, and they do make tips helping people to their cars with their pumpkins," Heather said. 
The family business has created an honor system for people to select their pumpkins and leave their money in a box. This aspect alone is something that the family considers a unique draw to their business and a reason that so many have come back year after year. Although it has required some research to learn spacing, timing, and planting logistics, the Raymer's consider it well worth the effort.
"By February, we are all ready to do it again," BJ said. "That fall atmosphere, that's what gets us excited about it. We all get to spend time together whether we like it or not. We have our good days and bad days but in the end, it's just fun."
Glowing Jacks Pumpkin Patch is located on Highway 231, just five miles past Owensboro Community & Technical College on the left.The Raymers have already sold out for the 2020 season, but be sure to check out their Facebook page, Glowing Jacks Pumpkin Patch for updates on next year!