Photo by Jamie Alexander
Faith and Steve Harralson have not travelled an easy road, but they are using their pain to propel them to a place where they can help others along similar journeys.
After battling infertility for a few years, they faced heartbreaking loss and several unexpected challenges on their journey to create their forever family. 
"We tried embryo adoption. We had three embryo attempts and one time it stuck, and we lost the baby. There was so much pain with the heartache," Faith said. "After this, we decided to do foster care to provide a home for those who needed a place."
The Harralsons opened their home to seven different children over the course of three years including two girls who were with them for 18 months before returning to their birth mom. 
Through the years, the couple gained a wealth of experience from their journey, including fertility consultations, embryo adoption, foster care, and domestic adoption. 
The last time we shared their story, the Harralsons had just finished an eight-year journey that ultimately led to bringing home their infant daughter, Olivia Joy, through an open adoption.
In June 2017, after her birth, the family was overwhelmed with both gratitude and a sense of compassion for the birth family. Because of their experience with open adoption, the Harralsons want to help advocate for others walking a similar path. 
Today, they are turning their challenges into an opportunity to reach out to families on this journey, through Faith's three children's books, and more recently the launch of a website. 
One of her children's books, Gracie's Journey Home, is a true story about a homeless cat finding its' forever home. 
"The cat started lingering at our house from all the attention it got, so we adopted it and gave her a home," Faith said.
While there are certainly parallels between the children's book storyline and the path to grow a family through adoption, the Harralsons have much more to share about their experiences. 
"I had originally planned to have a publishing company, but felt called to offer coaching and consulting for foster and adoption," Faith said.
In addition to faith-based coaching and resources for open adoptions, their website will include blogging with weekly updates about their current journey.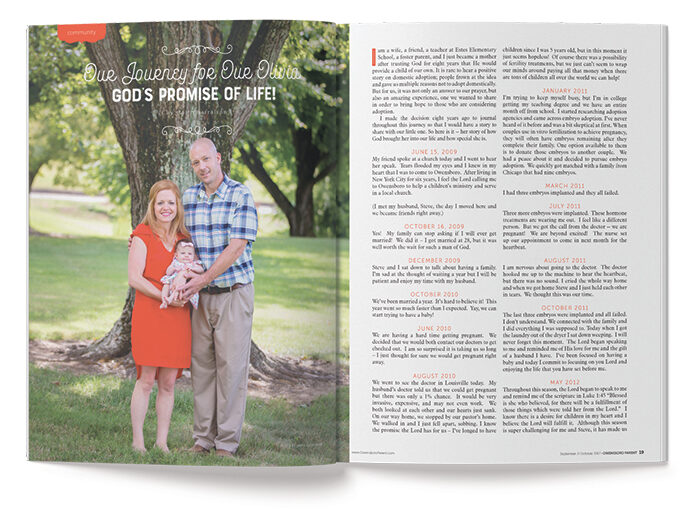 "We want to walk people through our journey to see what it's like to uncover some myths about this process. We want to bring awareness that everyone can have a place in the process and support it in some way," Faith said. 
Recently, the couple has become "Prepare and Enrich" premarital and marital coaches, consulting with and assessing couples.
"The program just created a foster and adoption wing. 
The assessment highlights growth areas that couples can work on to help them in their marriage, so that when they foster and adopt they are more united as a couple," Faith Harrelson said.
The couples take an assessment and our goal is to get them on the same playing field. If you have, it will bring it to the surface in your marriage even more. We help them to get on the same page," Faith said.
The Harralsons acknowledge that not every family is called to foster or adopt, but believe they can still get involved in some way.
"It looks different for everyone. Some have money, some have time, some may actually be able to do it," Faith said. 
As far as a husband's perspective, Steve recognizes the value of taking one day at a time, even in the middle of the toughest storms. 
"I have learned as a husband to be vulnerable," he said. "As men, sometimes it's hard to do that. It helps you to be a strong head of the household. Some of the things we've gone through that I thought would happen, did not go that way."
Even with all the unexpected events he and his wife faced, he knew he had to let go of trying to control their outcome. 
"You think it will be one way, and it's not," Steve said. "Take it one day at a time. You can't control it. Especially as the husband, you want to make it happen, but you can't."
Faith adds that when people allow the pain to push them to purpose, it changes their outlook during each trial. 
"Any infertility is very painful. If you can trust the Lord that he does have a plan, try not to push the pain away. Let the pain allow it to unfold what he really wants and intends for your life — it's not what you expect," Faith said.
While each loss felt like it challenged their plan for a family, Faith and Steve never gave up. 
"I wanted all these children. I would never have become a foster mom if not for infertility, never adopted this sweet gift if it wasn't for that. It pushes you to see what God has for you — bigger and better than you thought."
Perhaps most importantly, Faith urges others to stay connected to a community of encouragers who don't let their friends walk these trials alone. 
"Don't shut yourself off. You need a tribe around you," she said. 
Sharing their story is part of their healing. The couple urges other families to seek guidance during the entire process.
"At first, Faith and I didn't want to share with anyone. We wanted to keep it quiet, but you create your own prison when you do that. Not just immediate family can serve as this tribe, but also friends who are like family. It's such a non-traditional thing we went through, but what a big relief to have a close community surrounding us," Steve said. 
For more information, visit their website atfaithandwonders.com.