When Chelsea Stratton started decorating cookies, it was just for fun. She never imagined her interest in creating unique designs would lead her to where she is today.
"I was watching the Certified Celebrator on Facebook and she had a friend that was decorating cookies. I thought it looked fun and I wanted to give it a try," Stratton said. "I watched more videos and started following cookie decorators on Instagram."
When her sister-in-law asked her to make cookies for a birthday party, Stratton decided to go for it. This was her first order — little blue trucks for her nephew's first birthday. 
"It slowly started to pick up. Mainly friends and family at first. Then I started having people message me on Facebook that I didn't even know," Stratton said. 
That's when Stratton realized it was time to start a Facebook page, Farmhouse Cookies. To her, the name just made sense. 
"My husband is a farmer. We live in the middle of a 120-acre farm. The name fit. I searched to see if anyone else had it and it became my name. I'm in the middle of a farm and I make cookies," Stratton said.  
Although the venture basically fell in her lap, Stratton is not surprised that she loves it so much. After giving her business a name, she continued to grow and expand. Farmhouse Cookies turned three in August.
"Now I make all kinds of cookies. I've always loved to bake and to watch baking videos. It's been my dream to own an actual storefront bakery one day," Stratton said. 
As far as baking to fulfill large orders with a house full of children, the mom of four says her kids — Ava, 12, Lucas, 7, Will, 4, and Meredith, 1 — love it, too. It's not rare for them to ask if there are any extra. As a work-from-home mom, Stratton has seen her fair share of humorous circumstances involving baking. 
"When Will was little, he accidentally got into a batch of cookies that were for someone's order. He took one bite out of a few cookies. I had to remake the entire batch and re-decorate them," Stratton said.
Ava is a big help at home. During busy seasons, Stratton says her daughter mixes all the dough for her so she can roll, cut, and bake. All orders are custom decorated sugar cookies with royal icing on top. 
"Ava likes helping me and she likes to watch. She's proud. She thinks it's really cool that her mom is the cookie lady," Stratton said. 
As far as favorite orders, Stratton says it is impossible to choose just one because they are all her favorite. 
"Every set that I do, I'm like, 'Oh, I love this one.' I love it when I get to choose my designs. Sometimes a customer will give me the colors they like and tell me to do what I want with them. These are some of my favorites to create," Stratton said. 
Stratton says the unique nature of her orders helps to keep her job interesting. There is minimal repetition because each person that orders requests something different. She has fulfilled bigger orders for weddings and repeat orders for businesses like Kidstop that support her every year during the holidays. 
"I did some for a wedding a few years ago in Louisville and I created 12 dozen. I remember the customer had to travel with them which made me really nervous," Stratton said. 
Stratton's favorite aspect of baking is understandably the finished product.
"When they are done and I get to see people's reactions, it's the best part. I feel happy when they say, 'oh my goodness they look really great.' I have never had anyone tell me they aren't pleased, but I still get nervous," Stratton said.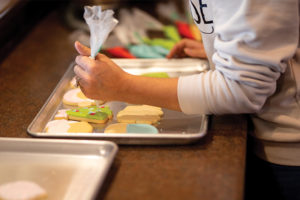 When COVID hit and schools could not meet in person, the work-from-home mom had to rearrange her schedule, too. Since Stratton used to do much of her baking when the kids were in school, she decided to temporarily cut back how many jobs she takes on. 
"Full time, I'm a mom. When schools are not in session, it changes everything. I had my schedule all worked out, so it was kind of hard," Stratton said. 
Typically her calendar books out two months in advance. To balance both work and home, sometimes setting a limit for the number of orders is a must. 
"It's really difficult for me because I work out of my own personal kitchen at home. I get a lot of requests from people wanting to purchase cookies the week of. From start to finish baking, coloring, letting layers dry, it takes a while, sometimes three days," Stratton said. 
After feeling overworked at the beginning of the summer, Stratton needed to take a little creative break. She decided on no custom orders in October in exchange for relaxing with the kids at home.
"There have been weeks where I have done over 600 cookies in one week. You're not talking about a chocolate chip cookie, but detailed decorations that require late nights. My mentality changed with the kids and I was stressed and short-tempered," Stratton said. 
Whether it's a birthday party or a wedding, Stratton likes the feeling of being able to do even one little thing to make celebrations better for her customers. She has also enjoyed new opportunities like setting up at the Farmer's Market or partnering with Dalisha's to create themed boxes at Halloween and Easter. 
"I like that kind of stuff. I have been asked to come to events such as holiday craft markets, which gives me the opportunity to let people who don't know me meet me in person," Stratton said.
Stratton, who went to school for occupational therapy, still plans to pursue opening a brick and mortar business location one day. Although she was originally planning to look for a possible location this past year, COVID halted her plans.
"You can get in a rut as a stay at home mom. I feel like God opened this door for me and blessed me. One day, when my babies are big, I'll look forward to possibly opening that storefront bakery," Stratton said.