When first cousins Rickey Hall and Charlie Moore were just 4 years old, they started their own business. Born just six weeks apart, the pair became close not just as family, but as business partners with their successful venture, Rickey and Charlie's Old Fashioned Popping Corn. 
"It's fun because we get to see each other and get to work and sell our popcorn," Rickey said, adding that the business duo has not had any problem getting along, and split their profit evenly. 
As a way to instill work ethic in their young boys, Rickey and Charlie's parents began looking for a project for them to work on. After brainstorming several ideas, they landed on popcorn as the perfect business for their sons.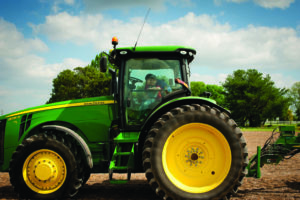 "I grew up on a family farm down in Logan County," said Rickey's dad, Chad Hall. " I was thinking what could Rickey do 70 miles away and still have ownership with it."
With a grandfather who farms and raises row crop, it was decided that the two boys would raise natural popping corn on about an acre of land. 
"We grow the corn and then pick it," explained Charlie. "Then we take it to the shop and shell it off the cob."
After harvesting the crop, the boys bag their product in 2-pound increments to be sold to customers. The boys say their product can be popped in a skillet or put it in the microwave in a brown paper sack, but it's best with just a little butter and salt.
Popcorn is a low maintenance crop, so it is ideal for 8-year-old boys, who do not have to tend to it every day and can focus efforts on the weekends rather than school days.
And while every year has been profitable and the boys have split their earnings 50-50, the first year was a little different. In the fall, about the time that they started picking, Charlie was diagnosed with cancer. 
"We were coming back from picking popcorn one night and Rickey had overheard people talking about Charlie's treatments and him going back and forth to Vanderbilt. He told me that he wanted to give all the money they had earned to Charlie. He figured it cost a bunch of money for treatment of cancer," Chad said.
In this moment, it was obvious that the project was working. Teaching the boys about hard work, giving back and discipline were all the reasons that the family believed in finding a project for their children.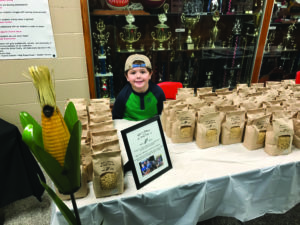 The first year, the crop earned a profit of $1,800, or $900 a piece. Rickey gave it all to Charlie. Now nearly four years later, Charlie is healthy and back at the popcorn business.
During the second year of their business, the boys hustled and found support from the community. Suzanne Cecil White of Cecil Farms put Rickey and Charlie's Old Fashioned Popping Corn in her Community Supported Agriculture program for fall deliveries and their product made it to the farmer's market.
Both boys put money in the bank and chose to reinvest in their business by upgrading some of their equipment. Several years ago, Rickey gave a presentation to Independence Bank, where his dad Chad works, that led to the creation of the bank's Little Patriots Savings Club.
But each year, success or struggle relies on the weather. 
The boys said they had to learn the quality of the popcorn, because they only want to offer their customers the best. One year, they put in the work but didn't make as much money because of the weather. 
"Ethically you dont sell an inferior product," Chad said. "That was something the boys had to learn."
This season marks the fifth time planting and harvesting the crop and both of the boys say they enjoy what they do.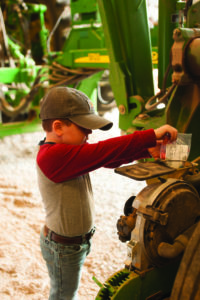 "I like to tell people about farming," Rickey said, adding that one of his marketing strategies has been to set up a table at his school's agriculture day. He not only got to sell his popcorn, but he also got to teach his friends about how to harvest a crop.
Charlie said he likes picking the corn the most because shelling the corn can be tough. 
"I like growing it and looking at it with my Daddy," Charlie said.
And that isn't the only family time Charlie enjoys through the popcorn business. He also sets up each Wednesday after school at the farmer's market with his grandmother.
Both boys' parents admit that, like any other kids, there are some times when Rickey and Charlie may complain about the work, like saying it's too hot outside. However, because they love working together and interacting with people, they see Rickey and Charlie's Old Fashioned Popping Corn only growing in the future.
"The boys love being on the farm; for them to have a crop to go out to that's not their granddad's or their dad's is amazing," Chad said. "This is teaching them structure, responsibility and discipline. They get to learn through this project the foundation of how to conduct themselves in the future." 
Sales have continued to increase as consumers learn about the unique product and the two now 8-year-old boys are working hard behind the name. To reach more customers, the business has rented a booth at Preservation Station, used word of mouth and also created their own Facebook page.
As far as future goals or plans, the boys say they just want to keep selling popcorn.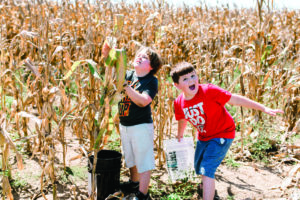 "By 10 they may be burnt out on it and ready to play sports — it will be up to them to keep going or not," Chad said. "It is something that we as parents decided we wanted our kids to do to learn life lessons."
Chad says he is glad the boys are getting exposed to this hard work even though they don't actually live on a farm.
For more information, visit their page, Rickey & Charlie's Old Fashioned Popping Corn on Facebook.