Owensboro family finds success in dog training and boarding business
Photos by Jamie Alexander
Jordan and Kim Camp understand both the rewards and the challenges of operating a family business. In 2019, Jordan started training dogs on the side for family and friends. He never would have guessed that his venture would lead the family to where they are today. 
In 2021, Camp Canine was established after the couple decided to sell their home and purchase land in Utica—a decision that turned out to be the right one for not only their family, but the community as well. 
"I had friends come to me and ask me to train their dog. Eventually, people wanted me to keep their dogs when they went on vacation. I knew we could make money on the side if we could offer boarding," Jordan said. 
The family was driving home from Lake Barkley when they saw 20 acres of land for sale, and everything started to fall into place from there. 
"There were already a lot of kennels on the land from where the previous owners had bird dogs," Jordan said. "We bought the land with my parents, remodeled the house and got a business loan."
The opening date of the new facility fell during fall break of last year. In just a short time, the business has already grown and evolved considerably. 
What started as Camp Retriever, working mainly with hunting dogs, grew to Camp Canine, offering training, dog day care, and boarding in 2021. The family business went from having a handful of dogs to boarding 20-30 dogs on a regular basis. 
Camp Canine offers families a home away from home for their dog, with training programs running a month at a time to three months or longer. 
"Owning a dog is a lot of responsibility. When you can't be there for your dog, you can count on the pet care professionals at Camp Canine to step in," Jordan said. "We have years of experience caring for a variety of dog breeds, so we're confident we can meet your dog's boarding and dog training needs."
  In addition to training programs, Camp Canine prides itself in offering a great daycare option for families by providing adequate exercises, maintaining feeding schedules, allowing for socialization opportunities and providing incredible care. 
"Your dog will be much better off with us than stuck at home while you're gone," Jordan said. "It's always hard to leave your dog, but it's easier when you know they're staying in a caring and stimulating environment." 
While Jordan has always been a dog lover, he says his wife, Kim, has come along for the ride.
"She was pretty timid around dogs, but she's grown into it and been very supportive of me. She lets the dogs out when needed and gives them baths. She handles the management side of the business and payroll. I couldn't do it without her," Jordan said.
The Camps have two children, Trevor, 11, and Nora,8. While their son loves baseball and playing sports, their daughter is a natural when it comes to helping with Camp Canine.
"Nora took to helping with the animals right away, talking to customers and learning more about the dogs," Jordan said. "She already has a pet rabbit and she's about to get a horse too."
The young animal lover also likes to help her dad when he trains the dogs.
"She knows how to make a dog listen," Jordan said. "She's not scared to mess with any of them from a Poodle to a Great Dane. We have no size restrictions for the dogs from 10 pounds to 140."
And with Nora saying she is going to be a veterinarian one day, she's already off to a great start working with the animals. Trevor is a big help too, according to dad, completing chores as needed.
"He helps us clean up the yard and will scoop the poop. Soon, he will start mowing around the property. He's not crazy about dogs like the rest of us— he thinks he will be a pro baseball player, but at least he's outside doing something," Jordan said. 
With Camp Canine on the same property as their home, their children get to see much of the action first hand. The family currently has five dogs but says that Nora would gladly have 20 if they would let her.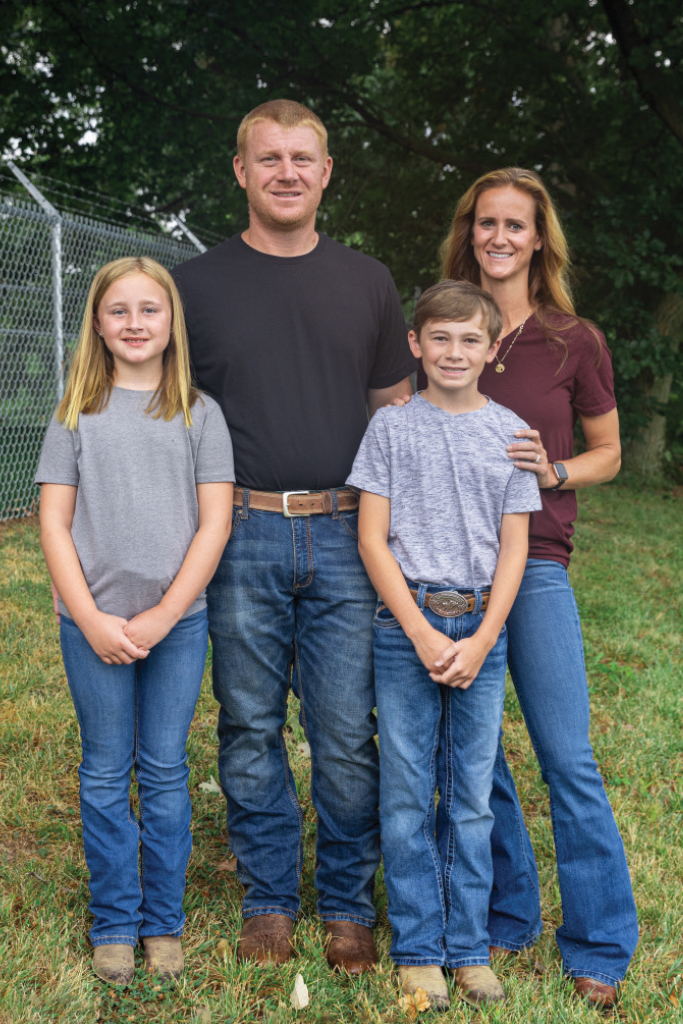 "Nora eats it up— she thinks it's cool. She's always been a people person and will talk to anybody that comes up there to drop off their dogs," Jordan said. "She's an animal lover."
As far as their decision to move to Utica and start the business, the family knows they made a good choice. What initially felt like moving farther away from town turned out to be a blessing in disguise.  
"It's a great area and the perfect location," Jordan said. "We catch so many people coming into Owensboro from Ohio County for work. Our location ended up being perfect."
Camp Canine is truly a family affair, with Jordan's parents also living on the land and pitching in as needed. Balancing work and family does have its challenges for Jordan and Kim, who both have full-time jobs.  
Looking back at the past few years, the Camps can see how far they've come since selling their home, relocating to have more land and making their dream happen. Their boarding stays nearly full and they have seven employees to help them with the business aspect of Camp Canine. 
"I'm not going to sugar coat it; it's not always easy," Jordan said. "It makes life hectic and it makes it more interesting to plan a trip or do something like go out of town. There are stresses to running a business, but we have to figure out how to make it work."