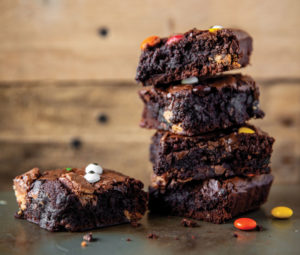 All those chocolatey treats are delicious, but every year homes are full of more candy than any parent knows what to do with. We have provided you with a dessert that allows you to use some of that extra candy you have sitting around. The kids will enjoy helping you bake it, and you will be able to clear the candy jar. Well, at least until Easter when they fill their baskets up with more!
WHAT YOU'll NEED:
›› 1 box brownie mix + ingredients listed on
back of box
›› Any kind of leftover Halloween candy
›› Optional – edible eyes (the kids will love it)
Instructions:
›› Make brownies according to instructions
on the box.
›› Pour brownie mix into pan and top with Halloween candy. Save half of the candy to place on top of the brownies at the end, as the candy will melt into the brownies during the baking process.
›› Bake according to package instructions.
›› Add the remaining Halloween candy to the top of the brownies when your timer has 5 minutes left of baking.
›› Remove the brownies from the oven and add the edible eyes. Let cool.