Illustrations by Lydia Tanner, 1st grade
Summer for Me
by Lucia Guido, 6th grade
Summer, one of my favorite times of the year, is when I get to relax and have fun. If you didn't know, my family is from Costa Rica, a country in Central America. Every summer we try to go there to visit family. This summer we are planning to see if we go but we have not yet decided. Costa Rica is a very beautiful and tropical country. Their beaches and volcanoes are awesome travel destinations that my family and I love to visit. Other than visiting family in Costa Rica, I love to hang out with all my friends. Sleepovers, getting nails done and water balloon fights are the top things I like to do every summer other than visiting my family. We always love a nice ride on the Greenbelt. Talking about biking, I do triathlons in the summer. I am part of the team Green River Tri. We practice three days a week and have triathlons about every other week. It's a nice way to stay fit. To sum up, summer is a time that I like to spend with all my friends and family.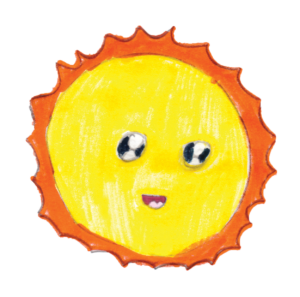 Summer Scavenger Hunt
by Grace Calhoun, 6th grade
Take a picture of yourself at all of these locations and use them in a summer scrapbook album.
›› Mammoth skeleton at the Owensboro Museum of Science and History
›› Blue Bridge
›› Nicky Hayden statue
›› Dancer statue at the RiverPark Center
›› Buffalo statue at the Owensboro Museum of Fine Arts
›› Fountain at Smothers Park
›› Trolley
›› Large bike statue on Second Street
›› Mirror mosaic of Kentucky on the Frantz building
›› Abraham Lincoln statue at City Hall
Summer
Days
A poem by Hannah Jit, 4th grade
Every kid looks forward to summer
Your bright summer sunny days
All so fun never a bummer
Always waiting to feel your warm rays!
The days are filled with endless fun,
Warm weather and no school!
You can stuff your face with hot dog buns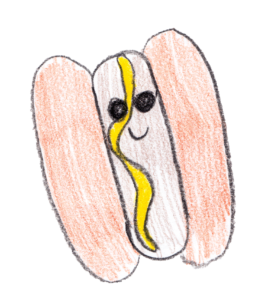 Do what you want, be cool!
Free to be yourself and goof around
Enjoy your days while they last!
You can be as loud as you want or not make a sound
It's sure you'll be having a blast!
Rise higher and higher,
Be free and break the rules
Let your imagination grow, just don't play with fire.
Don't worry about anything, not even your schools.
Summer is time for vacation,
Hopefully will not be boring,
Time for wonderful relaxation,
To feel the sun on your back roaring!
2020 Summer Bucket List
by Breanna Jacob, 5th grade
Go swimming. Swimming is a great way to start off your AWESOME SUMMER! Here are some nice public swimming pools: Combest Pool, Cravens Pool, or you could even swim in your backyard pool!
Ride a bike. Biking outdoors (or riding on a scooter) is very fun. Feeling the wind in your hair, looking out at the world. Without it, summer wouldn't be complete!
Go to the park. Going to the park with friends or family is fun. It's always fun to play a game in the park, racing friends, pretending you are on a pirate ship — anything with your imagination! Some good parks are Legion Park, Chautauqua Park, Smothers Park, even your neighborhood park!
Make a lemonade stand. Setting up a lemonade stand or even a smoothie stand is a great way to earn from cash for the summer! You could even sell brownies or cookies for an extra $1.
Sidewalk chalk. Create a masterpiece with chalk! Make a "magical walkway" outside of your house. Create "fairy dust" with all your favorite colors. With anything you do, sidewalk chalk is a way of using your imagination!
Make a nature jar. Nature jars are jars that have things you find outside. You could gather dirt, leaves, grass, even bugs! Whatever you find outside is good!
Whatever you choose to do this summer, make it a rockin', cool, super extra fun summer!