Photos by Jamie Alexander
This Thanksgiving, why not cut down on your stress and let the kids decorate the tables? They will have fun crafting and you can focus on the main event—the meal! Here are two easy turkey crafts that are perfect for your little ones to make.
Toilet Paper Roll Turkey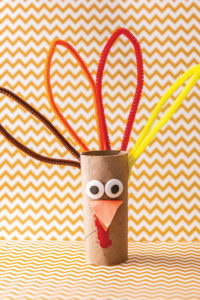 Twist some fall-colored pipe cleaner into the shapes of feathers and glue them to the back of a toilet paper roll. Use scrap paper to design a set of eyes and a beak. Easy peasy — you're done!
Paper Bag Turkey
Paint a paper bag with fall colors on the top— no pattern or specific directions. Let your kids get creative! On the bottom half, paint the bag brown. Fill a brown paper bag with plastic grocery sacks, newspaper or whatever you have lying around. At the dividing point of the brown paint and the colorful paint, tie a ribbon. Add a cute turkey face with scrap paper. 
Bonus
Instead of table cloths, cover your tables in brown craft paper. Lay out some crayons and markers and let your guests color. Maybe have a hand turkey drawing competition?