Since my kiddos are finally old enough to make it to midnight, I decided to throw a little New Year's Eve Party for them last year. No guests and no real plan, just a night of hanging out with a little organized fun. It was a huge hit with them and the grown ups had fun too.
The Setup
The main part of the night centered around a balloon countdown, which I created on the mantle. (A wall would work just fine too!) The balloons served as an hour-by-hour countdown until midnight. I blew up a balloon and slid a small piece of paper inside, each with a fun activity written on it. I tied the balloons and taped them to the mantle after writing a time on each one with a marker. We started at 6 p.m., meaning we had seven balloons/activities until midnight, but you can have as many as you want.
6 p.m.
Winner, Winner, Chick-fil-A Dinner
It's no secret that my family loves Chick-fil-A. My kids tell everyone they meet that it's the best thing I cook. So why wouldn't we start off a party with some CFA?!
7 p.m.
Slime Station
My kids love slime. They had been dying to make floam — slime with styrofoam balls in it. For months I told them no, not wanting to deal with the mess. So when they saw that we were making that on New Year's Eve, they were super excited.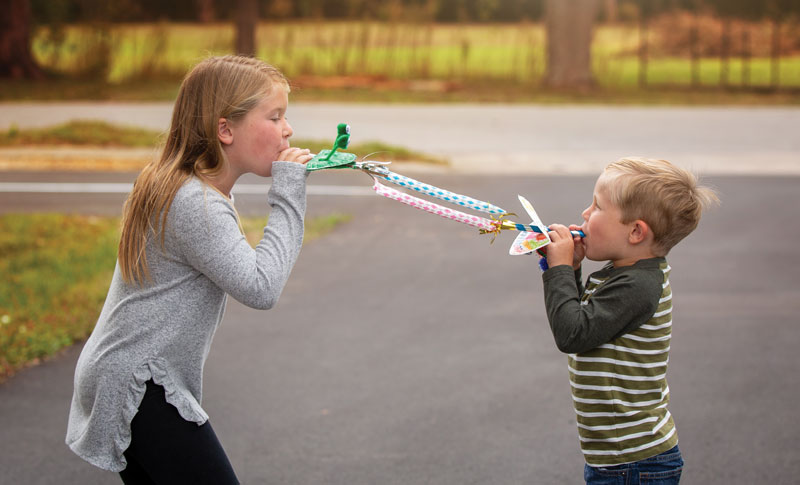 8 p.m.
Crafty Creation
The next activity of the night was a homemade noisemaker. I bought some cheap noisemakers at the dollar store and paper plates. The kids busted out all the supplies from the craft cabinet (it's basically a small Hobby Lobby) and made noisemaker creatures. Googly eyes, pom poms, pipe cleaners, markers — use whatever you have on hand. They loved them. Note: If I had it to do all over again, I would make this a later activity so you don't have to hear the noisemakers the whole night — or deal with the kids blowing them in each other's faces!
9 p.m.
Family Game Time
I had some time-themed minute to win it games ready for them. Their favorite was moving M&M's from one plate to another by a straw in their mouth. They had to place each candy on an hour on the clock I drew on a plate.
10 p.m.
Cookie Monsters
I basically love any excuse to make cookies! We made chocolate chip cookies from scratch — and by from scratch, I mean the cookie mix you just add a few ingredients to.
11 p.m.
Glow Dance Party
While I was getting the noisemakers at the dollar store, I picked up a variety of glow sticks — bracelets, necklaces and glasses. We turned out all the lights, turned up the Kidz Bop and danced away the last hour of 2018.
12 p.m.
Balloon Drop
I wanted something special to end the night and remembered the balloon drop event that the Owensboro Museum of Science and History has each year. For $4 with a balloon drop bag from Walmart, I created the same thing at home — just a much smaller scale. The kids loved it and was the perfect ending to a fun-filled night!