All of these books are available for checkout at the Daviess County Public Library. Be sure to check out their new children's area, where kids can find a good book and enjoy new play features.
Hieronymus Betts and his Unusual Pets
by M.P. Robertson
Hieronymus Betts certainly has some very unusual pets. All of his pets are gruesome and disgusting, but Hieronymus knows of something even slimier than Slugapotamus, fiercer than the grizzly hare, and smellier than Stinker the bog hog! What could it be?
Tilly's Staycation
by Gillian Hibbs
As all of her friends embark on exciting vacations, Tilly finds it hard to believe that she and her mother will have fun staying home.
Kitten's Summer
by Eugenie Fernandes
It's a rainy summer day, and Kitten is meeting all sorts of animals taking shelter from or enjoying the warm rain, including a fox, a turtle, a beaver and many more.
Let's Do Nothing
by Tony Fucile
Frankie and Sal have already played every sport and board game invented, baked and eaten batches of cookies, and painted a zillion pictures. What's left to do? Nothing! Ten seconds of nothing! Can they do it? Can they act like stone statues in the park? Can they simply hold their breath and not blink an eye?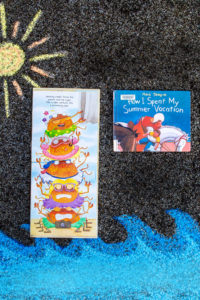 Crustacean Vacation
by Brian Benoit
From out of the sea, from out of the spray, the crab family's going on holiday! And so begins a grand day out at the seashore, as a family of crabs ventures on land to picnic on the beach (yum, peanut butter and jellyfish!), play games in an arcade (not even a crab wins at The Claw), and slide and glide in a water park.
How I Spent My Summer Vacation
by Mark Teague
Some kids spend their summer vacation at camp. Some kids spend it at Grandma's house. Wallace Bleff spent his out west…on a ride, a rope, and a roundup he'll never forget.