All of these books are available for checkout at the Daviess County Public Library.
Dear Teacher
by Amy Husband
Dear Teacher is a hilarious collection of letters from Michael to his new teacher explaining why he can't go to class — from traveling to the pyramids of Egypt to getting attacked by pirates and going to the moon in a rocket ship. When Michael's teacher writes back telling him how sorry she is he'll miss all of the exciting school activities planned for the year, Michael realizes all the fun he'd really miss out on.
Mouse's First Day of School
by Lauren Thompson
There are colors to paint with:
red, yellow, blue
and letters to spell with:
A B C
and best of all, new friends to play with!
Wherever could they be?
Monkey Not Ready for Kindergarten
by Marc Brown
Kindergarten is only a week away . . . but Monkey is NOT ready. What if he gets on the wrong bus? What if they don't have any red crayons? What if he doesn't like the snacks? What if he doesn't make new friends? But step by step, his family eases his worries.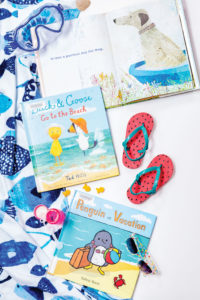 A Perfect Day
by Lane Smith
Today is a perfect day for Cat, Dog, Chickadee, and Squirrel. Cat is lounging among the daffodils. Dog is sitting in the wading pool, deep in the cool water. Chickadee is eating fresh seed from the birdfeeder. Squirrel is munching on his very own corncob. Today is a perfect day in Bert's backyard. Until Bear comes along, that is.
Duck & Goose Go to the Beach
by Tad Hills
Duck wants to go on an adventure. But Goose isn't so sure. Together, the two best friends set off on a walk that takes them through the meadow, past a shady thicket, and over a distant hill, all the way to a place they've never been before—the beach! Turns out, Goose loves the ocean. But guess who doesn't?
Penguin on Vacation
by Salina Yoon
Penguin is tired of the snow and cold—so he decides to visit the beach! But when his favorite activities like skiing and skating don't work so well on sand, can a new friend help Penguin learn how to have fun in the sun?