Photos by Jamie Plain 
The late great Bill Monroe once said that "Bluegrass music has brought more people together and made more friends than any music in the world." Given Monroe was born and raised in neighboring Rosine, Kentucky, his music has been handed down for generations. The sacred sound founded by Monroe is as enduring as the mighty Ohio river. 
A trio of young men from Owensboro, are ensuring that Bluegrass music reaches the masses and continues to bring folks together, just as it brought them together. Forming a unique friendship, Cruse Edwards, Noah Mason, and Parker Malone are picking and grinning, with a maturity and a gift well beyond their years. 
"I really like Ricky Skaggs and Earl Scruggs," Cruse said in between banjo licks. Seated in an accent chair in his sock feet, the tall 12-year-old explained how the now trio grew from a duo. "Well, Noah and I had been playing together a while. Our good friend, Randy Lanham, invited us to come pick and Parker was there. He's sort of been with us ever since." 
Cruse plays guitar, mandolin, and banjo. Noah Mason who is also 12, plays fiddle. Parker Malone, 11, is the newest addition to the Bluegrass Brothers and plays guitar and fiddle. Together the three Daviess county natives have an inseparable bond that would make any high lonesome sound envious. 
"We played together a lot in church, Cruse and I," Noah said. Additionally since the boys live in the same neighborhood, they made time to practice often, honing in on their craft like true master musicians.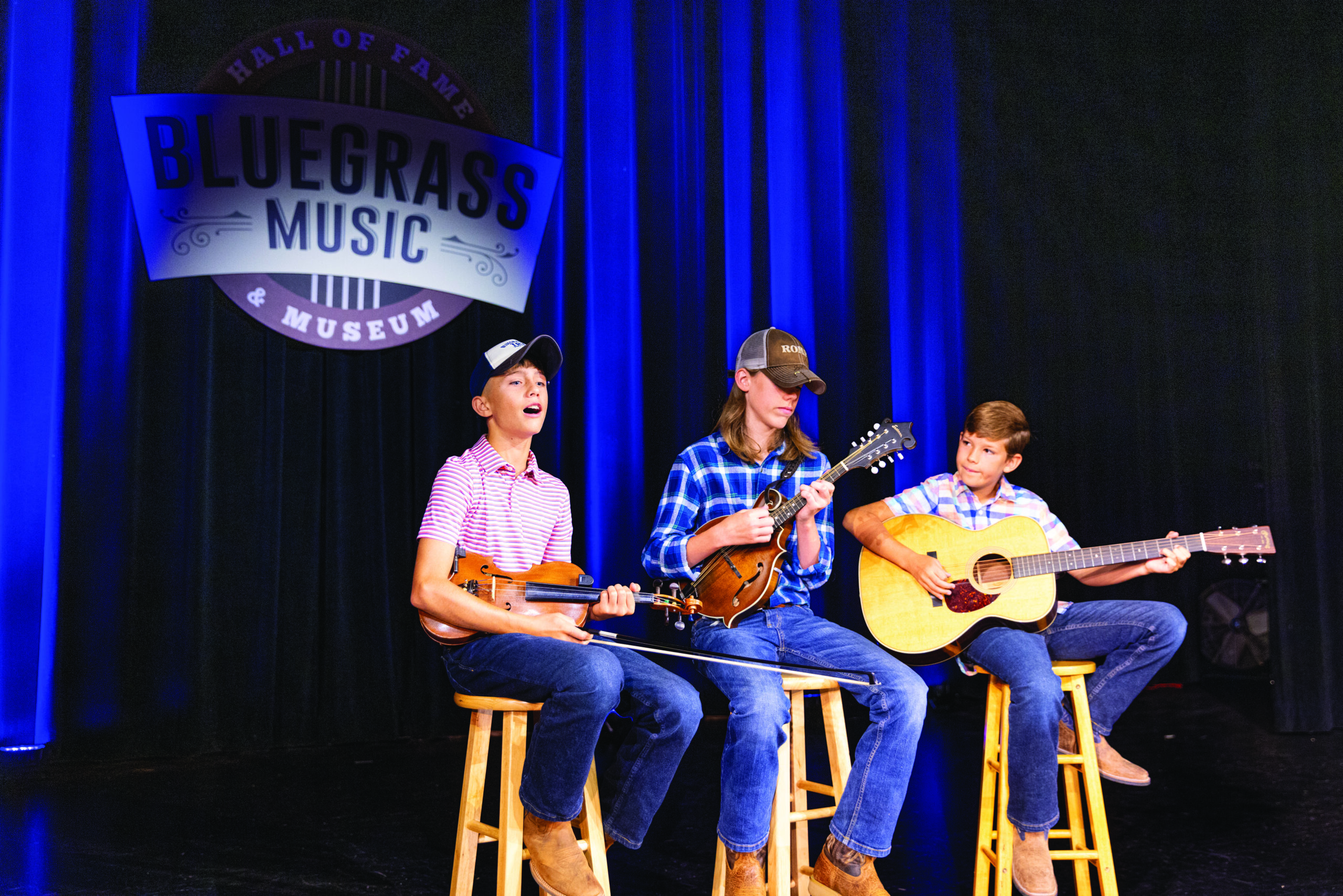 Parker credits influences like Billy Strings and Michael Cleveland for inspiring him to play. He further adds if it were up to him, he'd tell other kids interested in music to stick with it. "Don't ever give up, keep practicing and playing." 
When asked about how the group got their name, Noah said he already felt as if he and Cruse were "brothers." 
"We go to school together, and it kind of already felt like we were brothers already," Noah said. 
Of course Cruse added that a certain Ohio countian had already taken one name they liked. 
"Bill Monroe's band was called The Bluegrass Boys, so that name was already taken," he joked. 
The Bluegrass Brothers have grown both in friendship and outreach since expanding as a group. Sharing their talents with others has become equal parts hobby and service work. The group has gained momentum booking local performances with the Lanham Brothers as well as shows at the Rosine Barn Jamboree. The trio notes that giving back has become their favorite aspect of performing. Together they play often at nursing homes, for senior groups, and while visiting local shut-ins. The elderly are some of their most devoted and charismatic fans. 
"It feels good to see people happy when we play music," Parker said. 
A recent stop in Nashville during the SEC tournament put the band in the spotlight in a unique way, and enabled the young musicians to reach even more fans on social media. Sean Moody of Lex18 news caused quite the stir when he recorded a live jam and took to facebook. The video currently has over 14,000 views.
"He just stopped what he was doing and started recording," Noah said. "He noticed our UK hats." 
The young musicians receive their training from Randy Lanham of the Bluegrass Music Hall of Fame & Museum. The ambitious trio is eager to grow and has major goals for the future. Fiddle player Noah encourages other young musicians to get involved and invested as soon as possible. 
"There's no age limit, start young," he said. "Don't take it too seriously, and have fun!" 
The Bluegrass Brothers can be followed on various social media platforms including Facebook and on their Youtube channel. They have released a single on Amazon music. "Will the Circle be Unbroken" is the group's first studio release.
Above all things, the group hopes to continue to showcase their faith and friendship, while preserving the rich history of bluegrass music in a fresh new way. There are no plans of slowing down anytime soon. The trio has plans to stay active the remainder of 2023 and is excited about what 2024 has to offer. The Bluegrass Brothers hope to create a lasting legacy that extends beyond the borders of music. 
"We aren't just friends," Cruse said. "We are brothers in Christ. We hope to always keep God in front of all of it."