Written by Eberle Goebel
Mrs. Jamie Reames is a standout Art teacher at Heritage Christian School.  She goes above and beyond providing supplies, planning to teach our class, and she does it with kindness. At our school the Art Teachers are volunteers.  Mrs. Reames has been my class volunteer Art Teacher from Kindergarten to 5th grade.  This is very motivational to see her coming on back and trekking through it even though our class is not the most well-behaved class.  We can be kinda loud and obnoxious, but she comes back week after week. 
She provides quality art supplies for our class.  The projects she teaches include things like a Van Gogh painting of the Sunflowers, how to do an optical illusion, teaching us imagery. We have painted on canvases, tree bark, wood, and paper.  Mrs. Reames has taught me to look at the world around me to see different objects I can use in art.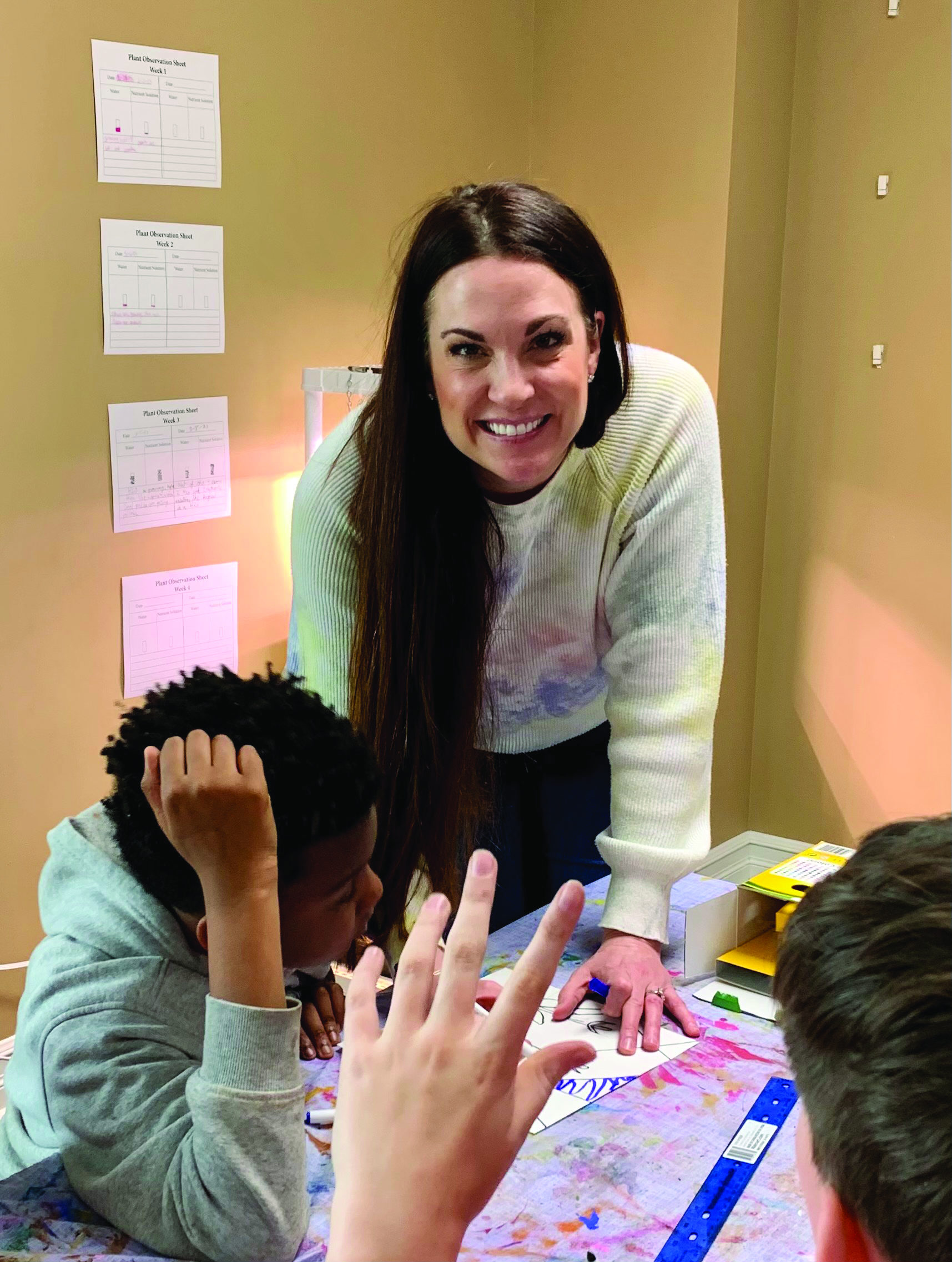 During 4th grade we had a year long project of learning about Kentucky and compiling a scrapbook.  She helped us do two projects to put in our scrapbooks.  One of them, we used our state flower, the Goldenrod.  She had gone out and picked real Goldenrods for us to use. She could have simply given us a coloring sheet to complete, but Mrs. Reames wanted us to press the real-deal flower.  We took the Goldenrod and pressed it onto paper.  Then we cut up orange, yellow, and white paper and used it to decorate all around the Goldenrod.  Then we had a picture of the state of Kentucky split up into the natural regions.  We wadded up little bits of tissue paper and each region we did in a different colored tissue paper.  For example, we live in the Western Coal Field Region and I used red tissue paper for that region.  
Mrs. Reames is so kind that I've never heard her raise her voice during class. Even when she is trying to teach us a new technique or a complicated project and kids keep talking when she is talking, she is sweet and kind with her words. 
When we were working on paper mache bowls for Mother's Day, she had us pick from three different fabrics and some kids were taking a long time to pick one.  Mrs. Reames did not rush anyone and helped them make the right fabric selections for their moms. That paper mache bowl turned out so good my mom actually kept it and places it out for others to see! Mrs. Reames is always smiling and she makes me look forward to art class.
Mrs. Reames is a lovely person and I'm thankful she is a volunteer at Heritage Christian School.