Discover how a local 9-year-old

 
raised $4,300 for St. Jude
Photo by Jamie Alexander
At the young age of 9, Raelyn Duncan is one of Owensboro's youngest entrepreneurs, using her baking skills to raise money for St. Jude's. But this isn't your typical bake sale. Raelyn creates custom dog treats and offers them to dog owners for donations. 
Craftily named K9 Cookies for Cancer, Raelyn's mission raised $4,300 during WBKR's St. Jude radiothon this past year. Last year, she raised and sold basil from her Granny's front yard, generating $450 in donations, and was determined to do more this year. 
"This year, me and my mom were talking about what I would do for my St. Jude fundraiser, and mom's friend Kandee from Florida was visiting and suggested since I love to bake, I make homemade dog treats and sell them," Raelyn said.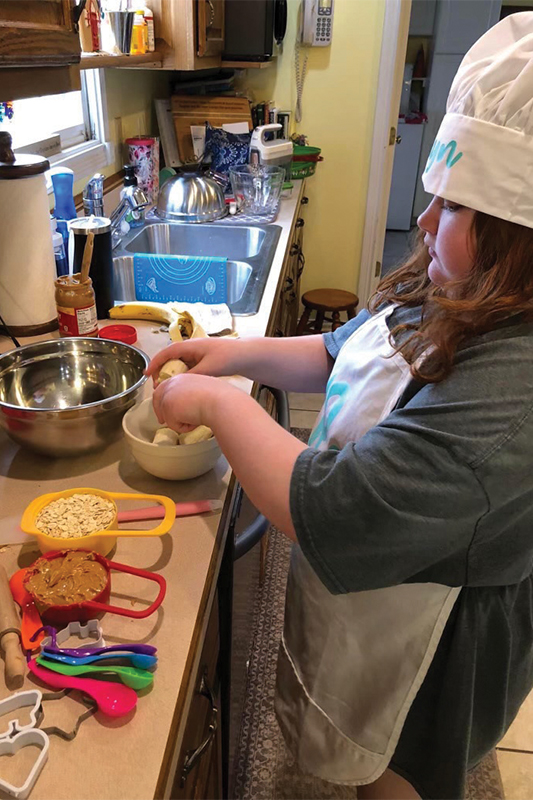 Raelyn solicited the help of her mother Karen to research some recipes and create a Facebook page. The two decided it fit their personalities perfectly and moved forward with a donation-only business model. 
"I love St. Jude, dogs, and baking, so I thought this was a great fundraiser," she said. "There is no set price. We deliver in Owensboro and we will also ship."
K9 Cookies for Cancer boasts two options for treats – peanut butter oat and peanut butter pumpkin. They distribute an assortment of cookies in groups of five.  
Raelyn said the process has come with its fair share of trials, most notably her mother burning a batch or two. But the positive far outweighs the negative and her desire to help kids keeps her moving forward. 
"I want to help kids with cancer," she said. "That's what keeps me going, is to raise more money so hopefully we find a cure."
Raelyn is a third-grade student at Meadow Lands Elementary School, where she was recently presented with awards for kindness and selflessness. She is an active member of Yellow Creek Baptist Church, where she is involved in many mission activities. 
"This will be my fundraiser every year and we will do this all year until the next radiothon," Raelyn said. "Look for us at festivals and craft shows this year. Cancer doesn't quit, so we aren't either."
To learn more about Raelyn's efforts, or order some of the cookies, search K9 Cookies for Cancer on Facebook.