Kids Floral Arranging 101 Sponsored by Welborn's Florist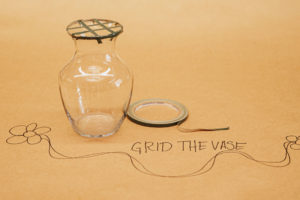 ALL ABOUT THE PREP WORK — As with any children's project, the key to success is to get all the prep work done ahead of time. Pick flowers from your own yard or grab some at the Owensboro Regional Farmers' Market. Before you get your kids involved, clean the flowers so they are ready to go. Clean all the extra leaves off the stems, separate individual blooms from multi bloom stems and cut stems to a manageable length.
For a great local option, check out the Welborn's Floral website for fun kid flower kits. These flowers are guaranteed to be beautiful and ready to go for your kids very own bouquet — and only $20!
Depending on the age of your children, you may want to prepare your vase or container yourself. Make a grid on top of the vase with floral tape or waterproof packing tape. Make squares on the top of the vase by running 2-3 pieces of tape one direction, and 2-3 the opposite (think tick tack toe board). This helps keep the flowers in place while your florist in the making creates.
LET THE FUN BEGIN — Once the vase and flowers are prepped, it's time for your kids to dig in and create. Remember, there are no rules. Sit back and watch them explore, design, create, smell and delight.
6 Ways to Spruce Up A Kid's Room Without Breaking the Bank Sponsored by Ryan Rutman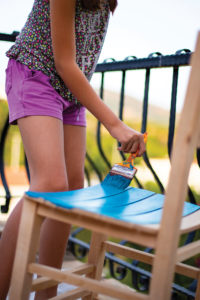 1. REPURPOSE. Think creatively about ways to reuse things you already own. Turn old toys in to drawer pulls, frame old fabric to create wall decor, use hand-me-down furniture pieces for a pop of old flair.
2. PAINTED FURNITURE. Paint is the most flexible and economical decorating go-to out there. While the common application is on the walls, try sprucing up a vintage family furniture piece stashed away in the attic. It can make all the difference between grubby and glorious.
3. WALLPAPER COLLAGES. Wallpaper has made a come back in recent years, and the price of rolls has risen as well. You can save by making a collage of leftover wallpaper pieces to prettify a dull wall, sliding closet door or bookshelf. The colors, pattern and layout are up to you.
4. MAKE A CHARMING HEADBOARD. Spruce up your kids' space by making covering their headboard in vibrant colors. With fun fabric, it's a simple task that can be learned just by watching Youtube videos.
5. PUT ON DISPLAY WHAT YOU ALREADY HAVE. Bring in some geometric shelves or make your own, and put your favorite things on display. Don't bother going out and buying fancy decor when family heirlooms and keepsakes make the best decor. Throw in a couple plants, and you have a more modern look.
6. CREATE YOUR OWN HANGING GARLAND. Garland doesn't have to just be for Christmas or parties, and you certainly don't have to buy it. With some quality paper and string you can create your own garland to make a sea or racing them room. Or just cut out fun designs to hang over a window.
Perfect Family Outing Scavenger Hunt Sponsored by Daviess County Parks & Recreation
Live in the city limits? Explored every inch of your own backyard? Daviess County Parks offer local families acres and acres of family fun. From walking trails to fishing, county parks are still a great outing despite social distancing restrictions.
This Yellow Creek Park scavenger hunt is sure to keep your kiddos busy and get the family out of the house for some fresh air and fun. Can you find all of these things at Yellow Creek Park?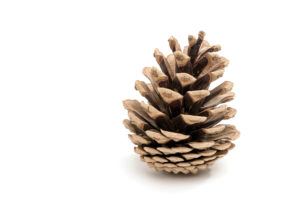 -Caboose
-Schoolhouse
-Cabin
-Disc Golf Basket
-Gazebo
-Duck/Goose
-Four Leaf Clover
-Fire Ring
-Pine Cone
-Acorn
DIY Apple Slushies Sponsored by Reid's Orchard
Reid's Orchard is a community landmark. Families have been going to the orchard for fresh fruit and veggies for generations. And while the Reid family offers everything from flowers to pies to produce, they are arguably most famous for apples. And the orchard's apple slushy is the perfect summer treat!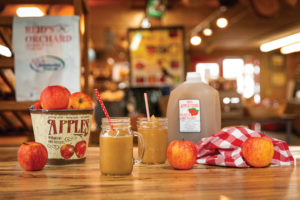 Reid's understands that summer at the orchard may look a little different this summer, so they are offering Owensboro Parent readers a quick and easy recipe to make their slushies at home.
›› First, pick up a gallon of Reid's delicious apple cider.
›› Freeze the cider in a muffin tin or ice cube tray.
›› Once ready, pop the frozen apple cider cubes out. (Hint: run the tray upside down under hot water for a second, but be sure to have something to catch them!)
›› Blend the frozen cider with a little extra cider from the jug. ›› Pour into a cup and enjoy! Be sure to post your slushies to social media and tag Owensboro Parent and Reid's.
Make Your Own Pizza Night Sponsored by Mellow Mushroom
Step up your pizza night with aDIYpizzakitfromMellow Mushroom. Your kids will love the process of making pizza "from scratch" and you will love the ease of grabbing the supplies from Mellow. The steps are easy: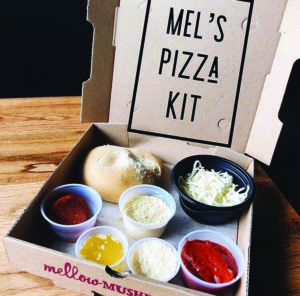 First, call 270-684-7800 and order your DIY pizza kit.
Once you get home, involve the whole family in making dinner.
Sprinkle your surface and dough with cornmeal.
Gently flatten the dough.
Form 1-inch crust with fingers around edge of the dough ball.
Press down and flatten middle with your fingers to release any air bubbles.
Stretch dough using tops of hands, not fingers. Slowly pull outwards in a circular motion.
Stretch a little more than 10 inches in diameter. Use the guide drawn on the pizza box lid.
Spread the sauce inside the crust.
Sprinkle with cheese.
Add your favorite toppings.
Carefully slide your pizza onto a pan.
Bake for 10-15 minutes at 425 degrees.
Pizza is done when the cheese is melted and the crust is golden brown.
Sprinkle crust with butter and parmesan.
Spice Up Your Taco Tuesday Sponsored by Real Hacienda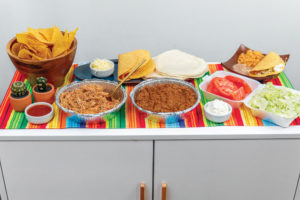 What better way to break up the monotonous family dinner than with a family fiesta? Make it easy on yourself though! Grab Real Hacienda to go for the whole family and focus on the fun activities you can do with your kids.
MINI PIÑATA — Gather up those empty tissue boxes from around the house and get to work on a fun and festive mini piñata. They're so easy to whip up — fill the empty box with candy and decorate the outside with spare tissue paper. Family fun that doubles as party decor and a candy dispenser.
DIY MARACAS — No matter how old you are, there's something so fun and playful about dancing around with maracas. Homemade ones can be a fun craft project with the kids — fill a plastic Easter egg with dried rice or beans and hot glue craft stick or sturdy straw to the egg. Easy maraca that you can the decorate with markers or fun tape.
SOMBRERO STATION — Keep kids busy with craft-your-own paper sombreros for your family fiesta. Hot-glue upside-down paper cups to the center of paper dinner plates. Set out glue and decorating supplies—like pom-poms, mini-ball fringe, and pipe cleaners—and encourage the kids to style their hats.
Allergy Free Play Dough Recipe Sponsored by Allergy and Asthma Specialists
A lot of the most popular craft supplies contain food allergens. This includes items like paints (egg, milk, wheat and soy), crayons (soy) and slime (corn). You can make some of these items at home with safe ingredients. Here is a recipe for rice play dough that is a great substitute for commercial brand play doughs and modeling clays, which often contain wheat, a top allergen.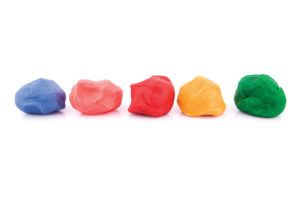 INGREDIENTS
›› 1 1/4 cups rice flour
›› 1/2 cup salt
›› 2 teaspoon cream of tartar
›› 1 cup water
›› 1 tablespoon oil
›› 1/4 teaspoon vanilla extract (optional)
›› Food coloring/sparkles (optional)
INSTRUCTIONS
›› Mix flour, salt, and cream of tartar in a large pot. Add water and oil.
›› Cook over medium heat until the mixture pulls away from the sides of the pan (about 5 minutes), stirring constantly. Adult supervision suggested.
›› Add vanilla extract. This if for smell, not taste. Mix thoroughly. Put play dough on a clean surface. When cool enough to handle, knead lightly. Store in an airtight container.
NOTES:
Add food coloring to the water to make colored play dough. Liquid watercolors can also be used. Food coloring can stain hands, clothing and surfaces.
Use vanilla or other extract for scented play dough. Add sparkles during the hand mixing time for sparkly play dough.
Recycled Jewelry Art Sponsored by Riley & Co.
This is a perfect summer activity for kids of all ages. Not only are you recycling old materials, but you are creating one-of-a-kind pieces of art that preschoolers and teenagers will want to wear. Now, this does require the use of old magazines, which will be cut and transformed into beautiful beads. While we think every issue of Owensboro Parent is worth saving forever, we understand if you want to cut up the pages of our hard work for this fun family craft.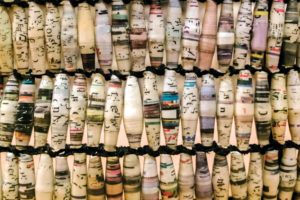 HERE'S WHAT YOU WILL NEED:
›› Magazines
›› Scissors
›› White school glue
›› Straw
›› Pipe cleaner (or yarn or a shoelace if you'd like to make a necklace)
To prepare, cut various strips out of colorful magazine pages. The strips ranged from 0.5 to 1.5 inches.
HERE'S WHAT YOU WILL DO:
›› Start rolling a magazine strip firmly (but not tightly) around the straw. Once it goes around one full time, put a few lines of glue down the inside length of the strip.
›› Begin rolling the magazine strip around the straw. Don't worry if glue squeezes out, this is actually beneficial for the finished product. Once the strip is completely wrapped, rub excess glue around it to firmly secure the end.
›› Carefully slide it off of the straw by pushing the end of the bead that is farthest up the straw. If there is glue residue on the straw, wipe it off or just cut off that piece and move up to the next section, otherwise, the magazine strip will stick to it and not come off cleanly. ›› Place beads on a nonporous surface to drive. Once the glue has dried, you can create your own bracelet necklace.