Photos by Melanie Hodskins Photography
Crisp leaves and pumpkins on every porch can only mean one thing – it's fall here in Kentucky. If you're anything like me, cooler temps somehow indicate it's time to schedule a family photo session. While my boy crew typically gives a ton of pushback, I somehow wrangle everyone together for a few forced smiles in hopes of one useful Christmas card photo. Sound familiar?! While I don't have all the answers, I can attest to these tips making our most recent family session less stressful. We lucked out and scored genuine belly laughs without a toddler tear in sight!
Outfits Made Easy
Planning ahead is key when it comes to outfitting your crew. Rather than basing your color scheme on current trends, stick to basics. I usually go with one or two colors that complement our home décor since that's where these will be displayed. Shop your closets and see what you have on hand and can utilize! Not only does it save money, but it's a little more genuine when everyone gets to showcase their personal style.
I went a little out of my comfort zone with the hunter green shade for this session and I'm honestly so happy with how it came together! Our photographer, Melanie Hodskins, has a wardrobe we were able to shop and style our looks prior to photos. Regardless of how you opt to pull looks together, do so a few weeks before your scheduled photoshoot. It'll minimize stress and last-minute Target trips!
Location, Location
Let's be honest – you can experience all four seasons within the same week here in Kentucky. We have done most family photos outside, so I was over the moon to have an indoor session. It was so nice not having to plan around weather or chasing our kids around a big open field! Bonus points for the comfort of having A/C and not attempting to hide how warm we are under layers of fall or winter outfits.
If outdoor photos are more your style, I always suggest planning in an area that has pretty structures you could utilize in case the weather takes a turn. Most photographers will reschedule for weather issues, but accommodating schedules and getting your crew re-prepared can be a headache in itself! Chat with your photographer beforehand so you're on the same page with backup and possible rescheduling plans.
All Smiles Here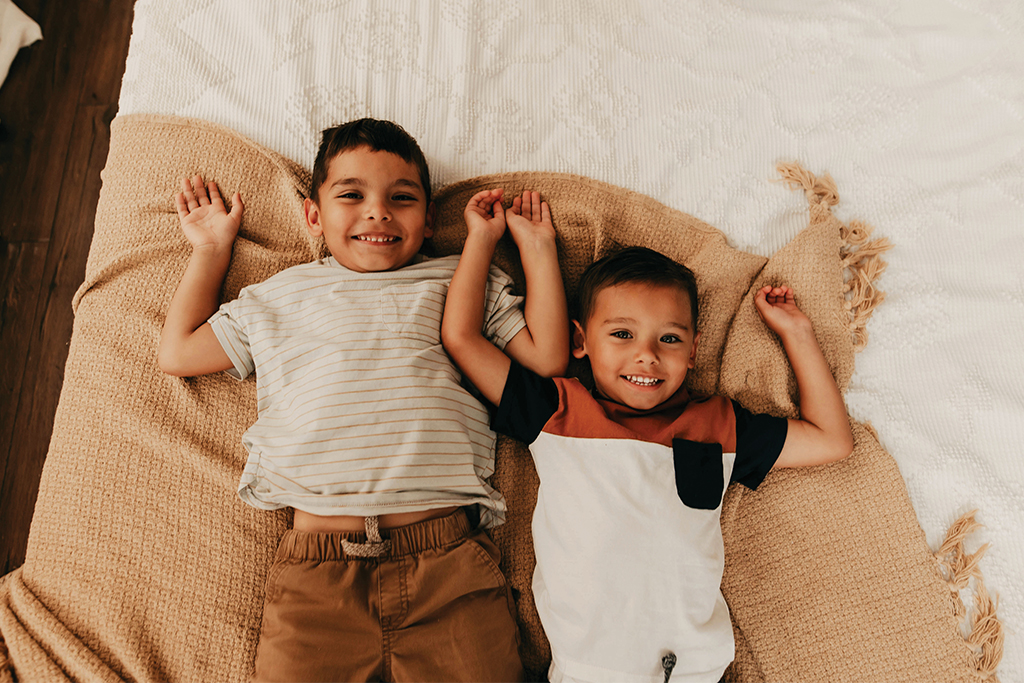 Make sure your photographer knows your objective and vision from the get-go so they can help build that experience. Walking into the studio with rambunctious toddlers, my first instinct is to say "don't touch that!" or "stop running!" Meanwhile, our photographer picked up her camera and made these little moments a permanent memory. I wanted photos that were so authentic you could almost hear their genuine toddler giggles. It's instant relief in realizing your photographer isn't stressed about getting your kiddos to sit in a picture-perfect pose or forced smile. Sometimes that's great, but it's not the phase of life we're in with on-the-go toddlers. Keeping them happy and tear-free is a breeze when you let them be themselves. Ten years from now, I know we'll look back and be extra grateful we let them be exactly who they are instead of overly styled and posed.
Have you avoided updating your family photos? Dreading pulling together outfits or hyping up your whole crew? Let this be your sign – book the session! Refresh that outdated portrait hanging in your living room and let your family show their personality. Hey, you might even have a crew that's excited and ready to schedule the next photoshoot after seeing how fun you've made this experience!