Photos by Jamie Alexander
Since Valentine's Day can already be a day of indulging in some sweet treats, why not rev up some old classics to fit the theme of the day? With minimal prep and just a few ingredients, these sweet Valentine's Day treats couldn't be easier! Kids will love helping out and they'll be ready to enjoy in no time at all! 
Cupid Floats
Ingredients:
›› 8 oz. strawberry soda
›› 1 scoop vanilla ice cream
Instructions:
›› Add a scoop of vanilla ice cream to a cup
›› Fill the top with strawberry soda
›› Drink up!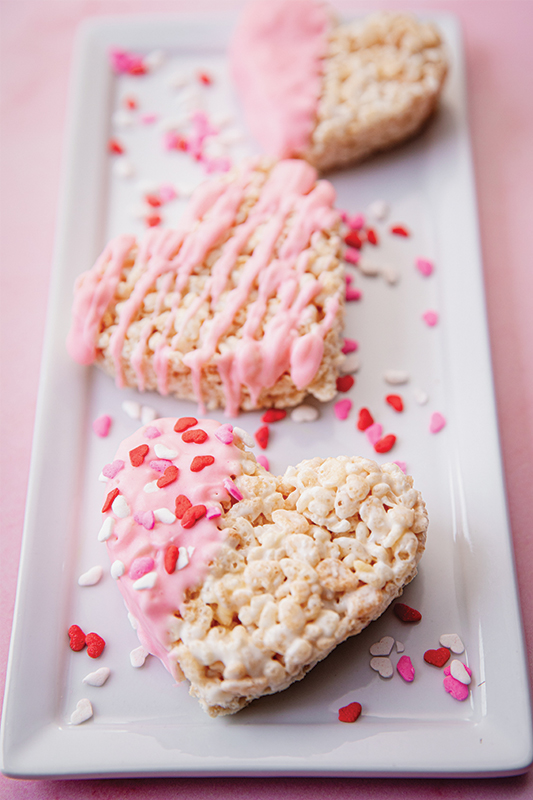 Heart-shaped Rice Krispie Treats
Ingredients:
›› 6 cups Rice Krispies cereal
›› 3 tablespoons butter
›› 4 cups mini marshmallows
›› 1 pkg of white chocolate wafers
›› pink food coloring (optional)
Instructions:
›› Melt butter in a large sauce pan over low heat. Add marshmallows and stir until melted, then remove from heat.
›› Fold Rice Krispies into the marshmallow mixture until everything is fully coated, then press the mixture into a 13" pan coated with cooking spray and let cool (using wax paper is recommended to press so it doesn't stick to your hands!)
›› Use a heart-shapped cookie cutter to cut the treats, then set aside. 
›› Using a microwave-safe bowl, melt the white chocolate wafers in the microwave by heating/stirring in 30-second intervals. Once melted, stir in food coloring. Dip the hearts in the chocolate mixture, then set on wax paper to set (around 10 min).