Over the past year, the '80s trend of fabric hair scrunchies has regained new life. From hair to wrists, the fashionable accessories have increased in popularity among young women as well as young men. Daviess County High School junior Bella Sailors not only recognized the trend, but made the decision to use her gifts to create scrunchies for a cause near to her heart.
In the summer of 2018, Bella began sewing and creating scrunchies and drawstring bags as gifts for friends and family members. After receiving an overwhelmingly positive response about the quality of her work, Bella decided to use her talents in order to raise funds for an upcoming church mission trip. Within a year, she had created her own small business.
"I made '3 B's and Scrunchies' at the end of May with the intent of using the money to help pay for my trip," Bella said. "As it turned out, I underestimated just how much business I would get. Within two months I had fundraised approximately $600 to go towards my (and my mom's) trip to Guatemala."
Bella said her first customers were friends and students at Daviess County High School. But as word began to spread across social media, she soon found herself shipping orders to Indiana, Illinois, Tennessee, South Carolina, Georgia and Texas.
On July 13, 2019, Bella went on her first mission trip with a small group of students and leaders from Owensboro Christian Church to assist an orphanage in Guatemala.
"Every morning, we woke up with the kids and had breakfast with them before they went to school," Bella said. "After they packed into their bus and drove off, we spent five to six hours working on projects around the grounds until the kids got back."
While the children, ages 2 through 17, were at school, the group worked on projects from painting, mowing and landscaping to hand-digging 3-foot by 3-foot holes for light posts and clearing brush in order to build a wall for protection. Once the children returned to the orphanage, Bella said they were able to play games, make crafts and bond with one another through conversation.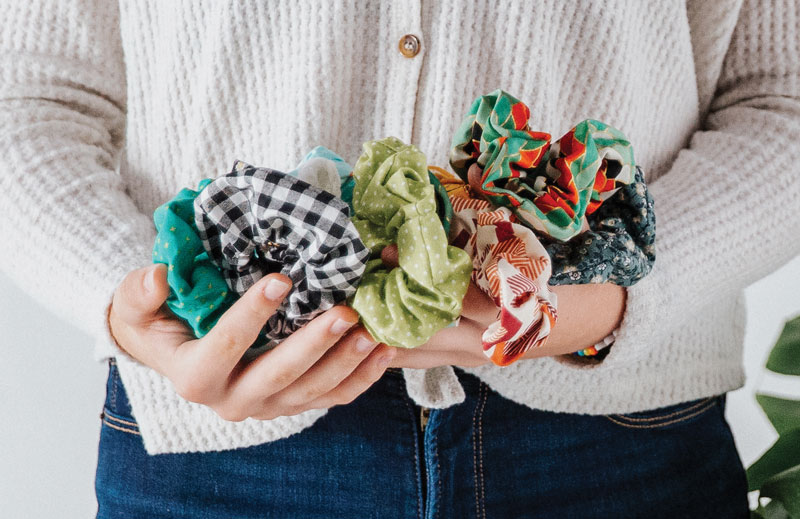 "The one thing that took me by surprise the most was the amount of pure unfiltered joy that radiated from the kids and the orphanage as a whole," Bella said. "They didn't have much, but you wouldn't know it just by talking to them. They were all always smiling, and their heart for Jesus was evident in everything they did."
She said it was that joy that inspired her to not only continue selling scrunchies to raise funds for future trips, but to sell them to help raise money to support the orphanage as well.
"It didn't feel right to keep excess money that I didn't need when it could be helping kids that I now have bonds with go through their day-to-day lives," Bella said.
Since returning from her trip in July, Bella has donated $135 to the orphanage, with plans to continue donating monthly. She said she makes the entire scrunchie herself, from picking out the patterns and fabrics to hand-stitching it closed. Although she said it took a little bit of trial and error at first, once she was able to master the technique for scrunchies, Bella was able to try her hand at other things such as headbands, keychain chapstick holders, and Apple Watch bands. She said she has filled approximately 160 orders since she started 3 B's, and estimates that she's sold 150-175 scrunchies alone.
"From time to time, when I am super backed up on orders, my mom helps me with some of the steps so that I can get more done," Bella said, adding that she often customizes the drawstring bags and scrunchies per customer request based on pattern and color scheme. Recently, she offered to create coordinating scrunchies made of the same fabrics students wore to Sadie Hawkins.
Bella is planning on returning to the Guatemalan orphanage in April with her entire family. In order to raise funds for this trip, she will be increasing her social media reach to Facebook, as well as Instagram, and will have a display at The Spot Coffee & Finery in Williamsburg Square. Currently, the best way to order from Bella's shop is through her Instagram page @3bsandscrunchies.