Many of us have fond memories of loading the entire family into the car and heading out on a great adventure. When we were children, we had no idea what preparations it took to successfully leave home for a week or two. The endless packing, preparing, and budgeting must have been overwhelming to our parents. So, just imagine, packing up seven people, including five school-aged children, for six months and three seasons of weather. On January 1st of this year, that is just what Brad and Marilyn Rhoads did.
Why did they do it?
The first question most people might ask is why they would take such an extensive trip while their children were still in school. That is actually a big part of their why. After twenty-two years of practicing law, Brad Rhoads made the leap of faith to found Grace Marriage, a "grace-based and proactive approach" to marital coaching which strives to equip couples in maintaining healthy marriages. Initially, Brad was going to have to do some extensive traveling in order to promote Grace Marriage. So, Marilyn thought, "He is going to need to go to other churches around the country. I love to travel. What if we did this together? Once this (Grace Marriage) takes off, we won't be able to do this." Not to mention, that their youngest child was five, and their oldest about to turn seventeen, so it just seemed like the best time to take advantage of the opportunity of having everyone under one roof. Brad was a bit apprehensive at first, but when he presented his idea to the Grace Marriage board, their response caught him a bit by surprise. They discouraged him from making Grace Marriage the priority on the trip saying, "You have a golden opportunity to spend six months with your family." Brad soon realized they were right, "I would have been so focused on getting this new venture off the ground that I would have missed it. What better way to get started (in marriage coaching) then to spend six months as a husband and father."
How did they do it?
The family began their preparations in the spring of 2015. At the time, Madeline and Kate Bradley were attending Daviess County High School, Abby and Matthew were at Heritage Christian, and Rachel was in prekindergarten. Marilyn contacted the children's schools in June and informed them that she would like to pull the children out for a semester. DCHS was incredibly workable, stacking the girl's fall classes with their core math and science classes that involved more "hands-on teaching." Marilyn says that the teachers were very responsive if they needed anything, and the girls were able to maintain straight A's, their high GPA's, and receive full credit at the end of the semester. Abby and Matthew, on the other hand, would be homeschooled. Heritage Christian School gave the Rhoads all of the books, schedules, and teaching guides they needed to keep the kids on track while they were gone. Brad agreed to be Abby's math teacher, and jokingly adds, "We hired a math tutor (when we returned), just in case." Marilyn was surprised by the amount of time homeschooling required, admitting, "It was not a side note, it ended up being the main event."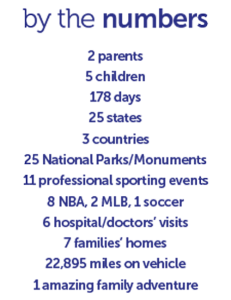 Once they had all of the school particulars out of the way, they planned out a general grid of the times they would like to travel and the locations they wished to visit. They offered their dates to friends and family and used the responses to help plan their route. Spring Break offered an opportunity to catch up with an old friend, while Marilyn's parents' 50th wedding anniversary secured a visit to Seattle, Washington with the anticipation of an Alaskan cruise. Once Marilyn discovered that January through March was considered off-season for most of their desired locations, she was able to research and rent houses online at a lower cost. In order to save additional money, they purchased a National Park pass for the entire year, occasionally camped, booked homes for a week or so at a time, rented just outside of major cities, and ensured the rentals had a full kitchen and laundry room. They also arranged to spend a total of three months of the trip renting and three months staying with people they knew. While the trip was incredibly well-planned, they did leave some leeway for adventures that might pop up along the way, like the five-hundred-mile detour to Preston, Idaho to see the location where Napoleon Dynamite was filmed (yes, that really happened).
Aside from cutting costs with rental homes and using some money from savings, the Rhoads also rented out their own home while they were gone. While Marilyn will admit that it was a very stressful process cleaning, packing, and storing personal items, it also turned out to be somewhat of a triple blessing. The first two months of their trip, there was a family whose home was being renovated. Unfortunately, another family sustained damage to their home from a fire and needed a place to stay for the exact time frame remaining in the Rhoads' trip. Brad and Marilyn believe that it was all in God's timing, and a true blessing, that they were offering two families in need a place to stay while they were still receiving an income for housing expenses.
On the Road
When it came to entertaining five children of multiple ages for seemingly days-long car rides, the family often had to get creative. Even though they packed detailed coloring books, played the license plate game, and counted colors of cars, the older children also devoured entire series and sequels of movies. The Rhoads children have now seen each and every Rocky, Star Wars, and Spiderman movie. Meanwhile, Rachel, age five, was able to enjoy her own personal laptop equipped with headphones and "little kid movies." Aside from staying entertained, the kids took some leadership in the van as well. Madeline says, "We kept arguing over who was going to sit in the middle, so we made up a contract with van rules." This contract was complete with a monthly rotation of seating assignments.
Amazing Sights
Most people will not experience in a lifetime what the Rhoads were able to capture in six short months. While many of the family members will agree that hiking to the bottom of the Grand Canyon was by far one of the highlights of their trip, there was also Horseshoe Bend, Big Bend National Park, Glacier National Park, Mount Washburn at Yellowstone National Park, Mount Rainier, Mount Rushmore, and the Grand Tetons. Not to mention, the Four Corners where Utah, Colorado, New Mexico, and Arizona meet and Butchart Gardens in Victoria, Canada. Madeline was also able to celebrate her seventeenth birthday with a dear friend in Seattle and see the ever-famous Gum Wall. With these just being a few of the amazing sites they visited, it is safe to say that they will have a family photo collection that could put many of us to shame. Aside from the national parks and monuments, Brad and Marilyn took turns taking the kids to professional sporting events, such as NBA playoff games in Portland, Seattle Sounders Soccer, and Seattle Mariners baseball. One of Brad's favorite memories was appreciating the humor of his carefree ten-year-old son Matthew as he "scaled an armrest like a lizard to get autographs" from Trailblazer stars Damian Lillard and C.J. McCullom.
Aside from photos, the Rhoads wanted something to remember their travels by that would be inexpensive and easy to transport home. With limited space and many destinations, they decided that bumper stickers would be the best thing to collect. Marilyn said that if they ate at a restaurant they liked, or visited a destination they enjoyed, they would purchase a decal or bumper sticker. They now have quite an extensive collection that she plans to mount on a large board and display in the basement.
Not so Amazing
The Rhoads have incredible stories to tell of their travels, but, just as it is in life, not all of their experiences were positive. Everyone dressed and prepared for Slide Rock in Arizona, yet the water was too high and it was barely visible. Virtual school required the girls to purchase and create poster board displays mid-trip, and there were several times that Brad literally prayed that the van would make it from state to state without breaking down. They also did not consider that, in the time they were gone, Brad's driver's license would expire. There were a few minor, yet quite painful, injuries along the way as well. Brad stepped on a needle, Matthew received a dog bite to his bottom, and Marilyn suffered a broken foot, which made it very difficult in areas that required a lot of hiking. What Brad intended as an opportunity for Marilyn to have some time to herself aboard the cruise ship, resulted in him losing track of Matthew in Victoria, Canada while taking pictures of the other four. Matthew emerged about ten minutes later, but it was a stressful moment at the time.
Memories
The Rhoads came home with hundreds of bumper stickers, thousands of miles on their reliable van, and a lifetime full of memories. Many of the stories they share we may not fully grasp the importance of, like the weight of Matthew's backpack causing him to fall head first like a turtle, Abby slapping the sign at the bottom of the Grand Canyon, or publicly acknowledging the single egg meal that sustained her an entire day. Everyone laughing after cramming a dandelion into Rachel's mouth after asking her to open wide to blow on it. Matthew yelling, "Snake" (this time for real) and Marilyn running so furiously that it resulted in a broken foot. While we may find some humor in these stories, just like any inside joke amongst family, these are personal memories that will stay in the scrapbooks of their minds for years to come.
To learn more about the Rhoads' amazing six-month adventure, visit their website
www.rhoadsfamilyadventure.com for detailed stories and pictures.
If you would like more information about Grace Marriage, please call (270) 570-1479