Key male leaders and influencers in the local community are identified and approached to be part of an American Cancer Society Real Men Wear Pink campaign. A Real Men Wear Pink campaign consists of 10 candidates from a community or market that agree to the following:
Fundraise alongside other Real Men Wear Pink candidates for the Making Strides Against Breast Cancer event in that market or for American Cancer Society's mission in the fight against breast cancer in a community or market that does not have a Making Strides event. Fundraising takes place throughout September and October, with the goal of each candidate reaching or exceeding  ($1,000+ fundraiser).
Candidates commit to wearing pink every day in October.
Candidates raise awareness through their personal social networks by using platforms such as Facebook, Twitter, and Instagram to talk about the campaign efforts and seek donations. All candidates in a campaign are competing against each other to be named the "Real Man."
Friendly competition occurs between the candidates as they keep an eye on their Real Men Wear Pink leaderboard, and candidates often raise much more than the $1,000 commitment. The winner is shared with local media and receives bragging rights along with an exclusive gift!
These men are taking the opportunity to make a real difference in the fight against breast cancer by being a part of an exclusive group and showcase their commitment to the cause in their community Breast cancer does not just affect women. Not only are more than 2,600 men in the US diagnosed each year, but so are more than 240,000 of their daughters, wives, mothers, sisters, and friends. Their support as a Real Men Wear Pink candidates in Owensboro will help the American Cancer Society move us closer to a world free from the pain and suffering of breast cancer.
The Real Men Wear Pink will go hand in hand with Making Strides Against Breast Cancer, a noncompetitive, inspirational event that raises awareness and funds to end breast cancer and provide hope to ensure no one faces breast cancer alone. Since 1993, more than 12 million supporters have raised more than $750 million nationwide. Last year, 4,000 walkers in Owensboro helped to raise more than $30,000. The Owensboro walk is slated for October 23, 2016.
Funds raised through Making Strides Against Breast Cancer walks enable the American Cancer Society to invest in groundbreaking research; provide free, comprehensive information and support to those touched by breast cancer; and help people take steps to reduce their breast cancer risk or find it early when it's most treatable.
From my perspective as community manager, joining with others in the Making Strides walk moves us one step closer to a world free from the pain and suffering caused by breast cancer. From research to education, prevention to diagnosis, and treatment to recovery, Making Strides provides support to everyone impacted by breast cancer.
For additional details about the 7th annual Making Strides Against Breast Cancer walk at 2 p.m. on October 23, 2016, at Smothers Park , visit makingstrideswalk.org/owensboroky or call the American Cancer Society at 270-683-0778.
Anna is celebrating her 30th wedding anniversary in October to her husband Greg, they have a daughter Kaitlyn who just recently graduated from nursing school and is a RN and new bride.  Anna is the Community Manager of Making Strides Against Breast Cancer, Relay For Life in Daviess, Henderson, McLean, Union and Webster counties. She enjoys crafts, fishing and spending time with family, and her three dogs, Dexter, Coco and Oakley.
Meet the Candidates
Leo Payne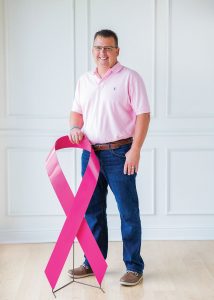 Leo Payne has been married to his wife Jenney for 25 years. They have a son, Grant, who is 20, and a daughter, Paige, who is 14.  You will find Payne restoring old cars and going to cruise ins with Grant or watching Paige swim for the Owensboro Marlins and Apollo High School.  The Paynes love to go camping and boating with family and friends.
Payne has been working in the plumbing industry since he was 16 years old.  In 1996, he opened up Owensboro Winsupply, where he currently serves as the President and is actively involved in day-to-day sales.  He is also currently serving on the Homebuilders Association of Owensboro board.
Payne is a cancer survivor, and his son Grant became brain-tumor-free last year after battling a brain tumor for 17 years.  His wife has had two aunts who have battled breast cancer.  He has also had several friends and friends' wives who have battled breast cancer.  The Paynes also lost a business friend to breast cancer.
Having known several friends and family that have battled this terrible disease, Payne shares that it is an honor to be one of the first 10 Real Men to represent such a great cause in Daviess County.
Phillip Page
Phillip Page's family raised him with the ethos: "If you can do good, then you should."   Originally, he's from a small town like Owensboro in northeastern Ohio called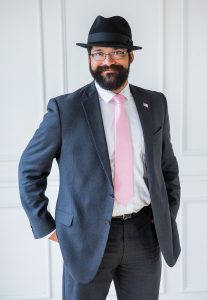 Alliance.  Both of his parents were factory steel workers and he was the last child, with five sisters and one brother (collective of several marriages).  Page met his wife Thomika O'Bryan, an Owensboro native, the second week of classes at law school and followed her back to Owensboro to get married, work, and start a new chapter of their lives together.  He is a member of Good Shepard Church and VFW Post 696.
Page is an Eagle Scout, and earned his Bachelor and Master degrees from Youngstown State University.  He served four years in active duty in the U.S. Army, including a 16-month deployment to Iraq. He was awarded the purple heart. He spent three years teaching at Youngstown State University, three years working at Akron Children's Hospital, and three years at Florida Coastal School of Law. Page passed the Kentucky Bar on his first attempt in the summer of 2015; he was hired by Overstreet Law Offices, PLLC, in October.
Cancer has impacted both his immediate family and his various extended families on multiple generations.  Most recently, his mother-in-law won her fight against breast cancer last year, and his mother has had several bouts with various kinds of cancer over the years.
Page is looking forward to raising awareness of breast cancer, while looking good (in pink), and celebrating life with those who have been intimately impacted by cancer.
Nick Oller
Nick Oller is married to his wife, Kelly, and they have two wonderful children. Their son, Grant, is 14 and their daughter, Kaden, is 10.  Grant is a freshman at Daviess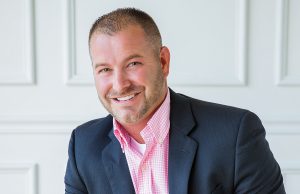 County High School and Kaden is in the 4th grade at Highland Elementary.  In his spare time Oller and his wife spend time at the baseball field watching Grant or attending KFL Football games watching Kaden cheer.  He also enjoys running and working out at Edge Body Boot Camp.
Oller is a graduate of WKU, and recently graduated from Graduate School of Banking at Colorado.  He has worked for Independence Bank for a little over 13 years where he has served in a few roles. He is currently managing the Highway 54 location and also works as a Lender.  He has been a part of many boards, including Southern Little League, Junior Achievement and, currently, The Foundation for Daviess County Public Schools.
Fortunately, breast cancer has not affected his family.  However, recently his cousin Libby Oller was diagnosed with a very rare type of cancer known as Carcinoma Ovarian Cancer.  This type of cancer is a highly malignant tumor that mainly affects young women.  Libby is currently fighting this horrible cancer with great spirits and she knows God has it!
Oller believes it is such an awesome privilege and honor to be one of the first of ten men to represent such a great cause in Daviess County.  He is looking forward to working with such great men and women to help raise awareness about this horrible disease that impacts so many lives each year. "They say, 'Real Men Wear Pink' so, let's see how I pull this off!!  Please join me in support of Making Strides!" Oller said.
Ed Krahwinkel
Ed Krahwinkel is a lifelong resident of Owensboro, KY.  He graduated from Daviess County High School, Kentucky Wesleyan College and WKU-O.  He is currently a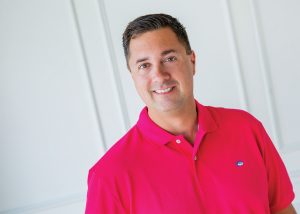 lieutenant with the Owensboro Police Department.  He and his wife, Dr. Jodi Krahwinkel, have two children, Owen (15) and Avery (12).
In his free time, Ed enjoys spending time with his family at swim meets where he is a USA swimming official.  He has served as president of the Owensboro Marlins Swim Team board of directors as well as the board of New Beginnings Sexual Assault Support Services.
His other favorite activity is taking the top off of his jeep and spending time on the back roads with other Jeep enthusiasts.
After a brief career in the private business sector, Krahwinkel joined the Owensboro Police Department in 1998 where he moved through the ranks serving as a patrolman, detective, and sergeant.  In his current capacity as lieutenant, he has served in the Professional Standards Unit as a Patrol Shift Supervisor.  Additionally, he is the commander of the Crisis Negotiation Team for OPD.
Krahwinkel is a graduate of the Criminal Justice Executive Development (CJED) program in Richmond, KY, and served on the board of CJED.  He graduated from the FBI National Academy in Quantico, VA, in 2013 and is a member of the FBINA Associates. He is also a member of Fraternal Order of Police Lodge #16.
"I have seen both sides of a cancer diagnosis in my own family.  My father-in-law was diagnosed with esophageal cancer in 2013.  He went through various treatments, both traditional and experimental, before he passed away within a year," Krahwinkel shared. "My mother, though, is a cancer survivor! She was diagnosed with breast cancer in 1998.  It was found during a routine, annual mammography.  After biopsy revealed it had spread to five lymph nodes, she chose mastectomy followed by six months of chemotherapy.  I'm happy to report that 18 years later, she is still cancer free," he said.
Krahwinkel is most excited to be a part of the campaign by having the opportunity to help raise awareness and funds to support others battling cancer or surviving cancer.  He knows that cancer affects so many people's lives and without support and education, it makes a tough battle even harder.  He believes that research for a cure is the ultimate goal and ACS contributes greatly.  While he's not a researcher or doctor, he wants to do his part to reach this goal.
Glenn P. Taylor Jr.
Glenn P. Taylor Jr. was born and raised in Owensboro.  After graduating from Daviess County High School, he attended college and subsequently returned to Owensboro to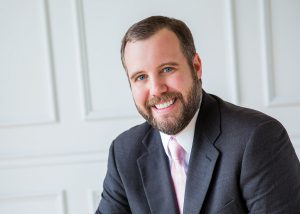 join his family's business.  He and his wife, Rachael, have been married for 9 years and have a daughter Addi Kate (7) and two rescue dogs, Daisy Mae and Disco Lou.  In his spare time, Glenn enjoys attending music festivals, especially ROMP, and staying on the forefront of technological innovations.
Glenn P. Taylor Jr. graduated from University of Louisville with a degree in Marketing and Arapahoe Community College with a degree in Mortuary Science.  He returned to Owensboro in 2009 to join his family at Glenn Funeral Home where he is a 5th generation Licensed Funeral Service Professional.
His maternal grandmother, Susie Jagoe Harreld, passed in 1980 from breast cancer.  His aunt, Judy Taylor, passed in 2015 from colon cancer.  His wife, Rachael Taylor, is a 6-year survivor of cholangiocarcinoma.   His maternal grandmother, Lucy Glenn Taylor, was a uterine cancer survivor.
Taylor is excited to be out in our community bringing awareness to such a worthy organization.
Brian Smith
Brian Smith was born in 1955 and spent most of his adult life in Southern California.  After marrying Janice in 1977, he set out on a career managing corporate real estate,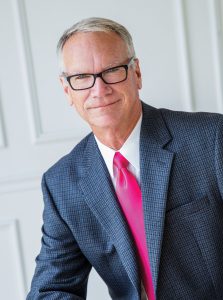 ending up in the prestigious world of High Rise Building Management.  Brian has managed several high profile tenants such as Sony Pictures Entertainment and Nestle Foods.
Brian spent time as a Reserve Police Officer, and enjoyed three terms on the Board of Directors of the local Y.M.C.A. reaching the level of Vice President.
Between 1996 and 2006, Brian co-owned three Gymboree Franchises.  Gymboree provides developmental early learning and play classes for children and their parents.  Brian's franchises consistently ranked in the top 25 of 600+ franchises.
In December 2005, Brian and his family relocated to Owensboro with the purchase of Diamond Lake Resort.  Diamond Lake is a 270-site campground with five lakes, three go-cart tracks, disc golf, paddle boats, a grill, pizza/ice cream parlor, 10-unit motel, five cottages, a full schedule of events, and a 759-seat live performance theater.  Brian and the rest of the ownership team have successfully repositioned the resort in the market place and Diamond Lake Resort is currently one of the most popular camping destinations in Kentucky.
Brian was appointment to two terms on the Board of the Owensboro Daviess County Convention and Visitors Bureau, including one term as Board Chair.
Brian has committee himself and his business to several different charities, including The American Cancer Society, and has recently been commissioned a Kentucky Colonel.
Jim DeMaio
Jim DeMaio grew up in Fargo, ND.  He came to Owensboro in 1990 to attend Brescia College (now Brescia University).  While there, he played soccer and graduated in 1995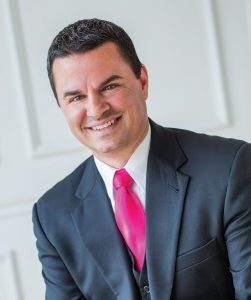 with a Bachelor of Science degree in Applied Mathematics.
He worked in the boating industry for almost 10 years selling boats at JMJ Watersports and The Boatman.  After that, DeMaio was the Director of Admissions at Delta Truck Driving Academy for two years.  In 2002, he became a realtor.  DeMaio has been a realtor ever since, but in 2013 he also took an opportunity to be the Vice President of the Greater Owensboro Chamber of Commerce.  In 2015, he moved back to being a full time realtor and joined the Kelly Anne Harris Team.
DeMaio's immediate family is familiar with cancer, but they have been blessed that they have not lost an immediate family member to this horrible disease.  His father is a cancer survivor.  He was diagnosed with esophageal cancer and went to the Mayo Clinic to have surgery and start his process to beat cancer.  DeMaio is happy to say that he is cancer free and has been for years.  His mother's husband is also a cancer survivor.  Nine years ago, he was given six months to live as he was diagnosed with cancer in multiple areas of his body.  He has fought an incredible fight over those years and is now cancer-free.
Breast cancer is not something that DeMaio's family has dealt with directly, but he knows of friends and their family members who have battled this disease.  He believes that the efforts of the American Cancer Society in this area are extraordinary and he is happy to help with this cause.  He hopes that his contribution with the Real Men Wear Pink campaign can help a family somewhere.
Chad Benefield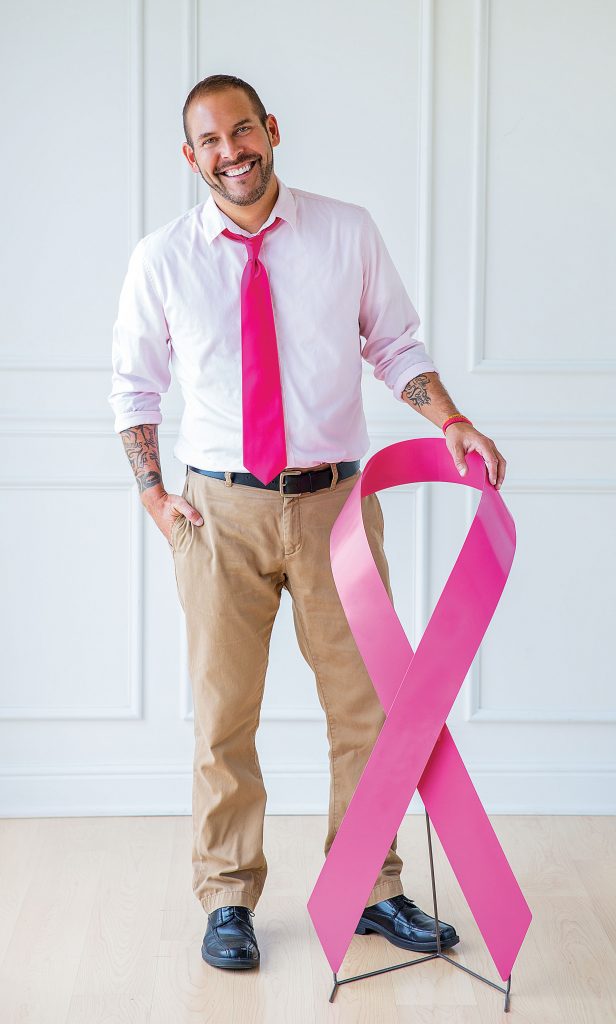 Chad Benefield is host of The CB Radio Show at The Country Station, 92.5 WBKR and Operations Manager for Townsquare Media Owensboro/Evansville. In addition to flapping his lips on the air, Chad is the emcee for a variety of events all over the state of Kentucky, including the monthly Rooster Booster breakfast for The Greater Owensboro Chamber of Commerce, the KDCO State Dance Championships, beauty pageants, talent shows, and multiple charity functions. He has also had the privilege of being a guest announcer at The Grand Ole Opry in Nashville, Tennessee.
Chad is devoted to charity and shares his time and talents with organizations like the American Cancer Society, March of Dimes, Special Olympics Kentucky, Susan G. Komen for the Cure, and, of course, St. Jude Children's Research Hospital, for which he has helped raise over $1 million dollars.
Chad served as the chairperson of Daviess County's Relay for Life for four consecutive years and has been the emcee of the American Cancer Society's Making Strides event since its inception.
Though he works in country radio, he loves all kinds of music and listens to everything from Justin Moore to Justin Bieber (don't judge). He loves tennis, the Olympics and, yes, reality television (again, don't judge). When Chad's not working, he's vacationing and sipping Purple Rains and Blue Margaritas somewhere in the Caribbean. He lives in Owensboro with Kevin, Dolly, Ellie and a cat named Oprah.
Neel Ford
Born and raised in Owensboro, Neel Ford graduated from Owensboro High School, followed by the University of Kentucky in 2004.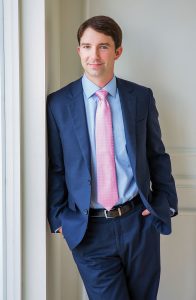 He is married to his wife Sarah (from Bowling Green, KY).  They have two children,  daughter Sutton (3) and son Wynn (1).  Ford lived in Nashville for a few years after college and then moved back to Owensboro in 2008.
He started his career in Nashville working for Liberty Mutual as a commercial lines underwriter.  In 2008, he moved back to Owensboro to work for his family's insurance agency. Today, Ford leads the commercial lines business.
He currently serves as the Young Agent Chair of the state association (Independent Insurance Agents of Kentucky IIAK) as well as on the board of the Owensboro Museum of Science and History, along with Hospice of Western Kentucky.
Both his grandmother and aunt have had breast cancer. Many other loved ones and friends' loved ones have been affected by breast cancer or other cancers in general.
Since it has affected so many people close to him and his family, Ford said that anything he can do to help raise money and awareness is an easy decision.  So many families in this community have been affected by this terrible disease, so he hopes this campaign can help us get that much closer to finding a cure. Ford believes that that thought alone should get you excited!
Dr. Wes Booker
Originally from Whitesville, Dr. Wes Booker is married to his wife of 10 years, Tina.  They have three children: Breyton (17), Ben (9), and Anna (7).  Dr. Booker enjoys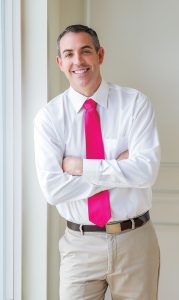 spending time with his family, watching and playing sports, and being with friends.
Booker graduated from Brescia University in 1999 and the University of Louisville School of Dentistry in 2003.  He is the owner of Dental Designs of Owensboro, and is a member of the American Academy of Cosmetic Dentistry (AACD), Academy of General Dentistry (AGD), American Dental Association (ADA), Kentucky Dental Association (KDA), Past President, and member of the Green River Dental Society (GRDS).  He is also a member of the Spear Study Club and past Mentor for Cerecdoctors.com.
Booker has known a few people and patients that have dealt specifically with breast cancer so he is familiar with many stories of treatments and losses associated with the disease.  Personally, on both sides of his family, he has lost a grandparent and multiple family members to several different forms of cancer.  Booker's most personal interaction was when his wife was diagnosed with cancer. Fortunately, the cancer was diagnosed early, she was treated, and the cancer was removed.
Booker is most excited about bringing awareness of breast cancer and all cancer to people.  He feels the opportunity to help raise funds for cancer awareness will be both beneficial and fun.