Owensboro Parent first met the Elder family when their creative outdoor kids' space was nominated to be featured in an issue earlier this year. When we heard this family redesigned the space, we had to catch up with them and check out their latest project.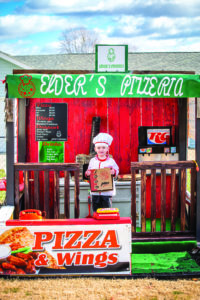 Brent and Jamie Elder repurposed a dilapidated shed in their back yard into a playhouse for their son, Tennyson — or Tenny as they call him. But Brent went above and beyond any typical playhouse standards and converted the shed into a diner and he did it in a matter of days with less than $200.
About a year after the diner, came a Starbucks. Brent used an old swing set for the frame of the coffee shop structure. And the rest came from scraps of other projects. Since then, Tenny's fascination with Starbucks ran it's course, his parents said, so Brent went back to the drawing board for his next creative build.
"One of our favorite places to eat in Hancock County is Galaxy Pizza in Vastwood," Jamie said. "He won't actually eat the pizza, but he will eat every pepperoni off of the pizza. So Brent got the bright idea to change the Starbucks into Elder's Pizzeria."  
Jamie said Tenny loves his new pizzeria, especially when his parents let him play with real ingredients. And Tenny loves to share his latest space with friends and neighbors.
Elder's Pizzeria includes a drink station with four different soda options. From a distance it almost looks real!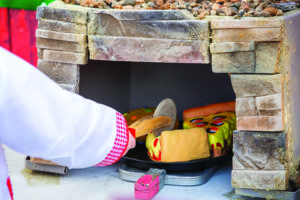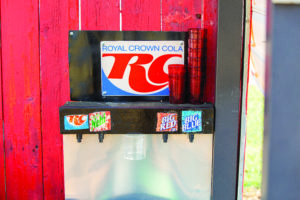 "The cups remind me of the red cups from an old school pizza joint," Jamie said.
Tenny "cooks" his pizzas in a brick oven with a chimney. Brent has been known to put a smoke bomb in the oven to make it look like the oven is really working. The Elders even have real pizza boxes that they ordered online, which they use to "deliver" their culinary masterpieces.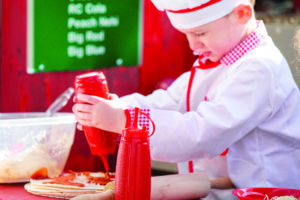 "Brent is the creative mind behind it and did all the construction himself using odds and ends from the garage and shed," Jamie said.
What's in the future for the Elders? According to Jamie, Brent has been thinking about creating a gas station. Whatever it is, we know it will be amazing!