Photos by Jamie Alexander
Earlier this year, Brayden Duke's heart helped six-year-old Ruby Knelson receive the liver she needed. As his youth group met on January 26, Brayden and the other fourth graders at Owensboro Christian Church were challenged to raise $100 to help the Knelson family. Without a liver transplant, young Ruby was in danger of organ failure. 
According to Ruby's mother, Kristy Knelson, her adopted daughter was born with biliary atresia, which caused the liver to be underdeveloped. In China, baby Ruby underwent an intestinal surgery which allowed the bile to drain from her liver. Under the care of the Knelsons, Ruby has had checkups every six months at Riley Children's Hospital in Indianapolis.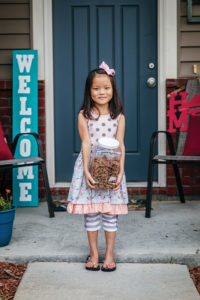 At Ruby's doctor visit in October 2019, her oxygen levels were low. A test ruled the cause to be hepatitis-pulmonary syndrome, meaning "her oxygen was not reoxygenating when going from the vessels in the heart through the lungs," Kristy explained. Since this could cause organ failure, Ruby was placed on the liver transplant list. When Ruby's name moved to the top of the list two months later, the Knelsons were anxious about the medical bills.
Brayden pledged to donate $20 of his own, and challenged his father, Dwayne Duke, Jr. to do the same. But Brayden felt compelled to do even more. As he explained it, "a bunch of love and light came into my heart." 
At Christmas, Brayden had learned how to make candied pecans. So, he put egg whites, sugar, brown sugar, vanilla, salt, and pecans into the crock pot and stirred every 20 minutes. The first batch yielded eight 5-oz bags of candied pecans. 
At $10 a bag, family and friends quickly bought the pecans. Brayden spent hours making more, and his mother, Sara Duke, advertised them on Facebook. In two weeks Brayden raised $689 for Ruby through donations and pecans. 
As his group leader Leigh Rhoads Doyal commented, Brayden "really has the gifts of mercy and compassion." But Brayden says this isn't about him. "This is about God working with me to help Ruby because she deserves a chance."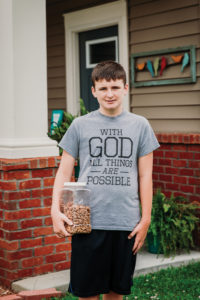 Thanks to Brayden, the Knelsons' Go Fund Me page, and a "Pennies for Ruby" fundraiser at Sorgho Elementary School, Ruby got her chance on June 8.  Ruby's surgery at Riley lasted six and a half hours. This was longer than expected because a malrotation of her intestines also had to be repaired.
After six weeks at Riley for monitoring and tests, Ruby came home at the end of June. Her liver numbers are stable, but she needs to be extra cautious. Since Ruby shouldn't ride her bike or her scooter for now, she is occupying herself with Play-Doh, bubbles, and paint. Due to the coronavirus, Ruby stays home as much as possible and wears a mask when she does go out.
Brayden hopes to meet Ruby in person once it is safe. He is continuing to pray for Ruby's full recovery. For Ruby this means being able to participate in the August production of the Lion King with Johnson's Dance Studio. Both the Dukes and the Knelsons give God the glory for answered prayers.