Photos by Jamie Alexander
The holidays are here and nothing says happy holidays like sweet treats! These truffles are an easy no-bake recipe that are excellent for parties (but we won't judge if you just make them for yourself). Oreo truffles are a well-known classic treat, but adding peppermint gives them that perfect holiday taste that everyone will love! Just make sure to save yourself a truffle or two, because these yummy treats go FAST!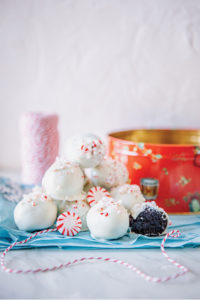 INGREDIENTS:
›› 1 package Oreos (standard/36 cookies)
›› 2 cups white/dark chocolate 
    melts/bark
›› 8 oz. cream cheese
›› 1 tsp peppermint extract
›› crushed peppermints for garnish
INSTRUCTIONS:
›› Line a baking sheet with parchment paper.
›› Pour all Oreos into a food processor or a blender and crush into fine crumbs.
›› Add cream cheese and peppermint extract to the mixture and continue to blend until combined.
›› Scoop the mixture out into 1-inch balls and roll before setting them on the parchment paper.
›› Place the truffles into the freezer for 20 minutes, then melt chocolate by following the package instructions.
›› When chocolate is melted, dip each Oreo ball and make sure it is fully covered (you may need to use a spoon to pour extra chocolate on any missed parts). Then return to the parchment paper and top with crushed peppermint garnish.
›› Give the chocolate at least 10 minutes to set. The truffles can be stored in the fridge, or frozen up to three months.