Photos by Jamie Alexander
Backyard gatherings are sure to be extra popular this summer as we begin to socialize with friends and family once again. If you're like us, you're probably feeling like the clouds are parting and you're over the rainbow to host a summer soiree! Check out our tips for the perfect rainbow-themed party and host the happiest get together in the neighborhood. 
Super Stripe Photo Background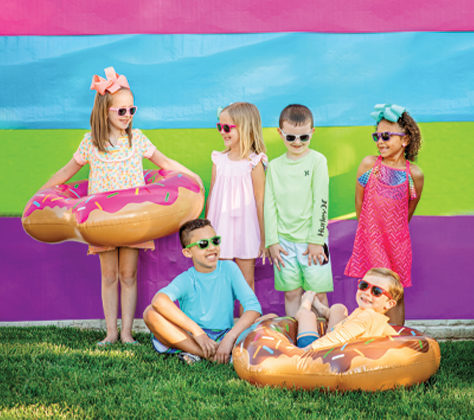 Many of us are starting to see our friends and family again for the first time in more than a year. I can think of no better reason than a mini-reunion to take lots of photos! This easy backdrop brings a punch of color to any wall! All you need are some solid color wrapping paper rolls (snag these for a buck each at the dollar store!) and painter's tape.
Colorful Gumball Party Favors
Send your guests home with a colorful treat! These gumball favors are so pretty you can use them for party decor and then give them to your guests as they leave. 
Supplies: 
›› 1 box of gumballs
›› Tube-shaped candy favor boxes (1 inch X 6 inch)
›› Star stickers
Instructions: 
›› Sort gumballs by colors and stack them into the candy tubes so they're uniform. 
›› Top with a colorful star sticker for added fun.
Rainbow Fruit Ring Snacks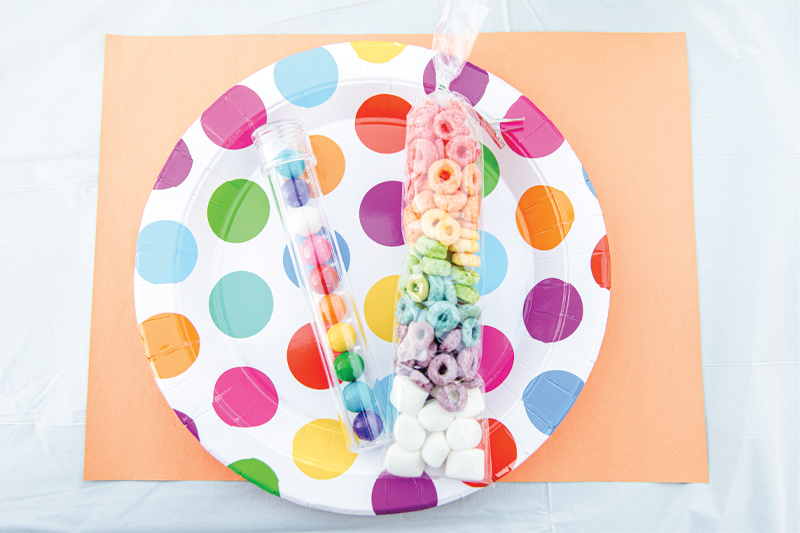 These fun snacks are individually wrapped and easy to serve to your littlest guests. 
Supplies:
›› 1 box of fruit ring cereal
›› Mini marshmallows
›› Pretzel rod treat bags
Instructions: 
›› Sort the cereal rings into piles by color.
›› Put approximately nine mini marshmallows into the bottom of each pretzel bag to make "clouds."
›› Begin layering your cereal rings into the bags, one color at a time to form rainbow stripes. Each layer should be about 1 inch deep. Remember to follow the colors of the rainbow! ROY G BIV
›› Once you reach the top of your bag, twist and seal with a twist tie. 
Halfway Homemade Cookies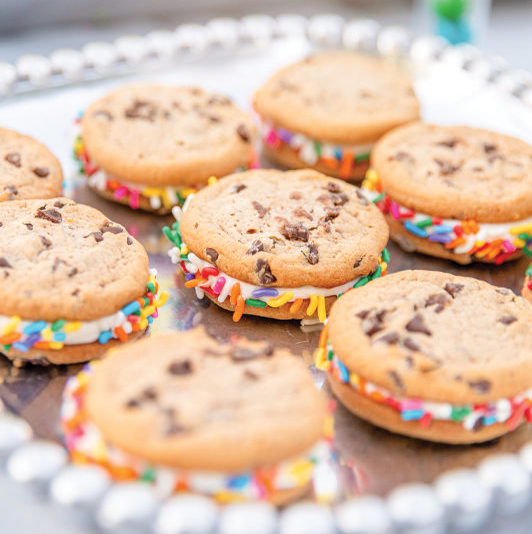 These sweet treats are an easy go-to! Pick up some store-bought cookie dough and bake according to directions. Once the cookies are cooled, make a sandwich using two cookies and some store-bought icing. Next, roll in colorful sprinkles.
Easy DIY Flower Centerpiece
This sweet centerpiece, made from grocery store flowers and a common craft supply, are sure to make your guests smile. 
Supplies: 
›› Any variety of fresh white flowers (You can pick these up for cheap at your grocery!)
›› Floral foam
›› Cardboard berry basket
›› Chenille stems/pipe cleaners
›› Plastic cling wrap
Instructions: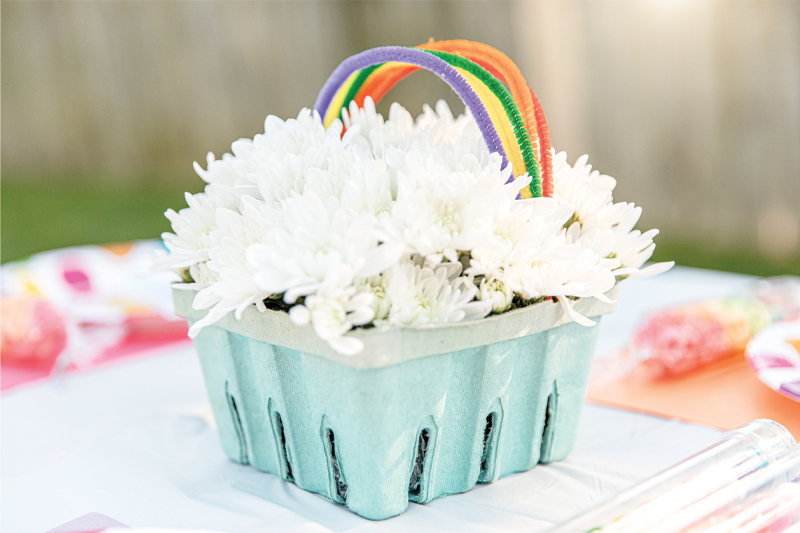 ›› Place a square of plastic cling wrap on the inside of the berry basket to create a moisture barrier.
›› Cut your floral foam to fit into the basket and wet it to keep your flowers looking fresh.
›› Trim your flowers short and poke them into the floral foam until your arrangement begins to look full. 
›› To make the rainbow, line up the chenille stems in the order you want and twist all the ends together. Poke each end of your rainbow into the floral foam with your flowers.