Summer fun doesn't have to mean leaving town! There are so many great adventures awaiting your family right here in Owensboro. Here are just some ideas that have made my family's bucket list in years past, along with some fun events going on this summer.
1.Hit the Greenbelt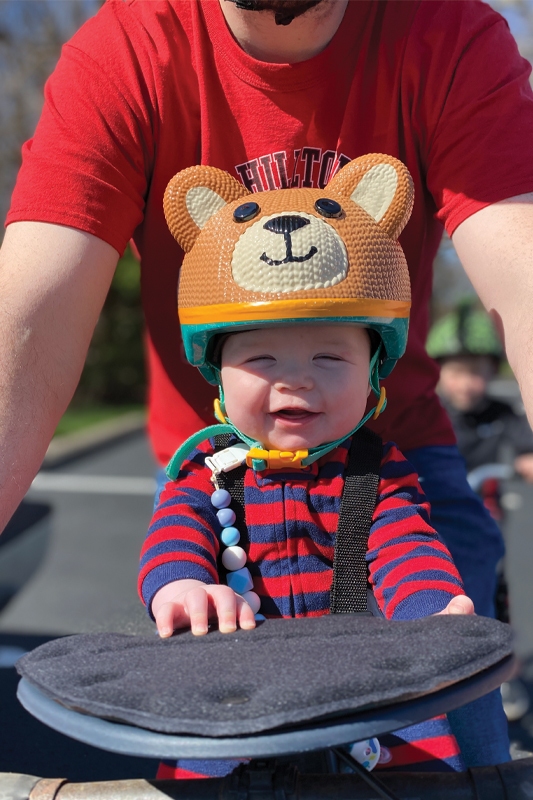 Most families have enjoyed some time on the Greenbelt, but you can easily make this trusted local favorite a new adventure. Live on the east side of town? Load up your bikes and hit the trail on the west side of town. The change in scenery will make the Greenbelt seem like a whole new experience. Pack a picnic or trek to the Big Dipper, which is not far off the trail. Spend the whole day exploring a different part of town! Joe Ford Nature Center is a hidden gem and is right on the Greenbelt. My kids also love the park at Ben Hawes. Living in Philpot, the park seems like a far away destination to them!
2.Movies on the River
June – August   |   RiverPark Center
Sponsored by US Bank Home Mortgage, the family-friendly event shows films on a large, inflatable screen on the RiverPark Center patio. The event is free and open to the public. Concessions will be available, but RiverPark officials ask that movie goers do not bring coolers, outside food or pets. Movies start at dusk.
June 13 – Trolls World Tour
June 27 – Tom & Jerry
July 11 – Onward
August 18 – Raya and the Last Dragon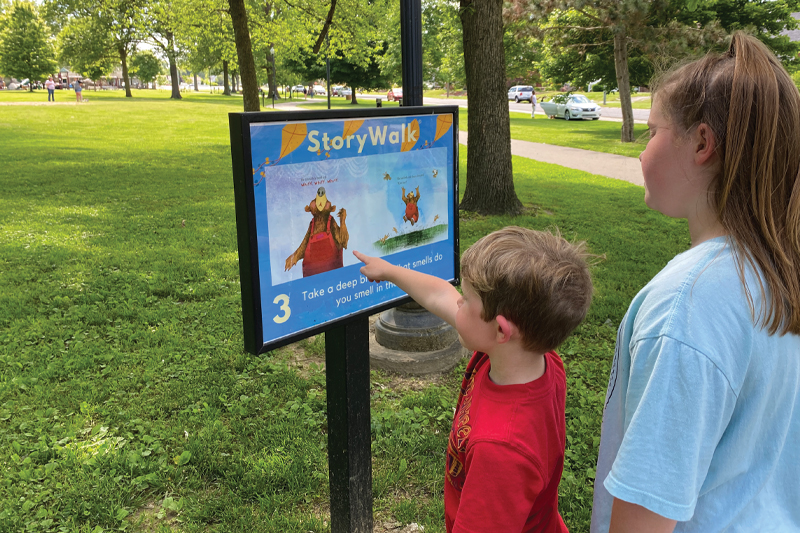 3.Take a stroll
Moreland Park is home to Daviess County Public Library's Story Walk, a series of aluminum book pages along the walking trail. The Story Walk starts at the tennis courts and ends at playground area, which would make for a fun day of exercise and literacy!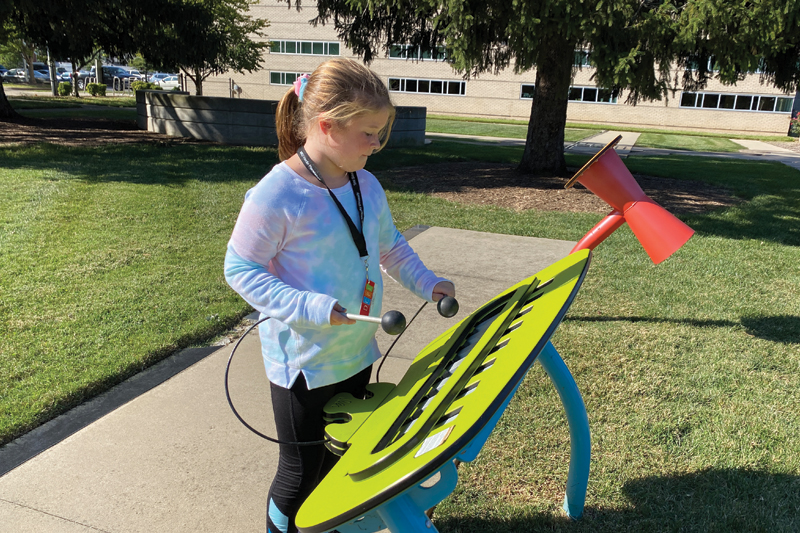 4.Get lost at the library
Daviess County Public Library is such an amazing resource for our children! 
Obviously, reading is a great activity to encourage this summer, but DCPL offers so much more. They have Brain Boxes filled with curriculum content, ranging from economics to earth to government, available for different age groups. They are hosting a summer reading program, as well as other children's programming. Space is limited, so be sure to check the library's website and social media for details. The Reading Garden outside the library is home to fun musical instruments that your kids will love to play on and just a short walk away is the world's largest sassafras tree!
5.2021 All-American Fourth of July
July 4 @ 5 – 10 p.m.   |   Downtown Owensboro
Building on the success of the unique multi-site fireworks show the City of Owensboro hosted last year, the 2021 All-American Fourth of July will combine the annual celebration on the riverfront with the three additional fireworks locations throughout the city. The celebration will get started in Smothers Park along the downtown riverfront at 5 p.m. July 4. Live music will be provided by Alonzo Pennington at 5 p.m. and The Downtown Band at 7 p.m. 
At 9:15 p.m., the 15-minute fireworks show will be launched from barges on the Ohio River for everyone gathered along the riverfront. Fireworks will also be launched from three additional locations throughout the city—simultaneously with the riverfront show.
Those locations include Centre Court/Shifley Park, Owensboro Sportscenter/Moreland Park, and Owensboro Warehouse Leasing/former GE plant.
Spectators can tune in to 92.5 FM to listen to the soundtrack to which the fireworks have been choreographed.
6.Get your hands dirty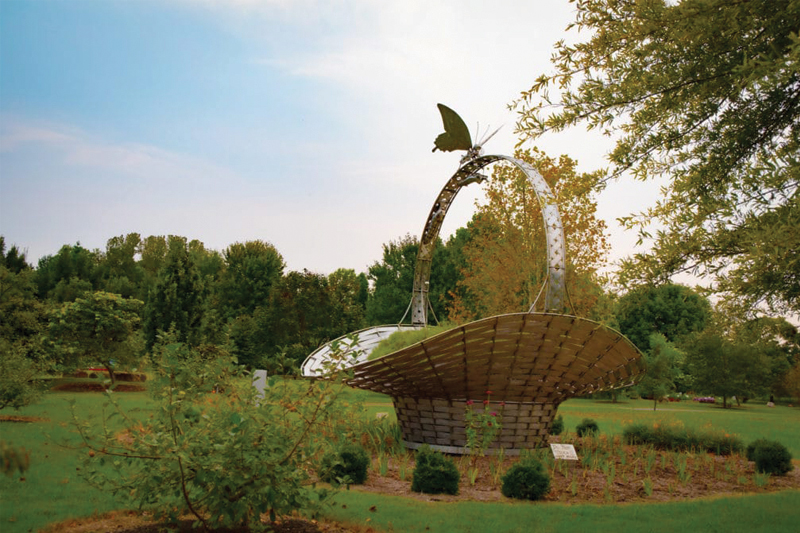 Take in some fresh air and enjoy the beauty of the Western Kentucky Botanical Garden. They offer free admission for everyone the first Saturday of every month through October. The first Saturday of each month is also set as a volunteer day, which is a great way to get to know The Garden and get your hands dirty. Your kids will love all of the beautiful blooms and unique artwork throughout the grounds. Bring your camera—so many great opportunities for photos!
7.Park Hop
Owensboro and Daviess County are home to some of the most beautiful parks! Research the parks on the City and County websites and make a list to visit this summer. Try to hit them all!
8.Take a hike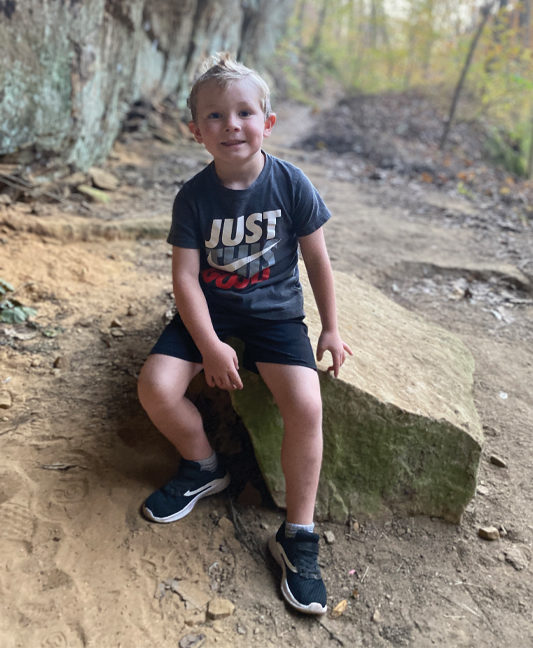 Jeffrey's Cliffs is just a short drive away in Hawesville and offers a great, full day of hiking fun. There are trails for both novice and more advanced hikers, including a fun scramble up a rock face with the help of a rope! The whole family will enjoy the natural woods, cliffs and large rock shelters!
9.Snow much fun
What better way to cool off than with a yummy snow cone?! Shaved ice is the perfect summer treat and Owensboro is home to a number of local businesses that serve up some delicious snow cones—Just Chill, Pinky's, Kingdom Snow and Freaky Tiki… just to name a few!
10.Explore the Farmer's Market
Take the opportunity to teach your kids about farming, the hard work farmers put into their crops and eating healthy things grown right here in Daviess County. Check the Farmer's Market calendar for fun events going on this summer!
11.PorchFest OBKY
June 12 @ 2 – 10 p.m.   |   Griffith Avenue
Experience southern charm at its best with the trendiest, one-of-a-kind community event!  On Saturday, June 12 from 2 p.m. to 10 p.m., the Griffith Avenue area between Frederica Street and Robin Road will be transformed into the grounds for a one-day music festival! Eleven different stages and 24 different acts!
12.Owensboro Parent Magazine's 5th Annual Kids Multisport Event

Saturday, July 31, 2021   |   Owensboro Health Healthpark   |   1006 Ford Ave
It's back!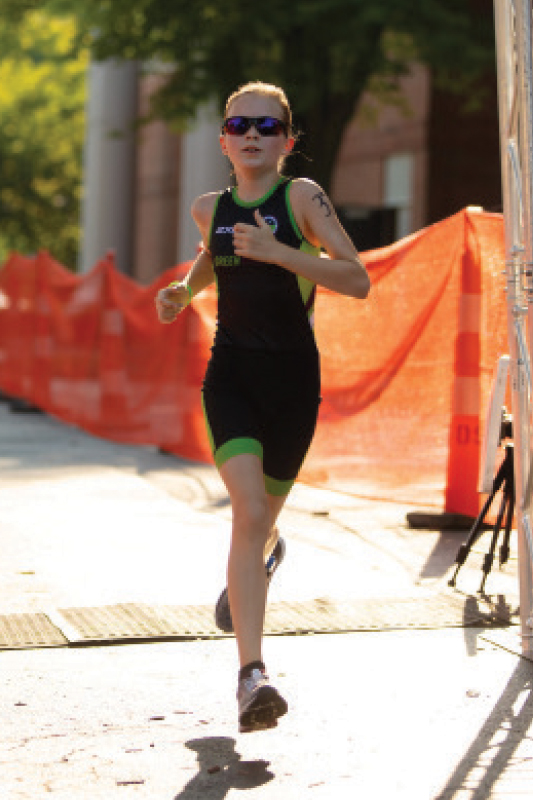 The 5th Annual Owensboro Parent Magazine Kids Bike-Run Presented by Independence Bank will return this summer on July 31!
The much anticipated event was canceled in 2020 due to COVID-19, but Owensboro Parent, Independence Bank and Health Sponsor Owensboro Health are excited to bring it back in 2021! This year the triathlon has become a duathlon, with swimming temporarily eliminated from the line up to maintain health and safety guidelines. 
Distances
Ages 4-6: Bike 0.5 miles / Run 0.2 miles
Ages 7-8: Bike 2.43 miles / Run 0.53 miles
Ages 9-10: Bike 2.43 miles / Run 1.02 miles
Ages 11-14:Bike 3.66 miles / Run 1.02 miles
Start times
11-14 years (7:30 a.m. start time. Pre-race meeting at 7:15 a.m.)
9-10 years (7:45 a.m. start time. Pre-race meeting at 7:45 a.m.)
7-8 years (8:45 a.m. start time. Pre-race meeting at 8:30 a.m.)
4-6 years (9:30 a.m. start time. Pre-race meeting at 9:15 a.m.)
Registration dates
Early Registration: through 11:59 p.m. on 
Sunday, June 27 – $25
Pre-registration: Monday, June 28 through 
11:59 p.m. on Sunday, July 25 – $30
Race Day Registration: Starting at 6 a.m. Saturday, July 31 until 30 minutes before your age group's race begins – $40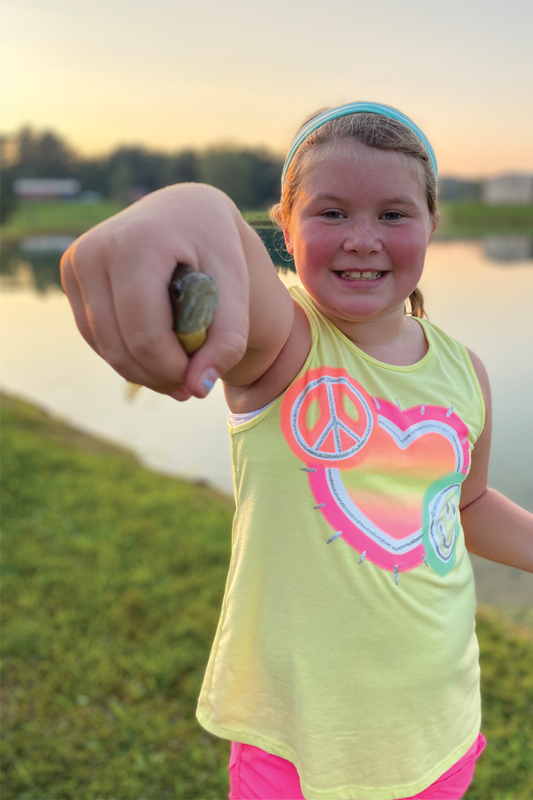 13.Take a Kid Fishing
June 5 @ 9 – 11 a.m.   |   Panther Creek Park
"Take a Kid Fishing Day" is a FREE event at Panther Creek Park.  No fishing license is required to participate. Bring your fishing pole, bait, a chair and bucket.  Registration will begin at 8 a.m. Several door prizes will be awarded along with a grand prize for the person who catches the albino catfish. To pre-register, call the Daviess County Conservation District at 270-685-1707 Ext. 3 or email [email protected]
14.Visit the Drive-In
Just across the Blue Bridge, the Holiday Drive-In in Reo, Indiana, is a must for the summer! Catch the latest big-screen flicks at one of few drive-in theaters left in the U.S. Six viewing screens offer a nightly double feature providing a perfect evening of entertainment at a family-friendly price. You can watch from your car or bring a lawn chair and enjoy watching your favorite new releases under the stars.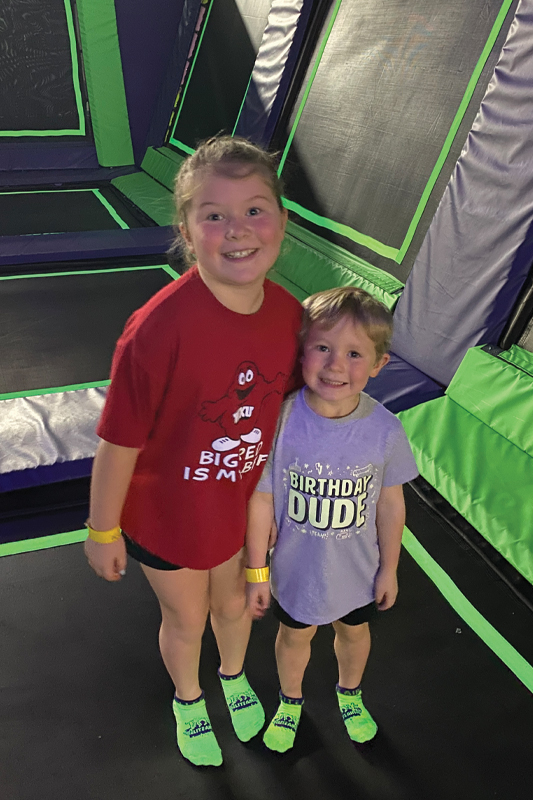 15.Elite Air
Maybe my kids' favorite place, Elite Air is a great activity for a hot summer day or just when your kids need to burn some energy. Trampolines, zip line, dodge ball, games and concessions—what more could you ask for?
16.Reid's and Trunnell's
We are lucky to have two local agribusinesses that cater to family fun. These are two go-to's for us in the summer. The variety of activities is a win for Avery and Reed and give us a day of fun without going too far or spending too much!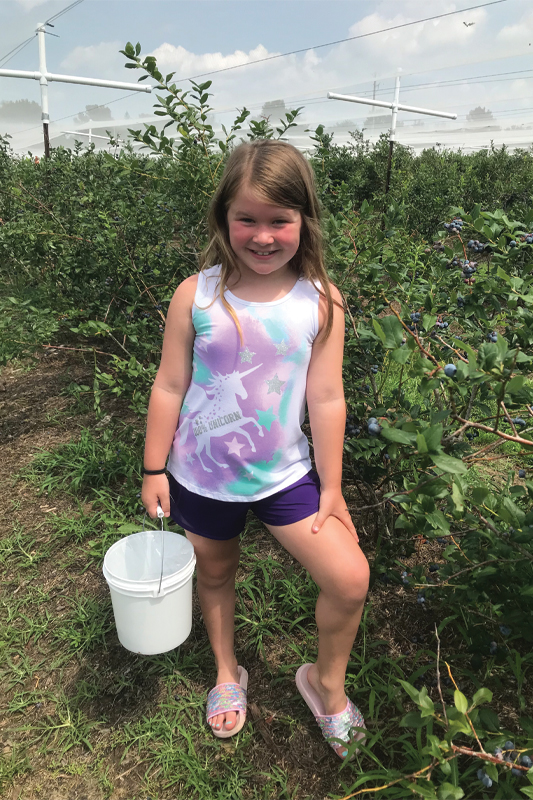 17.Blueberry Pickin'
We love picking blueberries every year—they are easy to pick and yummy to eat! Blueberries of Daviess County is located at 1401 Hill Bridge Rd. in Utica and are open through June and July. 
18.Camp in the Backyard
This is a bucket list activity my kids will always remember! It was easy, free (we borrowed the tent) and my kids had a blast. We took all of the blankets and pillows outside, gathered all of the flashlights and nightlights we had and spent the night under the stars as a family. Hint: pick a night that won't be too hot!