Photos by Jamie Alexander
Candy making, Christmas lights, caroling, and nativity scenes are just a few of the wonderful traditions of the Christmas season. On Black Friday, while many are out shopping, hundreds will flock to a quaint farm off Mt. Zion Church Road, just 10 miles outside of Owensboro, to fulfill a different family tradition, one that involves the fresh scent of pine.
"The kids get so excited, running from tree to tree," shared Hilltop Tree Farm owner Dennis Duke. "They like to look at all the Christmas trees out here and then gather around the one they've chosen."
Dennis laughed, sharing it seldom fails; the first tree they really stop to look at is always the tree they come back to and choose in the end. He has been in the business for over 30 years, with many families returning year after year.
"I have at least 200 customers that come back every year," shared Dennis. "We were all sold out of trees in three days last year. I have a guy that hasn't missed a year for 30 years buying a tree from me. Now he brings his kids with him, and his grandkids, so he buys three or four trees every year."
That family tradition, passed down from generation to generation, is what Lindsay and Blake Warren hoped for, starting in 2014.
"When we started going to the Christmas tree farm in 2014, that was before we had our daughter. We wanted to start a family tradition of going to pick out a tree," explained Lindsay. "Christmas can be a busy time of year, and we wanted to create margin for family tradition for years to come so we could eventually involve our kids."
In 2017, three years after starting their family tradition, the Warrens had their daughter, Harlan, who seems to really enjoy the family's annual experience.
"When she was a baby, she was just excited about everything. It was super fun to see her reactions," shared Lindsay. "She is now 3. Last year she was already more into it as far as wanting to help pick out a tree, understand the concept, and knowing we got to pick out any tree we want. It was super sweet to see her reaction and knowing we were taking it home and decorating it."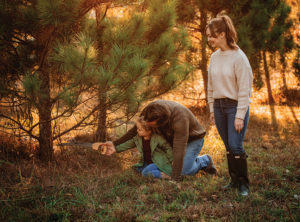 While the demand for real Christmas trees has seen an uptick in recent years, both Lindsay and Blake's families celebrated with fake trees growing up. By creating this new annual family event, they can count themselves in the trend of many young adults looking to have the experience of picking out a real tree with their children.
"We also bring in traditions from each of our families like Christmas Eve dinner, making gingersnaps every year, and hollering 'last one' upon the last present being opened," laughed Lindsay. "But this was something we wanted to make unique and special for our family. Picking out a real Christmas tree."
Lindsay encourages other families to start a special family tradition, suggesting that it doesn't have to be extravagant to have meaning.
"It really just gives a family narrative that creates a feeling of love and closeness and finding simple things in life to really bring us back to understanding what is meaningful in life, which is family," Lindsay said. "I do feel like sometimes we make things too hard on ourselves, and we want the Christmas season to be perfect. Life gets busy, and so for us, we've tried to find something that's simple and easy to do that also gives it purpose and meaning to this time of year. We just really want to keep it simple and carve out that special time for our family. That's what it's all about."
For the tree farm owner, Dennis Duke, it's also a family tradition.
"It's mostly all family. My son and I do all the working and manual labor," Dennis said. "My daughter makes the wreaths, and I make the garland."
With nearly 100 acres, Dennis and his family will have hundreds of Christmas trees, including balled and burlapped Norway Spruce and White Pine, that can be replanted after Christmas and Fraser Firs that he brings in special from North Carolina.
"It's the best Christmas tree in the nation if you ask me," he said of the Fraser Fir. "I've brought them in for 22 years now. They hold the needles the longest and the prettiest. They just hold up so well. They are the ideal tree."
Quality is what the family farm prides itself on, with the freshest cut trees that'll last till Christmas, if properly cared for.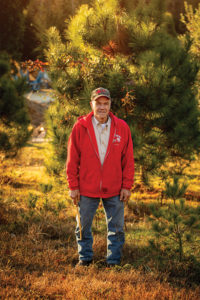 "My trees are usually a week or more fresher and are all stored in the shade or inside standing vertical, so they just hold up better," Dennis said "You won't find the abundance of dead needles. With a fir, you put them on the stand and put water in there and they are going to keep drinking water and stay fresh for up to 45 days from when it was cut. If you buy it the day after Thanksgiving, you should be fine with most any of ours till Christmas."
Like any farmer and small business owner, Dennis has had his challenges within the business. COVID has changed the farm's plans this season, with the need to bring in more tents for pre-cut trees so that customers can remain outdoors and socially distanced. But Dennis said he'll have plenty of space to accommodate. Aside from the tents and CDC guidelines, the farm has a jolly new addition this year — that will stand 30 feet tall.
"This year, out in the tree field, I'm going to put up a 30-foot-tall inflatable Santa Claus. The whole thing lights up at night time," shared Dennis with excitement. "I've been wanting to buy one for years, and they were just so expensive and very few ever made. After all these years, I found one for sale from a friend in the business, and I just got it shipped in from Arizona in time for the season opening. It's going to be a sight to see. Something special and a great photo opportunity."
Along with the new addition, Dennis is still known for his flocked trees, sprayed with a white dry powder adhesive, making the tree look like covered in real snow. He's had customers drive in from Louisville and Hopkinsville just to get a flocked tree.
Dennis' love of trees and having a part in so many family's annual traditions and Christmas spirit is apparent. The Warrens will return again this year, along with many others celebrating the season and supporting a local family-owned business in the process.
"Quality is what we pride ourselves on. Make it pretty and nice, and give them good service, and they are going to come back year after year," Dennis said. "I think there'll be even more people this year, and we'll do better than even last year. I sure hope so."
Last year, Hilltop Tree Farm sold 200 trees in one day. This season, the farm opened their gates on the Friday after Thanksgiving to continue the family traditions.