Photos by Jamie Alexander
Carmynn Blakeley has every right to brag. At a mere 11 years old she has accomplished and obtained both state and national level recognition in braille competitions, claiming four consecutive state titles from 2016-2020. Blind since birth, Carmynn started braille competitions as a first-grader. Dubbed a phenom, equipped with talents and gifts, Carmynn enjoys much of what any other 11 year old enjoys. 
When asked about her hobbies outside of braille competitions, Carmynn notes her deep admiration for YouTube and tending to her three cats, Merlin, Callie and Malley. 
"I love to chew gum," Carmynn said. "I love to dance, read books and listen to Taylor Swift." 
It's fascinating that a child with such a talent is just as fixated on books and playing pretend. 
Rebecca Brown, Carmynn's mother, reflects on challenges her daughter has overcome, and how nothing has ever stood in her way.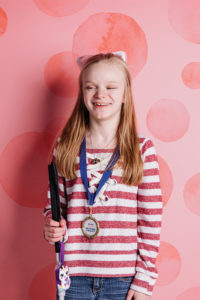 "Diagnosed at 6 months old, we knew there would be obstacles ahead of us," Brown said. "I had pretty much accepted that Carmynn would end up as a student at the Kentucky School for the Blind, but she is intellectually brilliant. Her vision impairment is all that prohibits her in any way. We have been blessed to go in another direction, and she hasn't missed a beat." 
Mastering braille beginning at age four, Carmynn has gone on to compete regionally, at the state level and nationally. She has surpassed any and all challenges, staking claim to title after title, making friends along the way. 
"I think that's my favorite part," Carmynn said. "I love the prizes, but I love the friends more." 
Divided into four categories The National Braille Challenge annually serves as an outlet for outstanding blind and visually impaired students to showcase their braille skills through an academic contest. Students compete in Apprentice, Freshmen, Sophomore, and Jr. Varsity divisions focusing on sub categories pertaining to proofreading, speed, accuracy, comprehension, reading and spelling. 
Crowned the National Champion in her age division in 2019, Carmynn is modest when acknowledging her achievements.
"It was fun to travel to California," she said. "I have lots of new friends from all over and that's the best part." 
Rebecca adds that the bonds created as a result of the Braille Challenge have been worth it all. 
"Being connected to so many other families in similar situations is pretty amazing," Rebecca said. "The support, the community, the relationships, it's an incredible feeling." 
Aside from claiming future braille titles, Carmynn has other aspirations.  
"I would like to have four different jobs when I get old enough, one for different days," she said. "I plan on working hard. I hope I can make a difference." 
Given the rate she is accomplishing such heroic feats, one can only assume the sky's the limit for Carmynn Blakeley. 
"I'm convinced she can do anything," Rebecca said. "The opportunities my daughter has had and continues to have are unbelievable. Absolutely nothing stands in her way."