If you're somebody who doesn't like baking, Valentine's Day just got a little sweeter. Each of these treats can be made using only a microwave, are not very time consuming, and will help the recipient feel extra-special!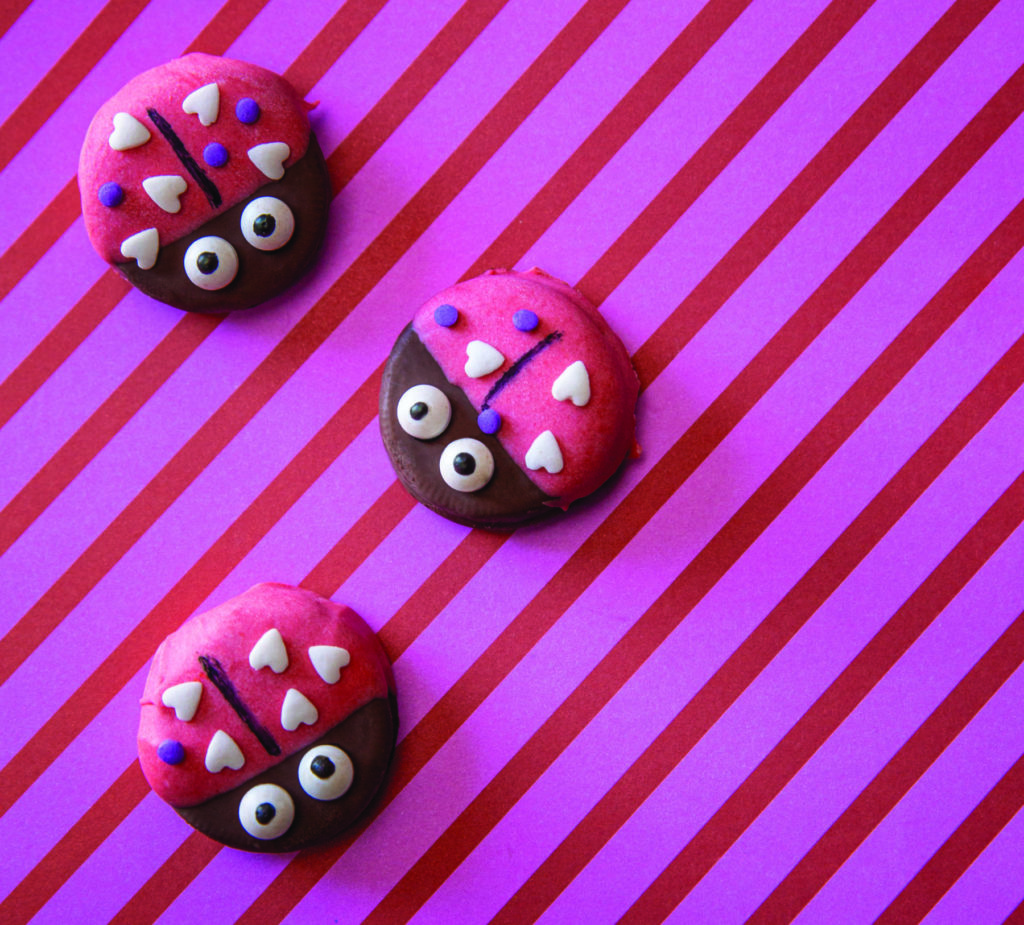 Love Bugs
What You'll Need:
›› Fudge-covered Oreos
›› Red candy melts OR white chocolate with red food  coloring
›› Black decorating icing
›› Candy eyeballs
›› Heart sprinkles (or other sprinkles of your choice for the "spots")
Instructions:
›› Melt some red candy melts (or white chocolate) in a microwave safe bowl, stirring every 30 seconds until melted and smooth (if you used white chocolate, add desired amount of red food coloring and stir until completely combined).
›› Dip the fudge-covered oreos into the melted red chocolate, leaving the top quarter undipped (it's easiest to grab the cookies by this top bit for less messy fingers).
›› Place the dipped cookies on Parchment paper, and sprinkle the red chocolate with heart or circle sprinkles, to recreate the "spots"
›› Once the red chocolate has dried completely, use black icing to add the "wing line," and any extra spots you'd like to add to fill in the wings. Then, using the black icing as adhesive, stick the candy eye melts on the "head" of the love-bug (the area not covered in red chocolate). Let the bugs sit for 15 minutes before serving.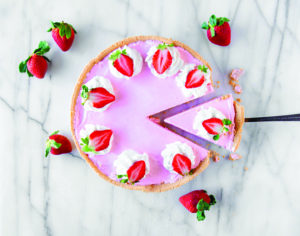 Strawberries & Cream Pie
What You'll Need:
›› 3 oz. package of strawberry Jello
›› 8 oz. cream cheese, softened
›› 8 oz. container cool whip
›› Graham cracker pie crust
Instructions:
›› In a medium bowl, dissolve Jello in 1/2 cup of boiling water, then add cream cheese and mix until it's fully combined (with no chunks)
›› Fold Cool Whip into the mixture until smoothed, then pour the mixture into a graham cracker crust and smooth out the top, 
›› Chill the pie in the refrigerator until set (recommended at least four hours)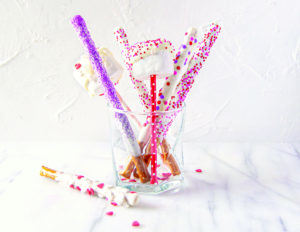 Chocolate-Dipped Pretzels & Marshmallows 
What You'll Need:
›› Pretzel rods
›› Large marshmallows
›› White chocolate melting wafers
›› Valentine's Day sprinkles 
›› Paper straws
Instructions:
›› Melt the white chocolate wafers in a microwave-safe bowl until smooth, stirring every 30 seconds. 
›› Once melted, dip pretzel rods and marshmallows in the chocolate, leaving the bottom quarter clean. Place the pretzels and marshmallows on parchment paper, and immediately top them all with sprinkles of your choice. Let them dry completely. 
›› Once dried, poke paper straws into the bottom the marshmallows to turn them into pops!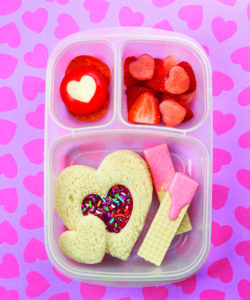 You don't need to be a Pinterest queen to make some extra-fun school lunches for birthdays, special occasions, or holidays! It's as easy as using cookie cutters or "sandwich cutter kits" found in grocery stores. Watch for more lunchbox themes and inspiration in upcoming issues!