Photos by Jamie Alexander
If you're looking for an easy party recipe for kids, this confetti dip takes only minutes to make and is definitely kid-approved! While you may be familiar with a version of this recipe using cake mix, it can be risky eating unbaked mixes due to a possibility of bacteria. This recipe only takes a few more ingredients and is just as tasty, and most importantly worry-free. A great treat to ring in the new year with as much colorful confetti as possible!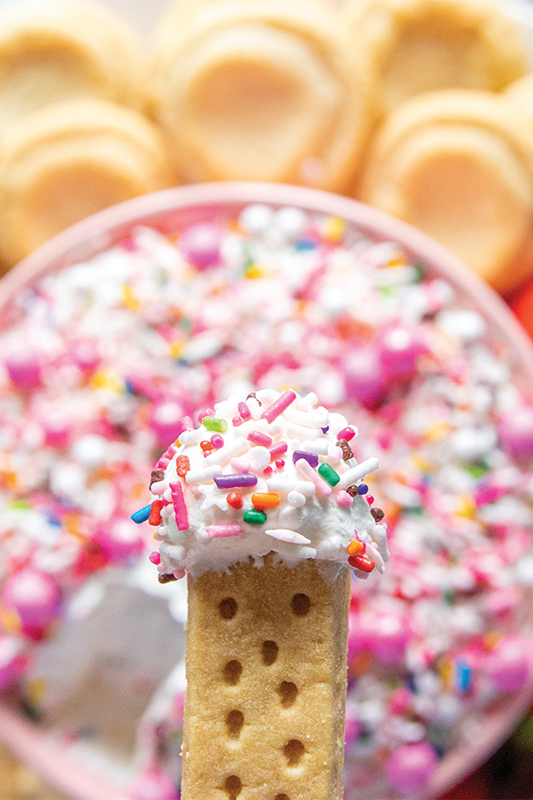 INGREDIENTS:
›› 1 8oz. package of cream cheese, softened
›› 1/2 cup powdered sugar
›› 4oz. (1/2 tub) of Cool Whip
›› 1 tsp vanilla extract 
›› 2 tablespoons of vanilla creamer (could substitute with another cookie or sweet cream type of creamer, or heavy whipping cream)
›› Rainbow sprinkles for "confetti"
›› Cookies/fruit of your choice to dip!
INSTRUCTIONS:
›› Using a stand or electric mixer, beat cream cheese, creamer, powdered sugar, and vanilla extract together until smooth and combined. 
›› Fold in Cool whip until completely combined, then place in the refrigerator until ready to serve (at least 15 min). Add lots of sprinkles to the top right before serving!