Recipe by Hannah and Ella Jit
Photos by Jamie Plain 
We've enjoyed baking from a young age with our parents and have special memories in the kitchen together. One of our favorite family traditions is baking at holidays for our business, Love Cakes. Our favorite treats to bake are around Christmas time. We love the fudge, bark, cookies and mini cakes we make. It's a lot of fun seeing everyone smile and enjoy our treats.
What's a better way to celebrate Mother's Day than baking a special treat for your Mom? These are the perfect spring desserts to celebrate your Mom. We love these delicious cupcakes and hope you do too! 
Ingredients:
Cupcakes:
›› 1 3/4 cups, all-purpose flour 
›› 2 teaspoons baking powder 
›› 1 teaspoon salt
›› 1 stick unsalted butter, room temp.
›› 1 cup sugar
›› 3 large eggs
›› 1 teaspoon vanilla extract
›› 2/3 cup buttermilk, room temp.
›› 1/4 cup Dutch-process cocoa powder
›› 2 ounces semisweet chopped chocolate 
Buttercream: 
›› 3/4 cup unsalted butter, room temp.
›› 1 cup (15g) strawberries
›› 2 1/2 Tbsp heavy cream
›› 2 cups (230g) powdered sugar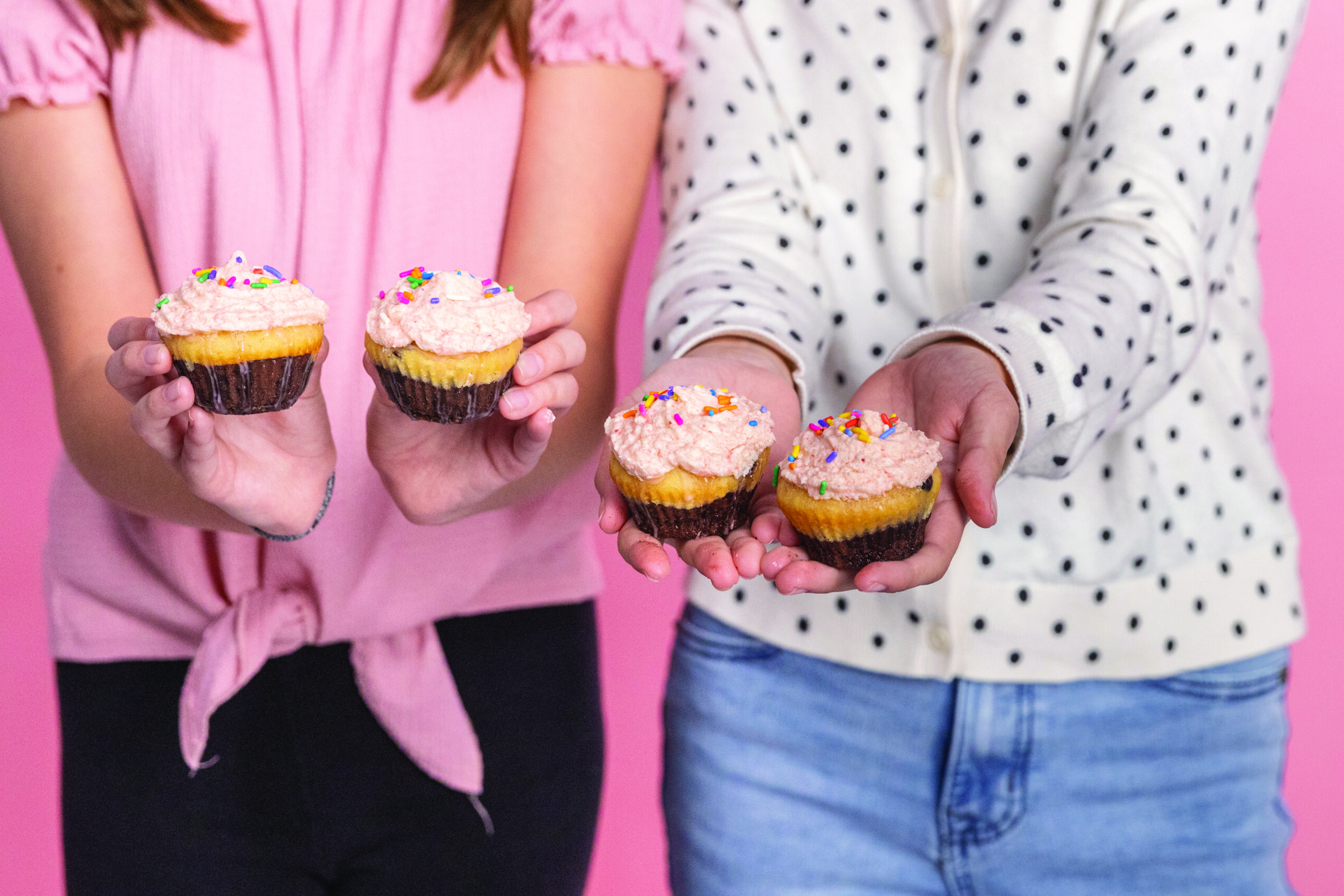 Instructions:

 
Cupcakes:
›› Preheat to 350. Whisk together flour, baking powder, salt. 
›› Beat butter with sugar in mixer, on medium for about 5 minutes. One at a time, add eggs, beating until combined. Add vanilla. In two batches add in flour, buttermilk, then flour again. 
›› Whisk cocoa powder and 1/4 cup hot water in bowl until smooth. Add 10 ounces of batter to bowl. Stir and add chopped chocolate. 
›› Layer, chocolate, then vanilla batter. Bake for 20 minutes, rotating halfway through. Cool completely before removing. 
Instructions: 
Buttercream: 
›› In electric stand mixer, whip butter on medium-high until very pale and fluffy, 6-8 minutes, scraping sides and bottom of bowl. 
›› Blend strawberries in food processor until finely ground.
›› Transfer strawberries to whipped batter, blending until combined. Stir in heavy cream and powdered sugar, whipping for 4-5 minutes on medium-high, until fluffy.
›› Finally . . . enjoy!