by Grant Lewis, 5th grade // Illustration by Parker Mullins, 4th grade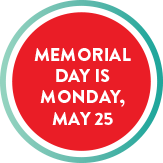 Memorial Day is a special time for lots of people. When people all across the country celebrate Memorial Day, they think about all the soldiers who have passed away serving this country. The Vietnam Wall has all the names of the soldiers who passed away in the Vietnam War. There are exactly 58,320 names on the wall, including eight women.
Some people grieve for a relative that has passed away. I think about my great-grandparents who passed away six years ago. Every Memorial Day I think about them and how they were so nice to everyone. I would go to their house sometimes and visit them. When we did, my cousins and I would go play in their backyard and we would always have so much fun.
Another one of my great-grandparents died of a brain tumor long before I was born. I do remember some things people told me about him. He served in the Air Force as a medic. He actually fought in the Vietnam War, but is name is not on the Vietnam Wall because he didn't actually die in the war.
Some people go to the gravesite of their relatives. They can leave flowers and other stuff. It gives them a chance to remember their relatives better and helps them feel a lot closer to them.
Memorial Day is a time to grieve and to mourn and to think about those who have died in your family for serving this country. This holiday has a huge impact on so many people because everyone has been affected by death in so many ways.