The need for mentors—in particular, male mentors—is real, almost palpable. That fact is underscored by the irrefutable statistics in Daviess County alone: 7,000 single parent or non-traditional households exist, meaning these children live with a grandmother, grandfather, aunt, uncle or an older sibling. In far too many scenarios, male children are living in situations where no male role models are present.
Some family members are "so overwhelmed" with the responsibilities of raising these children that they enthusiastically welcome the mentor-mentee relationship which MentorKids Kentucky offers. "MentorKids Kentucky exists to love children from single parent and non-traditional households. We are able to do this by providing the child an adult Christian mentor to come alongside them for at least one hour a week and help them persevere through the trials of life, by building their character and offering them hope for their future," said Berly Tillman Sullivan, executive director of MentorKids.
Perseverance. Character. Hope. Three amazing words. Three life-changing goals.
Berly and Maria Shyver, mentor coordinator, often finish one another's sentences or echo the other's sentiments. To say they are fully committed, entirely devoted to their roles with MentorKids is a gross understatement. "It's the toughest job you'll ever love," Berly said. Three new initiatives are clearly dear to their hearts: 1—Catering more to each mentee's family in terms of resource assistance; 2—Providing an open-door policy for mentors / mentees to just "drop by" to enjoy games, painting, movies or NetFlix access at the MentorKids building on Veach Road (near Owensboro Christian Church); and 3—Opening Thursday nights (STAR program) for tutoring / homework help and for kids on the "wait list" to just come hang out weekly.
"We invite any kid who is matched or on the waiting list to come every Thursday night and hang out with us to get homework help, life skills help or just play checkers . . . we get to know these kids and it makes it more personal for me to walk up to John Smith and say, 'I have this great kid for you to mentor' because I really know this kid now [through the STAR program]," Maria said.
With 16 boys currently on the wait list, the Thursday night STAR program provides a real connection to MentorKids, instead of just placing them on the back burner. One Thursday night, Berly offered to teach two boys (ages 10 and 11) to play checkers. "It was the most awkward 5 minutes ever! If I would have handed each of them a cell phone, they would have been best friends, but the fact that they had to look at each other, talk, make a move . . . now, these two boys have developed a relational skill. They now help others learn to play checkers, and we've seen such a positive progression in them," Berly said.
Checkers. One simple game. One great confidence and relationship builder.
On the flip side of all the blessings, "No mentors are in sight. We have no mentors in the pipeline. Zero," Berly said. That staggering reality brought an avalanche of tears to one young boy whose mentor recently moved, placing him back on the wait list for a new mentor.
January is National Mentoring Month. Presently, 47 mentor-mentee matches are in place via MentorKids. Of those matches, 29 are male and 14 female. That 2 to 1 ratio of boys to girls reflects the overall hope that more men will feel a calling on their hearts to become mentors.
So what is required of a mentor? The five areas of focus in mentoring are Spiritual, Character, Academic, Relational and Life Skills. One hour a week, one on one. Four hours a month. Yet, mentoring can take a dad away from his own family, but not necessarily. Chris Hyland, former MentorKids board chairman and mentor, took the approach of involving his mentee in his normal activities with his family. For example, if they planned to rake leaves, he'd go get his mentee and they would all rake leaves together. "Instead of working his life around the child, he brought the child into their lives, and that is a successful match—everyone benefits," Berly said.
"These children need to see what a family looks like, a mom and a dad, how they communicate, how they communicate with their children, how siblings interact, just to have that influence."
Cliff Boswell and De'Andre Basham have been matched for 7 ½ years. Why did he choose to become a mentor? "I just felt called to do it. I felt like there were things I could be doing, more things I could be doing, to show the love of Jesus in our community. I heard about the opportunity to be a mentor and to be a positive influence on a child, and I just felt like it was something I could do," Cliff said. He is proof positive that a mentor need not be someone who has no life. Cliff is married and has an active law practice and four children (ages 13, 11, 9, 7). "I've made it work by incorporating De'Andre into our family. De'Andre is like part of the family. He'll come to our house. We go do things and he'll come with us. He's like a big brother to my kids," Cliff said. His son Ethan and De'Andre are close in age, and they are best buddies.
Cliff describes De'Andre as fairly quiet, but very bright, funny, kind and respectful. "I think he enjoys our family. I've chosen to make it work, even though we have very different interests and backgrounds; we get along great." One of their recent outings, for example, included taking all of his kids and De'Andre out to eat and bowling. "Another example would be one of our kids has a soccer game or a basketball game, so we call De'Andre and he comes with us. Or I'm going fishing, so I call him. Or it could be something like going to see the fireworks as a family, just any kind of community event, like the Apple Festival. He just tags along with us," Cliff said.
Realistically, Cliff says the challenge of being a mentor is finding the time. "It's getting busy and feeling like, I'm not sure when to fit this in my schedule, especially with having a busy law practice and a family. That's a challenge, but for the most part we've made it work. He knows I'm there for him," Cliff said. Coincidentally, De'Andre's siblings are also being mentored through MentorKids.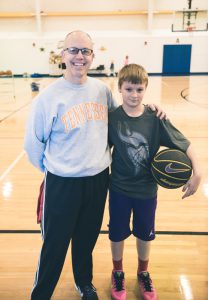 In August 2016, Jeff Carmon began mentoring Preston Hayes (age 11), who lives with his grandmother Linda Hamilton.  As an empty nester, Jeff decided he had extra time and being a mentor was one way of paying forward the blessing of having had good parents. "I had been contemplating becoming a mentor for several years. Each year I would attend the banquet, leave thinking 'I really should become a mentor.' However, I made excuses such as 'I am too busy with work, kids, etc.' At the banquet this year, they showed a fantastic video about a mentor / mentee and the bond that they had formed over the years, and how important this mentor had been in this young man's life. The video and the Lord's stirring of my heart was what I needed to become involved," Jeff said.
Preston—handsome, quiet, soft-spoken—allowed Jeff to do most of the talking, but smiled warmly when the subject turned to sports. They share common interests in sports, outdoor activities and fishing, in particular. "The requirement is one hour per week with your mentee. I suspect that most mentors spend a bit more time than that . . . MentorKids asks us to report the time that we are spending with our mentee. I like that we are asked to report our time together. This creates accountability in the program," Jeff said.
This begs the question: Why are male mentees in such high demand? In Jeff's opinion, most men consider themselves to be too busy. "I think that most men are busy and don't think that they have time for one more thing on their plate. I get that, because I was in the same boat. I also think that people know that there is a need, but think that someone else will take care of that need."
The sweet spot for being mentored is age 10-12. MentorKids carries a $1 million liability insurance policy to cover their mentors.  As Maria explained, "Some people are scared to do one-on-one situations anymore . . . yet, it's not as hard or as scary as people think."
The selection process involves a Referral, which may come from counselors, resource teachers, family or churches. Next is the Process, in which the idea of a mentor-mentee relationship is presented to parents or legal guardians and paperwork is completed. The final steps are Recruit Mentors and Make a Match.
A mentor's commitment is solely to their mentee; they are instructed not to take on the emotional or financial problems within the family, which removes a huge weight of responsibility and keeps their focus on the mentee.
Jeff's advice: "Just take the step and do it now . . . don't wait. From the moment that you meet your mentee, you will know that the Lord has specifically placed that child in your life for a reason. Not only will you help that child grow, but you will experience growth as well as the Lord leads and guides you in this relationship."
From my personal experience as a mentor, I've learned you don't have to be a perfect person; you don't have to have a perfect amount of time or perfect plans—you just need to care and have a willing heart . . .