Photo by Jamie Alexander
After more than 750 entries and 32,000 votes, we have a winner for our 2020 Owensboro Parent CoverKids Contest presented by Owensboro Health!
Meet 5-year-old Sincere (Sinny) Renee Smith-Rouse!
According to her family, this spunky girl typically never wants to be called Sincere and would adamantly declare, "No! I'm Sinny." This is until recently when she informed her dads and siblings that "Sinny" is her baby name, and she is a big girl now. 
Sincere was born with Caudal Regression Syndrome, which means that her spine is not fully developed. From the waist up, Sinny is a typical size for her age and will continue to grow on par with others her age. From the waist down, Sinny is tiny, think smaller than a 3-month-old, her dads said. But this feisty girl doesn't let a diagnosis slow her down.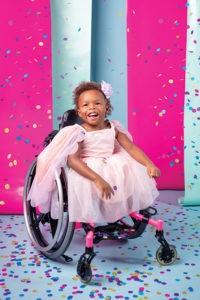 Sinny was adopted by her dads, Antoine and Jeremiah Smith-Rouse.
"We fit the definition of a blended family in every sense of the word," Antoine said.
Sincere has five siblings, a mix of foster, biological, and adoptive brothers and sisters.
"We are a typical family that loves to spend time together, from family game night, family movie night, or just hanging at the pool," Antoine said.
If asked what she wanted to be when she grows up, Sincere will tell you a dinosaur, bear or pilot. Sinny loves all things pink and getting her nails done. She also loves YouTube on her iPad and watching Miraculous Ladybug on Netflix.
"She is happiest when she is in the pool and loves to swim independently, jump into the deep end, and perform flips underwater," Antoine said. 
According to her dads, Sinny's favorite phrase is, "I'll do it by myself."
"Sinny knows no limitations; she is quick to adapt and figure things out for herself," Antoine said. "She is innovative and thinks outside the box. There is not much she can't do with a plastic hanger from using it to turn on the lights or reach things in the fridge. Although Sinny is super independent and sassy, she is also kind, sweet, and caring. She is quick to ask if someone is sad or upset if she feels they are down. She is also quick to tell us that she loves us for no reason at all."