Chris and Jenny Burns never dreamed they would one day own 74 animals. Chris is a Sergeant for the Owensboro Police Department and Jenny has worked in the insurance industry for eight years. The couple, along with their oldest daughter Abby, 15, son Christopher, 13, and Payton, 12, moved to their 25-acre home in February 2019.
"We don't technically have a farm, by definition we have a ranch," Jenny said. "We don't grow crops, we just have lots of animals."
Ready to jump into the country life, the Burns contacted the Kentucky Department of Agriculture and officially named their ranch Blue Line Acres. At the time, they had 3 dogs, 3 cats and a handful of chickens. Since then they have grown to 74 animals. Some they purchased, some were given to them and some were born at Blue Line Acres.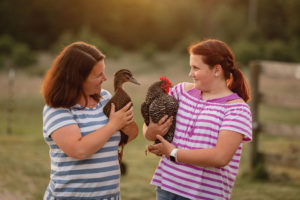 "If you would have told me a year and a half ago that we would have all of these animals, I would have laughed," Jenny said. "But now, I wouldn't trade it for anything. I have always loved animals but I never dreamed it would happen this fast! We have learned so much over the past year."
The Burns' animal line up consists of 10 goats, 8 sheep, 2 donkeys, 2 horses, 23 chickens, 10 ducks, 3 turkeys, 1 rabbit, 5 dogs, 9 cats and a fish. All of the animals have names except for some of the chickens because, as Jenny says, it is nearly impossible to tell them apart.
But one special Blue Line Acres animal won the hearts of the Burns family. Meet Owensboro Parent Pet Contest winner, Hazel! She was born on April 1, 2020, and is a Pygmy/Nigerian Dwarf goat. Her mom, Barb, is a Pygmy and her dad, Carl, is a Nigerian Dwarf.
"When you have as many animals as we do, it was extremely difficult to pick which animal I wanted to enter," Jenny said of Owensboro Parent's contest. "But we all have a special bond with Hazel! When she was a week old, we noticed that her mom was having difficulties nursing her so we had to step in and start bottle feeding her. So multiple times a day we would bring her inside and argue over who would get to feed her. She has the sweetest personality! She is very energetic and loves to climb and jump off anything and everything!"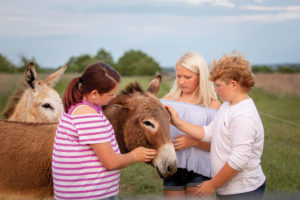 For the Burns family, animals play an important role. Not only do they provide companionship, but they have taught the Burns kids so many life lessons. Not many kids can say that they have helped deliver goats, sheep, dogs and cats and hatched chickens. But on the other side, the kids have experienced the heartache of losing animals as well.
"They work just as much as my husband and I on caring for the animals," Jenny said. "And rarely do they complain. They know that these animals depend on us to make sure they have plenty of food and water and a clean warm place to sleep."