For many of us, the last half of the spring semester of 2020 was very challenging.  Helping our children to navigate Non-Traditional Instruction (NTI) days gave us a new appreciation for the hard work and heart work that teachers perform every single day.  We are so grateful to them.
This change in routine forced all of us to experiment with what it might be like to homeschool our children.  And some families decided that learning together from home is really pretty great! 
New Normal: New Way of Doing Things
Both Warren and Brenda Larson have unique work arrangements.  Warren is a pilot traveling away from home several weeks of the year.  Brenda is a mechanical engineer working full-time from home.  They have discussed for years the idea of homeschooling their three children, Brianna and Alaina, age 8, and Mitchell, age 3, but Brenda worried about her ability to juggle her work responsibilities and the children.  This past spring required their family to be home all together, and they got a taste of what a homeschool lifestyle might be like.
"God gave me a chance to try it out before we begin it," says Brenda.  "All that family time together was super duper awesome and it was something we'd never had together with Warren traveling." They realized that homeschooling would give them the flexibility to travel with Warren if they wanted and have adventures together without worrying about the school schedule or falling behind in classwork.
Working full-time from home will still demand Brenda's attention, so she will continue to have help, especially with her younger son, from a family member that comes each day.  They have chosen to use a homeschool curriculum called Abeka that incorporates videos, workbooks, and supplementals for the girls.  This way the girls can work independently alongside Brenda while she is working.  Brenda can oversee and assist if there are questions.  There is no planning necessary for Brenda to do and she can even submit the kids' assessments to be graded by the curriculum manufacturers.  This premade curriculum allows the Larsons the best of both worlds, working and homeschooling.
An extra bonus that the Larsons have seen from all their time home together has been all the life skills that they have had time to teach and learn.  Even at such a young age, the girls are learning to cook and care for a home. They work outside and built an aquaponics greenhouse together this spring.   And Mitchell is developing so many new skills just from being with his sisters.  The Larsons are an active family who participate in sports, church, and volunteer activities.  Their extroverted, creative personalities make for a full and vibrant social calendar. Homeschooling will help them to remain grounded in family life rather than be scattered by all their interests.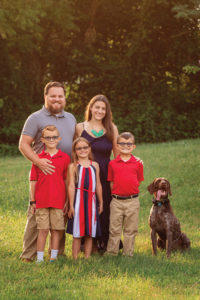 New Normal: Carrying On
In March, when schools closed in response to the COVID-19 Pandemic, while the Larsons were adjusting to the new togetherness and schooling at home, the Hinton family was across town carrying on with minimal disruption to their normal mode of operation.  Staying home to stay healthy cancelled many extracurricular activities in their routines as well, but homeschooling allowed learning to carry on without a hiccup.
Natalie Hinton dreamed of homeschooling when her oldest child was just beginning with school.  She worried about the financial consequences of quitting her job and about whether or not she was truly equipped to educate her kids herself.  "Our decision to homeschool was not taken lightly. We spent about a year praying and discussing before we actually began homeschooling. We felt that God had called us to educate our children at home." Natalie and her husband, Matthew, have three kids as well, Gabriel, age 10, Malachi, age 7, and Addison, age 6, and they are beginning their fifth year of homeschooling.  After lots of research and discussions with other homeschooling moms, the Hintons decided to use Classical Conversations as their curriculum.
Classical Conversations helps parents to equip their children with the tools of learning. They meet weekly with a local community for the kids to practice the skills they are learning. The youngest ones memorize the "grammar" of math, Latin, history, geography, English, science, and fine arts. The 10-13 year olds practice the dialectic skills of public speaking, persuasive writing, logic, and debate. The high school kids in the rhetorical stage apply themselves to problem solving, research, discussion, and writing, culminating in a senior thesis. Planning for each week usually takes Natalie about 30-45 minutes. On school days, Natalie rotates around with each child as the other kids do independent work. The kids are involved with church and extracurricular activities (soccer, taekwondo, dance, basketball) which provide lots of social interaction. 
After homeschooling for so long, Natalie has realized the importance of having a schedule and being organized, but she also gives her kids and herself some grace to be flexible and willing to adjust to challenges.  "Keep it simple. Spend some time getting to know your children, their likes and dislikes. Let them get used to you being their teacher (it takes a while!). Give lots of hugs and kisses. Snuggle together and read books. Laugh together. Play together. It's okay if they don't finish an entire math or reading lesson in one day. Break that lesson into two or even three days. Encourage your child! When your child doesn't understand something, spend extra time on that particular challenge."  Homeschooling affords her the time for this more flexible pace of learning and sweet moments each day with her kids.
In Owensboro and Daviess County we are blessed to have incredible schools that provide excellent education for our kids.  As they prepare for the upcoming school year, teachers are making adjustments in response to our new Healthy at School standards. They are working to make the best of it because they love the kids of our community.  But if teaching your kids at home is tugging at your heart, maybe it is time to take a deeper look and give the homeschooling lifestyle a try.  Your family just might thrive in it.