Three Working Moms' Perspective During Covid
Photos by Jamie Alexander
Being a working mom comes with a significant amount of responsibility. These superheroes juggle work and life responsibilities with ease in the eyes of others. However, as any working mom would most likely admit, there are days, long before COVID, that the "balance" so many strive for, often seems like a myth. Then COVID hit.
Lindsay Hawes, wife and mother of three children, had immediate concern back in March of 2020. COVID was a word with so many unknowns, yet Lindsay, like many moms, took on an even higher amount of responsibility on top of the normal day-to-day mom tasks. Lindsay, a registered nurse at Owensboro Health, is a frontline worker.
"Initially, I was concerned. They talked about how the hospital was preparing for all these patients we would possibly have coming in," recalled Lindsay. "My concern was for these patients and for my family. I knew I'd be putting myself at risk and putting my family at risk, going in every day."
Having worked in the surgery department, many of Lindsay's coworkers, including herself, were dispersed throughout the hospital doing screenings, helping in the ER, or possibly even helping in the COVID unit. 
"My husband works at OMU, so we were both working parents, and it seemed so suddenly that I was displaced at work, and my kids were displaced because school was out," she said. "It was a big worry for me. I worried about my kids falling behind and I felt like we were just getting by with completing the assignments."
Lindsay described that time as worrisome but said their family was fortunate enough to have a nanny step in and help fill that school void while assisting with small tasks around the house, especially having a toddler in the mix. Still, Lindsay had concerns about her children's education.
"We did what we had to do, but obviously, I am a nurse and not a teacher by trade," she said.
Now that summer has come to an end, their nanny, Elizabeth, who has been a big blessing to their family, is starting her college classes. Once again, as a working mom, Lindsay is left to sort out the details of her family's schedule and schooling needs.
"So we're still scrambling to find a safe environment for our kids that's reasonably priced within our budget, and that has been difficult," she shared honestly. "We could have probably made the A/B schedule work because I work 12 hour shifts, but them not going to school has made it very difficult. We are on the waiting list for a private school, and I've checked into a waiting list for a few daycares that I know are offering programs. We are learning towards Owensboro Catholic if we can get in due to them being in the classroom learning daily."
Lindsay knows there are so many mothers in the same position she is in, and at this point, there is no reliable schedule or solution her family has found.
"I don't want to fly by the seat of our pants anymore. I want that structure back to our kids' routines and for us. It's been a hard few months," she said. "I just feel like we've just been getting by."
Although there is uncertainty for Lindsay's family, she's taken a positive, confident approach with her kids. She and her husband, Matt, insist on not instilling fear in their kids. They have prepared them that things may be different, but the virus, she says, is not something her kids are living consumed in fear of.
Her oldest child, Morgan, age 8, is very aware and appears to have a caring heart like her mother, even making her mother a mask because she wanted her mom to be safe. She's brought some humor to the family with her creativity.
"She set up a hand sanitizing station outside of her room and put a sign on the door. Morgan's room is now closed for three months – get a squirt of hand sanitizer if you want to come in. If your name is down below you can come in but you have to get a squirt of hand sanitizer," laughed Lindsay, sharing the story of her daughter and how she listed each name of the family on her homemade sign.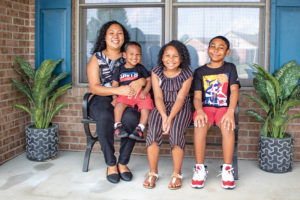 For Rio English, assistant manager of T.J. Maxx and mother with three children, the onset of the pandemic and this summer have looked much different. She and her husband, Anthony, district manager of Popeyes, both had flexible schedules and time off with her store shutting down temporarily that led to a smoother transition to what many call quarantine life.
"At the onset, it really didn't too much affect me because of our schedules," shared Rio. "The same week schools shutdown was the week my work shut down at the same time."
Rio instantly began teaching her oldest two children, Trey, 12, and Tatyana, 10, at home, while also caring for her toddler, Kobe, who is 2.
"I don't know how teachers do it," Rio said, describing the differences between her kids and their motivation to do school work. "Tatyana was in 4th grade and Trey was in 6th grade. Both of them are typically at the top of their class. Tatyana breezed through school work being done in an hour or two, and Trey it seemed to take all day with all the writing prompts."
Writing seemed to be a struggle in their household, and Rio continuously gave props to the teachers.
"I don't get it with teachers, how they can keep the little kids motivated," Rio said. "Once it came to writing and paragraphs and stuff, they were at a dead end. And then, of course, I have a 2-year-old running around too."
It wasn't long until May came around, and retail stores began to reopen, including T.J.Maxx, which meant they would need to find a childcare solution for the summer. Wanting to make the most of it, Rio and her husband had the opportunity for the kids to spend time with their grandparents.
"We're from Elizabethtown. Both of our parents live in Elizabethtown in the Radcliff area, so we sent our kids there for the summer," explained Rio. "They were there from May until they just got back the first week of August."
The couple used video chat and phone calls to keep in contact and got to see the kids maybe once a week on their days off.
"That decision did drive me crazy," Rio said. "When Kobe left, he had just turned 2 in June. He wasn't talking as much when he went down there, but when he came back, he can talk non-stop. We kind of missed out on that aspect of his learning development."
Her daughter also learned to ride a bike during the summer, which Rio missed out on seeing, but says it's also been great for the grandparents.
"It was pretty good for my dad, for instance, because when he retired from the military, he did contracts overseas, so he missed that growing up part with my first two children. I'm glad he's gotten to spend time with the little one while he's small," she said.
While they took in the joys of summer, the kids have since returned to Owensboro and will soon begin school.
"We both have flexible schedules, and our employers have been great, so we're going to make it work with everyone being on digital now," she said.
For Rio and her family, they have enjoyed the kids' time spent with grandparents and just want to make sure the kids understand that everyone is going through this pandemic time, and it's not just them.
"We just have to make the best of it," she concluded. "It'll be something they can tell their kids about when they are older for sure."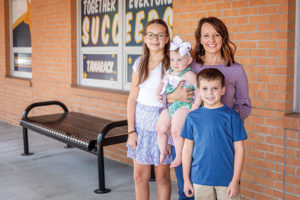 For Courtney McEnroe, not only do her three children—Emmersyn, 1, Hudson, 8, and Addy, 11—and husband, Tim, depend on her as a working mom, she has a classroom, although now virtual, full of young students that have relied on and look forward to learning from her.
"As a working mom, we all went to school on March 13. My children went to school with me at Tamarack. We canceled our spring break plans thinking it was a temporary thing like we'll be out for two weeks, and we'll be back," shared Courtney, a teacher at Daviess County Public Schools. "I never thought in a million years that I wouldn't see them for the rest of the school year."
In the beginning, Courtney recalled it being awesome. She was able to be home with her youngest, who was just 6 months old at the time.
"The slower pace of that was so refreshing to me," shared Courtney. "I transitioned really well being a teacher. I had our schedule printed on a wall. I knew the teachers and could shoot them a real quick text message as a support, and it was great."
For Courtney, she didn't worry as much about her own family as she did for all her students, some without the same support her children would have.
"I worried about the students at home," she said. "To be quite honest, I have some students in my classroom that are homeless, and I wonder where they are sleeping tonight. It broke my heart because I had some students that I never heard from. They didn't answer the phone. Not all the students have that stability and safe place. School was their safe place."
Knowing her children have that safe place and support, she cited childcare was her biggest concern.
"So all three of my children are going to three different places, but it's OK," she said. "DCPS has been nothing but supportive, thinking of everything we could possibly need, including childcare for employees. Hudson will be in that program as it's for grades K-5th, and then Emmersyn, our youngest, will continue at a private sitter, and Addy, who is entering middle school, will be with my mom."
As a teacher and a mom, she gets it. She's spoken to a lot of parents who don't quite have their schedule, or childcare needs figured out yet, and she worries for the kids who may be at home by themselves along with the education gaps that could occur from the shutdown.
"My biggest advice is to just do the best you can do. We are going to record our lessons so they can catch the replay. We're being flexible, and we understand parents need to work, and we're going to do the best we can to accommodate everybody," encouraged Courtney. "Us teachers want nothing more than to be with our students when it's safe to do so. Hang in there, us mommas need to hang in there together."