Learn the heart of this 7-year-old champion
Photos by Chris Wilczewski
Most 7-year-old, rising second graders, are busy being shuttled here and there to a plethora of extracurricular activities. Typical activities like dance, soccer, and music lessons might come to mind. Yet one Daviess County youth has embarked on a journey into an entire new realm of possibility when competing. Meet Mae Nall, National Ninja League finalist. 
Having only participated in the obstacle related sport for one year, Mae has quickly earned her keep as a fierce and spirited competitor. She has her eye on the ultimate prize, becoming a national champion. 
Having begun whilst doing pull ups at home, Mae's family credits her agility and high energy as the inspiration behind her success. 
"We often joke that Mae is never on her feet," her mother Lesli Nall, said. "This sport is truly an outlet for her energy, it adheres to her interests in strength and balance." 
Mae competes in the World Ninja League and is a member of "Team Tenacity." Although the competitive sport is not affiliated with what most are familiar with as "American Ninja Warrior" many of it's youngest athletes are trained by former competitors from the popular TV series. 
Mae is trained by 4x American Ninja Warrior competitor Nicole Martinez Griffin. Griffin resides in Paducah and owns Tenacity Training, an obstacle-focused facility. She has played a vital role in the development of Mae's skill and technique. Griffin appeared on "American Ninja Warrior" for three seasons. 
"Ninja Nicole has helped me to stay motivated and focused, and so has my dad," Mae said. 
Combining multiple skills such as coordination, endurance, flexibility, and perseverance, "ninja" differs from traditional martial arts as it is considered an obstacle driven sport that pairs with "mental fortitude." Ninja is one of the fastest growing sports in the world. A relatively new sport, "ninja" challenges athletes' techniques and conditioning on many different types of obstacles.
"I think what makes the sport so unique is that it isn't predictable, it's diverse and teaches kids to adapt," father Ryan Nall explained.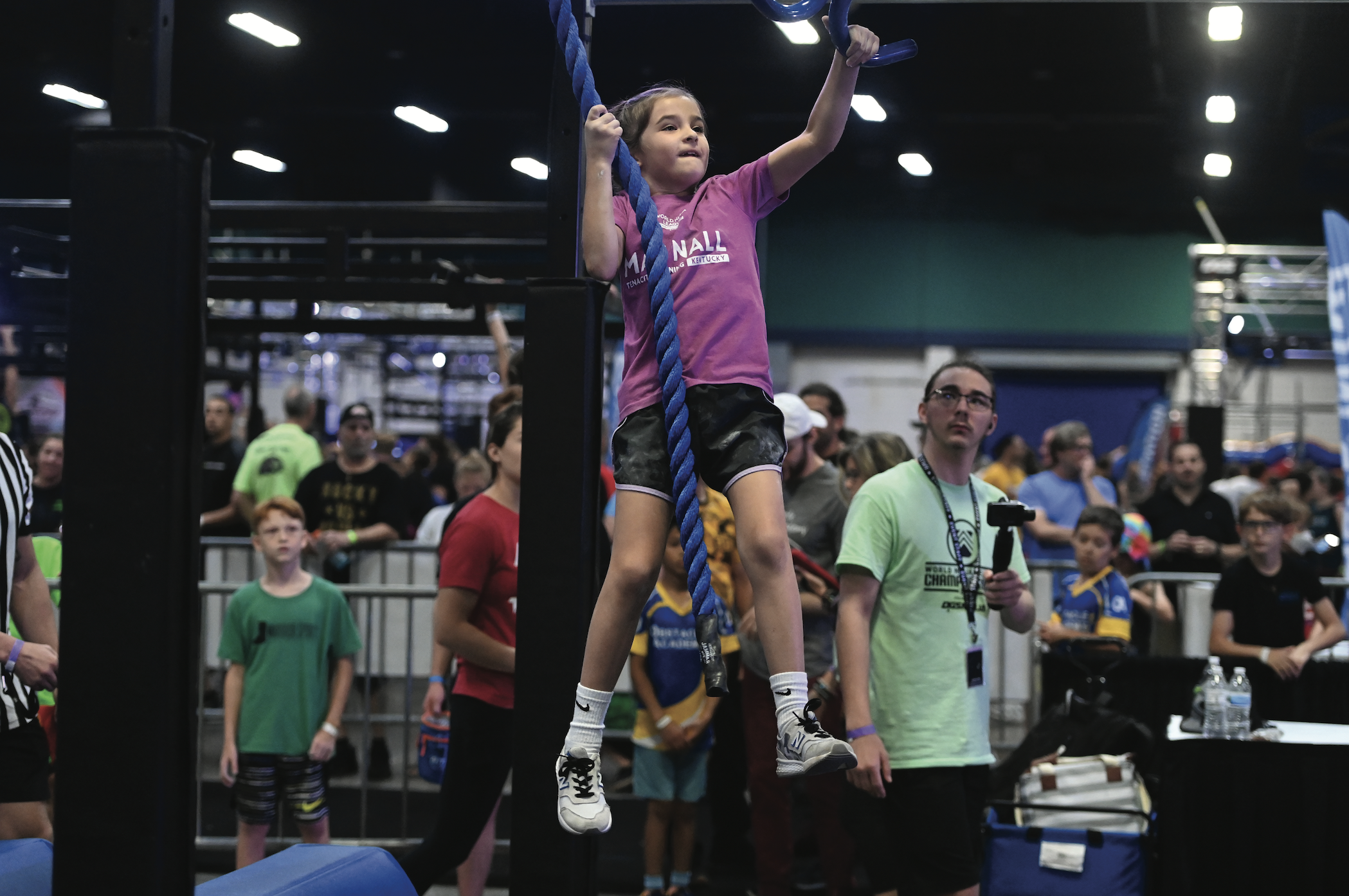 Mae's parents along with an extended network of ninja families are not only supportive but embrace one another's differences. 
"This has been a tremendous growth opportunity for Mae," Lesli said. "Her determination despite failure has really helped her develop skills that I feel she will use the rest of her life." 
Since "ninja" is outside of the genre of traditional sports, there isn't one specific characteristic that defines it. The sport is fast paced, evolving, and most of all fun! 
Competitive courses change from event to event, ninja athletes have to be well rounded and up for new challenges. No two courses are the same. They may contain similar obstacles but the layout, pace, and tier of difficulty varies. Ninja athletes focus on the conditioning and techniques needed for each kind of obstacle while training for competitions. 
"Laches are my favorite obstacle," Mae said. "I love swinging through the air." 
Ninja is one of the most accessible sports around. The sport can be practiced individually with little to no equipment. Many first-generation competitive ninjas focus on simple at-home bodyweight exercises to stay competitive. 
"We talk a lot about confidence, and training, and having the right attitude," Lesli said. "Mae takes things in stride; she knows that one mistake doesn't define who she is." 
Having worked her way through local and regional competitions, Mae currently has a power ranking of 55th, finishing within the top 100 at world nationals. This is a remarkable achievement given she has only participated in the sport for one year. 
"We sort of have this philosophy that competing helps create a well rounded athlete," Ryan said. "This sport really translates to any sport, it helps train kids to become athletes, and as they mature they can take those skills and specialize in other things. You have to train to tackle any obstacle because you never know what they are going to be. You don't know any course ahead of time." 
When asked about her future plans as a ninja athlete Mae is as ambitious as ever. 
"I hope I'll be doing this when I'm 70," she said while grinning.
Although there aren't currently any local ninja training facilities, preparation for competitive leagues is doable. Local gyms like Elite Air and Cheer Zone contain equipment that is somewhat similar to competitive obstacles.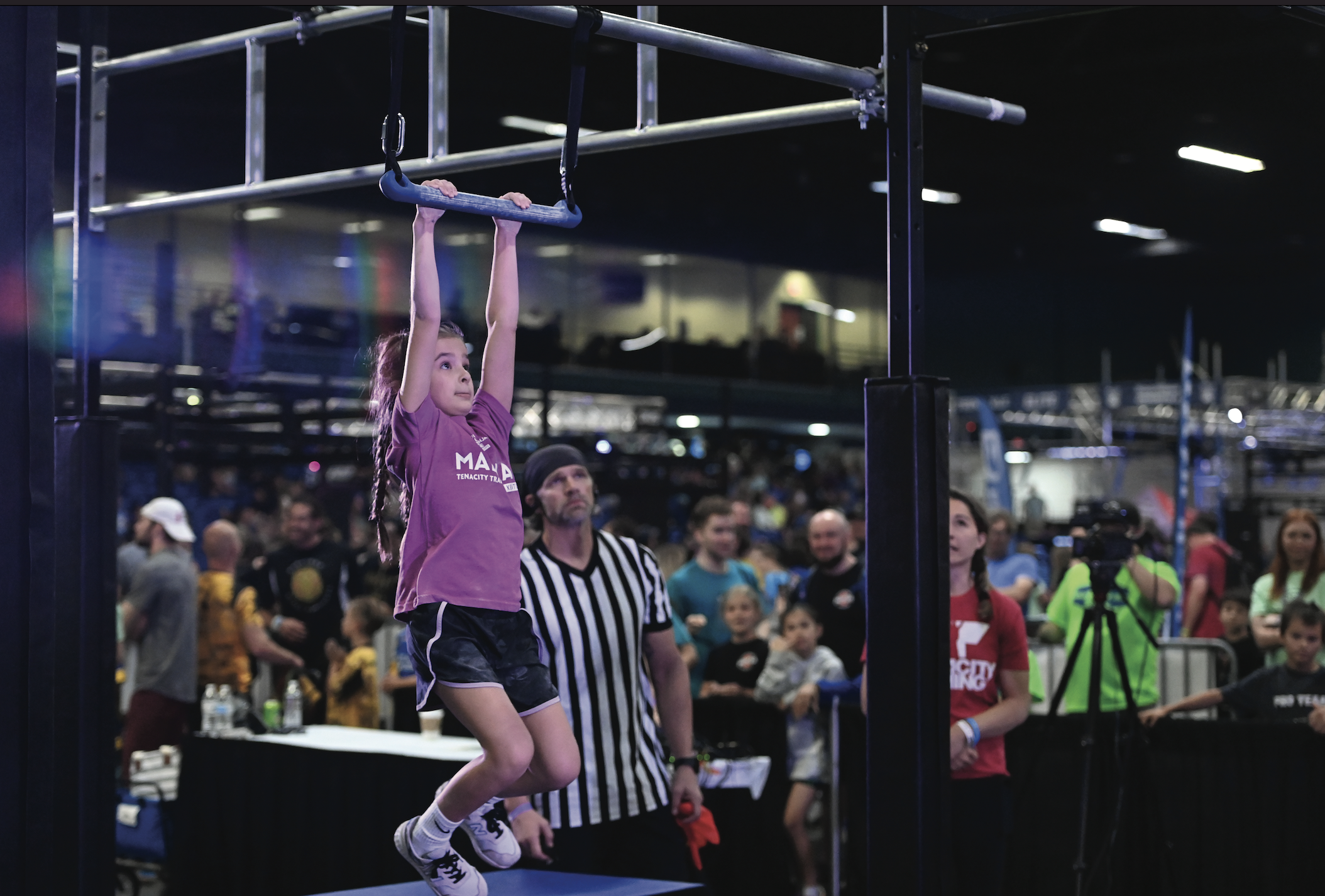 "There just isn't one specific thing about ninja that makes it special," Lesli said. "It teaches kids to move and be in control of their bodies while being mindful. The transfer of skills, the strategy, the flexibility, and most of all the fun are what make it so adaptable and inclusive." 
As far as encouragement goes, Mae shared that she hopes other kids catch on to the sport and join her on a league. 
"I get all the emotions when I compete," Mae said.