It is apparent by the fact that 14-year-old Roxy Rickard refers to herself as an "awkwardly extroverted introvert," that the Owensboro Middle School eighth grader has quite a sense of humor.Her published memoir, Not to be Conceited, But It's All About Me, is a 90-page behind-the-scenes look into the teenager's unique, and often accident prone, daily life.
With chapters detailing everything from her love of the 80s and fashion, to memories of sloth and spider bites, Roxy's sharp wit is evident throughout every page. Although she will readily admit that she does not always easily recognize sarcasm, the often soft-spoken free-spirit is not afraid to share the realities of growing up.
"I like telling all the crazy things that I do, to my friends," Roxy said. "I thought it would be fun to make a book out of those crazy things — I like making people laugh."
Not to be Conceited is Roxy's second published book in the past two years, thanks in part to the after school commitment of OMS English teacher Jenny Hudson who spent an afternoon a week for six weeks with student authors during National Novel Writing Month (NaNoWriMo).
NaNoWriMo was conceived on the notion that writers would attempt to craft and complete an entire book manuscript during the 30-day span of November.Published author and Owensboro Public Schools District Literacy Coach Amy Bellamy brought the Young Writers version of the NaNoWriMo program to Owensboro Middle and High Schools three years ago.
Hudson said students were nominated by their teachers to participate in the project, and were then asked to fill out an application form prior to participating.
"We sent out teacher recommendations to language arts teachers and then used an application process to narrow it down from there," Hudson said. "We narrowedit down to about 10 and had five of the 10 finish, which is actually pretty good. There were some that got started and were like, 'This just isn't for me.'"
Out of the 10 students selected this past year, five seventh and eighth graders completed the process. But few have equalled the accomplishments of Roxy, who saw the publication of her second novel before her 14th birthday.
"That's kind of what makes her stand out," Hudson said, "She hasn't done it once, she's done it twice."
Roxy's first book, Chasing Buckley, which she wrote as a seventh grader, was a fiction novel about a mother trying to find her austic son who ran away in the midst of Hurricane Katrina.
"My school asked me if I wanted to write a long story again and I like humor so I made this a funny one," Roxy said.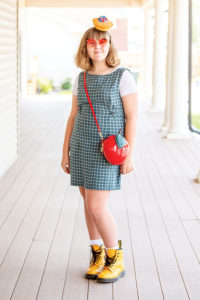 Roxy said she wrote her latest book over the span of one month and then spent two to three more months editing the content to reach approximately 16,000 printable words. At 43 copies, Roxy said she has sold more of her second book than her first. Both books were published through and are available for sale on Amazon and offer Roxy an opportunity to receive a small royalty from the monthly sales.
"A lot of people who have bought my book have come up to me and said that they laughed at my stories," Roxy said. "I really think that they're all pretty funny, mostly the ones where I get hurt because that happens a lot. But I don't go to the hospital — it's never been that serious."
Roxy's father Storm, who is also an OPS educator, finds joy in the irony that his daughter is shy around others in public, yet doesn't mind sharing her personal mishaps in print.
"It's funny thinking of an introvert writing and shining a light on herself and all of the follies she's experienced in a little over a decade," Storm said. "I think that the stories and a lot of the premise of the book is a normal situation where a mishap will happen."
Although Roxy's parents recognize that the majority of the topics she covers in her memoir can often be perceived as embarrassing, Storm said they are proud that she has found a platform through writing to be able to share these moments with others.
"This avenue and opportunity to produce her novel — she's able to tell a lot about her(self) and how she came to be who she is," Storm said. "So brilliant, so bright, so weird — she gets to show people outside of her tight knit group who she is. By it being in written form, she's able to mitigate the responsibility."
While Roxy is open to writing more books and does occasionally refer to herself as a published author, her dream is to embrace her love of animals and become a zoologist. After reading her memoir, one can only hope that her future sloth encounters will be more positive than her last, should she choose that career path.
Both of Roxy Rickard's books, Chasing Buckley, and Not to be Conceited, But It's All About Me, can be found on Amazon.
The Roxie Pickrell Award
Despite the uniqueness of their names and personalities, Roxy Rickard and Roxie Pickrell have had several shared experiences. From living on the same street and attending the same kindergarten class as little girls to later playing in the band after school, the two shared a friendship and a love of creativity.
So, it should come as no surprise, that during the first week of May, Roxy Rickard was the first ever recipient of the Roxie Pickrell Award.
"We created a new award this year in honor of Roxie Pickrell," said OMS Principal of Operations Randy Bryant. "This award recognizes a student with great artistic ability, as well as someone who treats others in a very caring and appreciative way. The winner of this award was Roxy Rickard."
The Roxie Pickrell award was created in memory of 13-year-old OMS seventh grader Roxie Pickrell who died unexpectedly of a brain tumor in November of 2019.
Coincidentally, November was the same month that Roxy Rickard and the other seventh and eighth grade students were working to complete their novels for NaNoWriMo.
OMS language arts teacher and NaNoWriMo club sponsor Jenny Hudson said November was a difficult month to try to complete the novels because of the impact Roxie Pickrell had on the other students and those around her.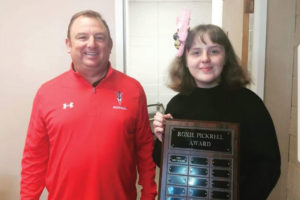 "She was a very special young lady, very mature beyond her years," Hudson said. "Roxie died on the 11th of November — she left on fall break and never came back. We met once a week, but we didn't meet the week they had the funeral. It was an unusual time to do it [write and publish novels], especially for what was going on for those seventh grade girls."
Hudson said that, although November was a difficult month for both students and staff, Roxy Rickard stepped up and helped guide the NaNoWriMo sponsors and students through the finishing and publishing process of their novels.
Coming alongside her OMS classmates in a time of need, is just another example of why Roxy Rickard received the award of her namesake. Roxy's parents shared the news of the award on social media after a private presentation was made.
"The ceremony looked a little different this year, but the pride we feel is just as strong," Roxy's father Storm said. "Even more so, to receive the honor as the first recipient of the Roxie Pickrell Award, for great artistic ability and a genuine care for others…Knowing Roxie Pickrell, and watching her grow up, we are beyond proud."