These cupcakes can be made with any cake mix (including boxed) and frosting that you'd like, making them both easy and customizable. They make a great treat for summer birthdays – the best part is they won't melt like ice cream does! They can actually be easier to eat than the cupcakes with typical cupcake liners, so that means a lot less mess and much more fun!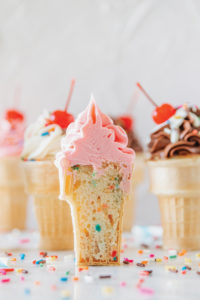 What you'll need:
›› 1 batch of prepared cake mix (can be boxed)
›› 22 ice cream cones (with flat bottoms)
›› 1 tub of frosting (or more)
›› Toppings (sprinkles, nuts, cherries, etc)
Instructions:
›› Preheat oven to 350 degrees, and set the ice cream cones in the wells of a cupcake tray. Prepare the cake mix according to the directions on the box/recipe you're following.
›› Pour cake batter into each ice cream cone – 2/3 of the way full.
›› Bake until the cake inside is golden and a toothpick inserted in the center comes out clean.
›› Once the cupcakes have cooled completely, top each with your choice of frosting/toppings. I recommend a star tip to give the frosting more of an "ice cream" look! I also softened vanilla frosting in the microwave to get the "whipped cream" look on top of some of the ice cream cones.