6-year-old Triton is the star of his family's food truck
Photos by Jamie Alexander
If you have attended a large public event in Owensboro, chances are you were lucky enough to grab unique Hawaiin style BBQ from the Tri-R-Tips BBQ food truck. 
But if you were really lucky, you met the tiniest – but arguably most proud – member of the Tri-R-Tips staff. Standing at a towering 3 feet tall, 6-year-old Triton Rose, is the food truck's "hype man," eager to greet and serve customers with a big toothy grin and his charismatic hospitality. 
In business since 2014, Nicholas and Amber Rose launched Tri-R-Tips in Redding, California, but relocated to Owenboro six years ago. The food truck's signature look and flavorful dishes became popular throughout western Kentucky, but the Rose family, ready for their next chapter, moved to Florida at the end of the summer.
Owensboro will miss Tri-R-Tips, but especially Triton, who made dining at the food truck a memorable experience.
Serving guests alongside his parents, Triton is the youngest of four siblings. He frequently shares food service duties with his older brother Thomas, who is 11. The wildly successful food truck is truly a family affair. The Rose brothers can often be found assisting with bottled drinks, taking orders, and helping prep food on the truck. Tri-R-Tips also offers merchandise such as custom cutting boards and graphic t-shirts. Triton has become somewhat of a spokesman for his family's business. 
When asked to talk about his food truck adventures, Triton had plenty to say. "Well, I'm 6 years old, and our food is delicious. Can I tell you what is really delicious? Our new slushies! There's a new one that is called the American, I helped name it. It's red, white, and blue." Triton said. 
Somewhat of an entertainer, Triton Rose casually throws in a few dance moves during his interview, giving a brief description of what makes Tri-R-Tips so special. "Our sauce is a secret, actually only Ms. Sims knows what is in our sauce, my teacher. I can give you clues, but I can't tell you. Our sauce is really sweet and red. We use sour cream and jalapenos to cool down our tips." Triton elaborated. 
Given Triton is only in kindergarten, his larger than life personality is only one of the many talents he possesses. His former teacher refers to him as the "total package" stating that he not only excelled academically but was also a kind and caring friend to all of his peers at Newton Parrish Elementary.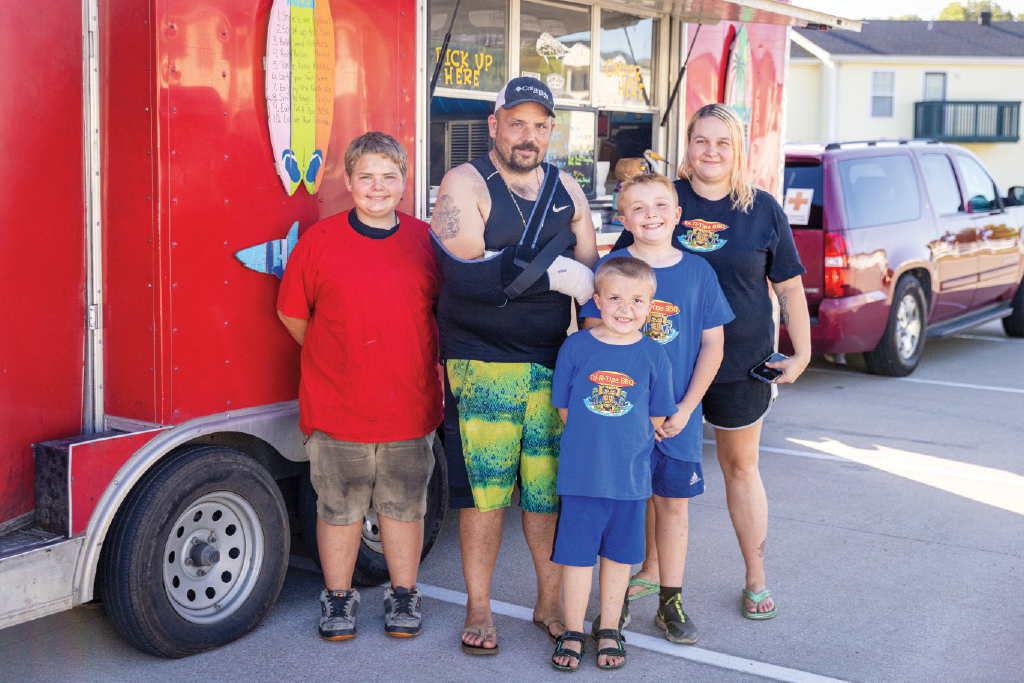 "I like to work, but I mostly play," Triton said. "I'm going to first grade next year. I have to sit criss-cross applesauce at school but not on the food truck! When I grow up I hope to be a 
Policeman or maybe Spiderman, I'm not sure yet." 
Without missing a beat, Triton climbs aboard the family food truck and begins manning the cash box with his brother Thomas. Triton is often careful to ask customers if they need napkins or utensils and makes sure to thank them for their business. It's this attention to detail that has brought back repeat customers.
"Lots of people actually ask for Triton when they order from us," Amber said. "He and his brother have become familiar faces helping out with our business as much as possible." 
Eager to give recommendations, Triton often suggests the truck's famous tips. 
"You're going to want to order the tips with peppers and onions. It's the best meat," he said. "Our slushies are the best. You really need to try one. They have stars mixed in, not real ones of course. You can eat these. Our baked beans are delicious too." 
Amber said that Triton especially loves when the truck works events where he can "entertain" while having fun. 
"I think he looks forward to traveling to new events the most," she said. "He never meets a stranger." 
Since his personality is larger than life, anyone who meets Triton can easily see how he fits perfectly into the role as a food truck "hype man." In fact, the future looks incredibly bright for someone as enthusiastic and genuine as this fun kiddo. If his career as Spiderman doesn't take off, one can confidently assume he will excel greatly if decides to take over the family business. 
"I don't know how long I've been working," Triton said. "I'm 6 years old, so maybe a long time."