Photo by Jamie Alexander
I've been a mom for nearly nine years now and I have weathered a lot of fads. Hatchimals, LOL Dolls, slime… But this latest craze Avery is into may take the "I just don't understand" prize.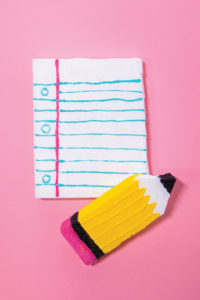 Squishies. 
Pieces of foam whose only purpose is to squish?! Like a super expensive stress ball. What does my almost 9-year-old have to be stressed about though?
I decided to try to make our own squishies and I was shocked at how easy they were to make and how cute they turned out. If your kid is into this weird fad, this is a must-try DIY project!
What you need:
›› Foam — I picked some up at Hobby Lobby for $3. 
›› Fabric (or puffy) paint 
›› Craft/popsicle sticks 
Directions:
›› Cut the foam into whatever shape you want. We went with a back to school theme for ours.
›› Use fabric or puffy paint to cover the foam. We used popsicle sticks to help spread the paint. 
›› Let dry and then apply puffy paint from the tubes to add cute details. We let our squishies dry over night.
If you try to make this super easy craft, be sure to post to social media and tag Owensboro Parent! We want to see your creations!